Driving to Chamonix before Christmas, mile upon mile of autoroute… I smelt the desperation in Guy Robertson's text messages… 'I need. I want. I have to have.'
I sent a text back, 'Chill Robbo.'
He continued to send texts, each becoming more desperate sounding and including bigger and bigger, more difficult to understand adjectives.
I replied… 'Are you pissed?
Truth be told I've always worried about Robbo's sanity, that's possibly why we get on so well, but he was worrying me more than usual.
****
I returned from Chamonix keen to drive straight to Scotland to meet my slightly emotional, disturbed friend but two weeks had passed since the original texts and he was still devoid of that first success of a Scottish winter season. I now had more chance of sense from a daffodil.
"We meet Monday, we meet Tuesday, we meet Wednesday… I'm not meeting you now, I'm going out with Greg, with Pete, with anyone on Saturday, Sunday, in the day, the night, the never world… "
I drove to Wales and the texts continued…
"Bloody incompetent weather forecasters."
I surmised that the weekend had not gone to plan and now imagined my slightly off the wall friend turning into a camouflaged vest, combat trouser, Bandana wearing, AK 47 toting, Robbenator, who screamed lines from Rambo while lying in wait on the top floor of the multi-story car park outside the BBC weather centre.
The text messages continued…
"Get ready. Meet on the Spittal of Glenmuick car park on Friday."
The messages told me what gear to bring including a map and compass. I knew then he had lost the plot completely!
The next text spelt all change once again…
"I'm not climbing with you, I'm climbing with Greg, you can climb with Will."
The Greg in question was Greg Boswell and Will was Will Sim … No problem at all as I had climbed with Will and given the state of Robbo I did not have the correct drugs in my medicine cabinet required to bring him down to the same planet as the rest of us.
Will texted me then asking if I was free to climb at some point? I sent a text back saying I thought we already were?
It was finally decided that Greg, Will and I would arrive at the car park with a rack of gear each, push bikes, ropes and sustenance to climb in the Dubh Loch and as many chill pills as possible and fit with whatever plan the Robbentaor came up with.
At 9pm on Friday evening a small group huddled around my van and a plan was eventually made…
As I lay in the back of my van waiting for sleep to come, I said a prayer for good weather, favourable conditions and success for the following day as I feared for all our sanity and safety should Robbo fail once again!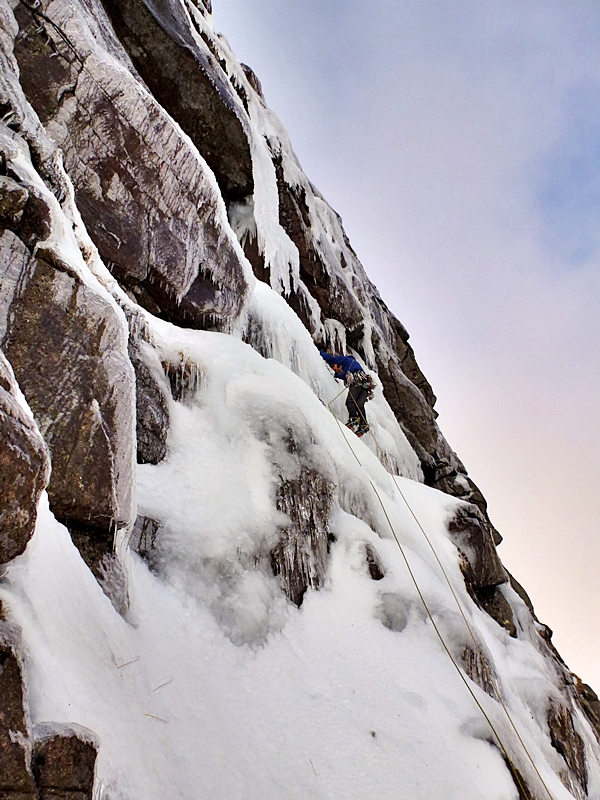 Iain Small climbing the first pitch of his and Simon Richardson's new route on the right!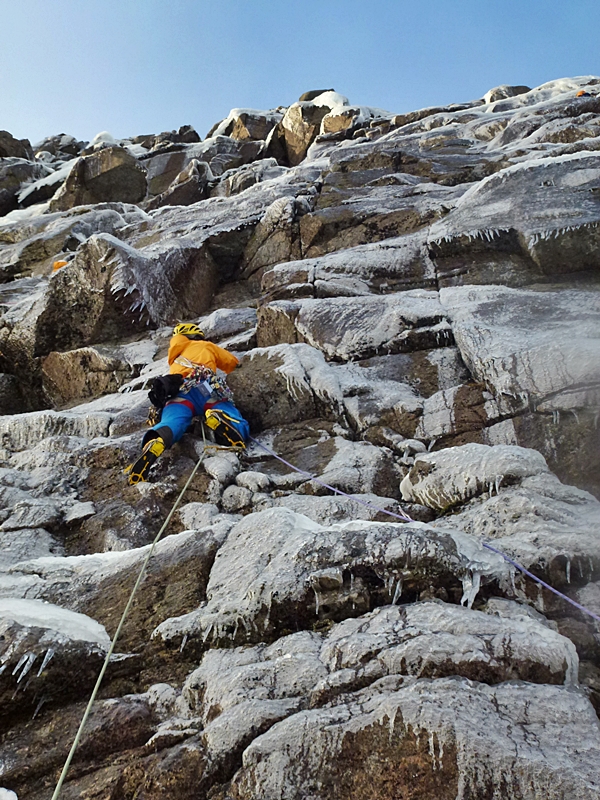 Will Sim setting off on our new route up the middle and into no-mans land!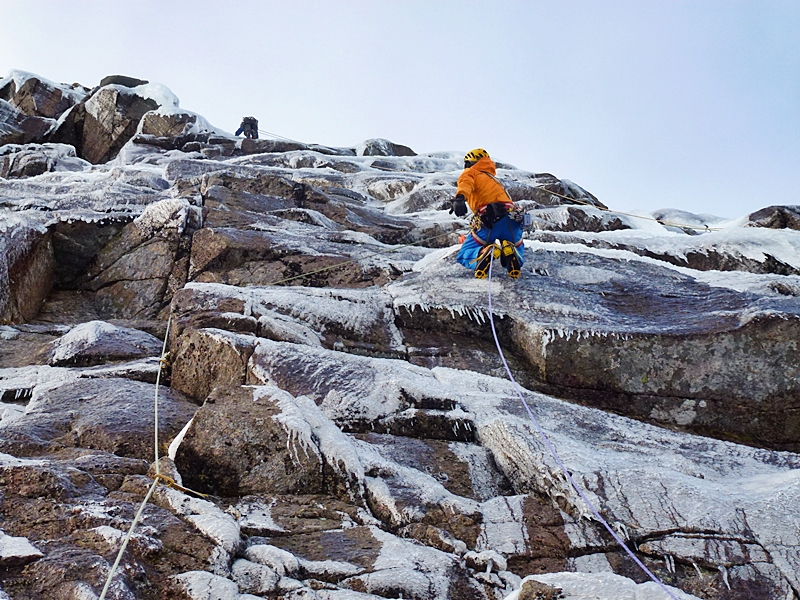 Will Sim on the first pitch having just climbed the crux and wondering which way now?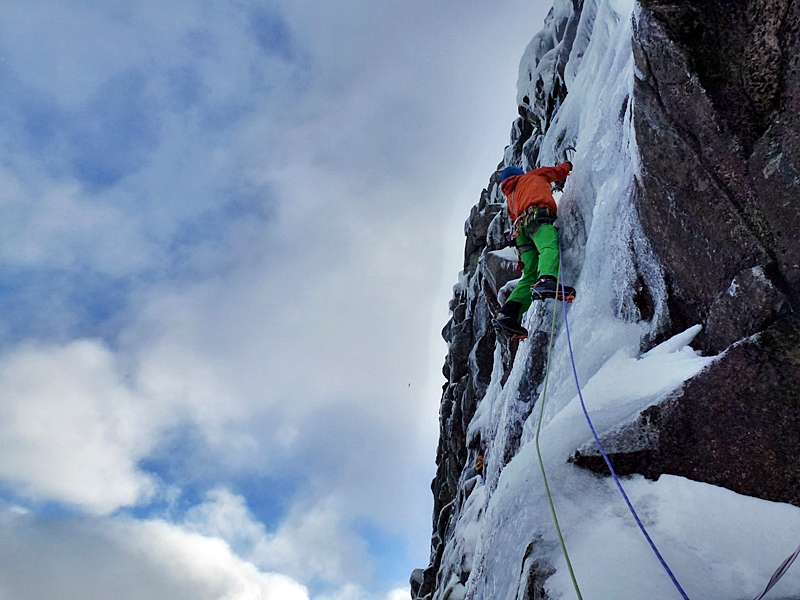 Nick Bullock setting off on pitch two and regretting only having one stubby screw and a borrowed screw from Iain Small.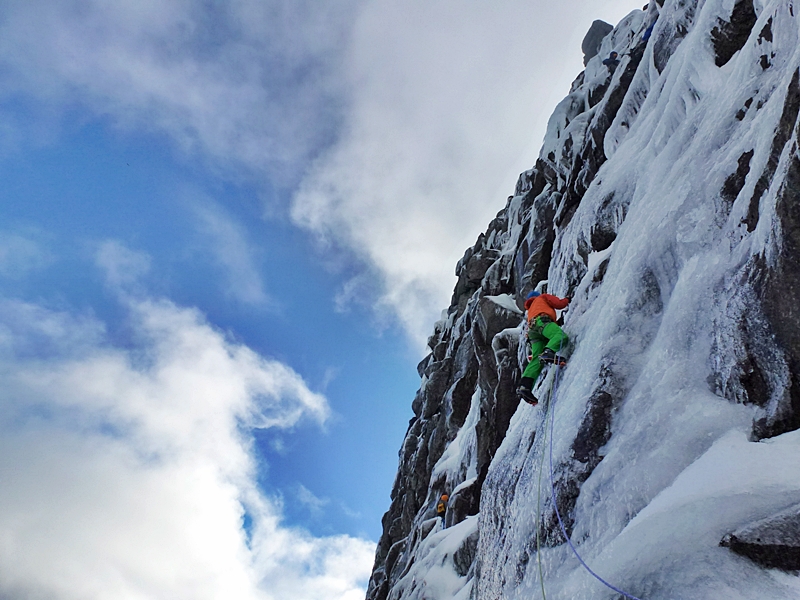 Into a world of thin…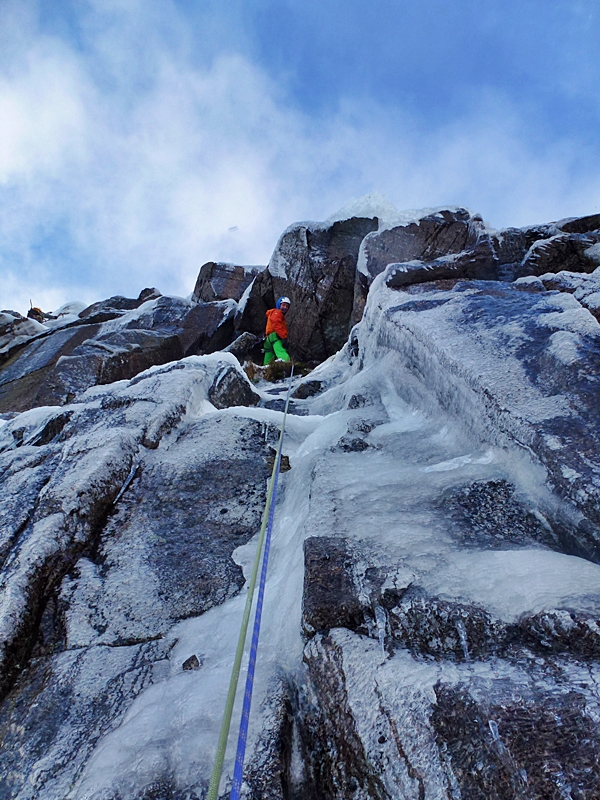 Looking up to me on the belay beneath pitch three.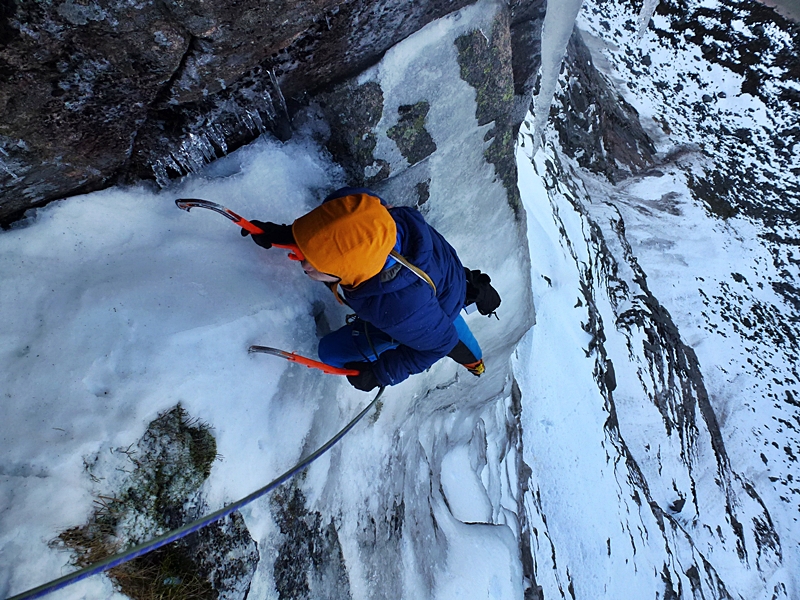 Will Sim at the top of pitch two.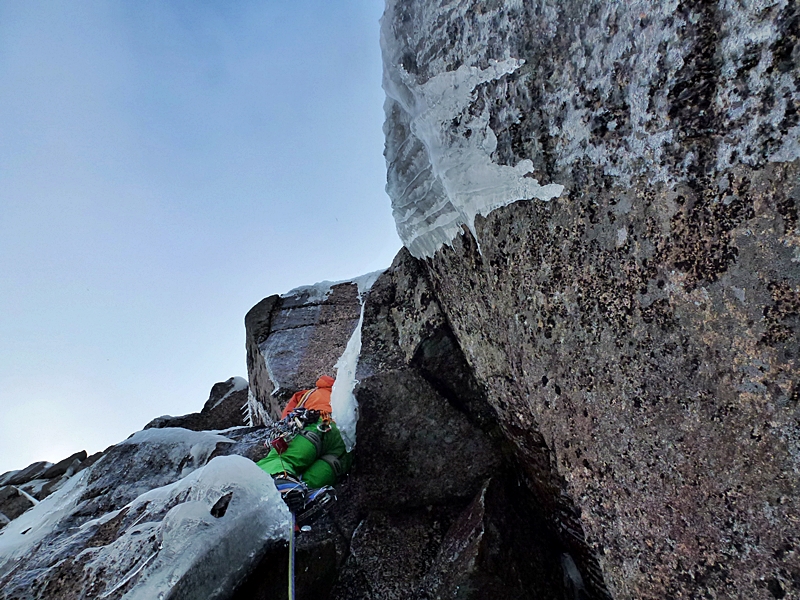 Three dimensional on the start of pitch three which leads into thin and steep ice dribbles.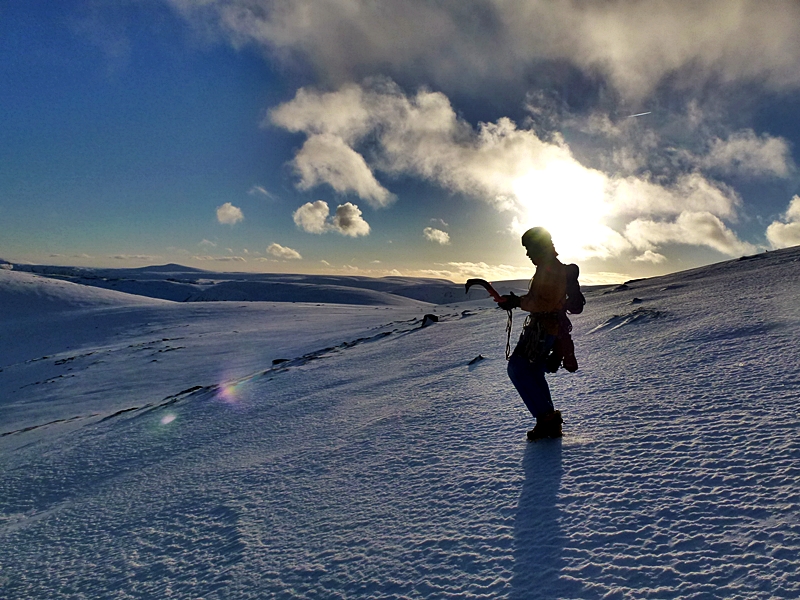 Boom… And relax!