Last summer, for three months, I tried the Euro sport climbing thing. Sounds amazing doesn't it – perfect weather, perfect evenings while camping and drinking cheap red wine, miles of pristine limestone – but to tell the truth, I find the climbing all a bit samey and if you get sucked into attempting the same climb repeatedly, it must become as similar as the drive to the same job, at the same place, to do the same thing, year in, year out with some form of release when you finally resign or clip the chains.  
Sport climbing is great for a quick fix, a holiday, cover some safe ground to get fit, chase a number, feel good when new numbers are reached, but it just doesn't feed the soul. In that three month trip, the most memorable and the best adventure, and to be honest, the only climb I can remember the name, was Fiesta de Los Biceps at Riglos, a meagre 7a. Actually, there were two climbs, the second being Plenitude above Cluses down the valley from Chamonix, a nine pitch 6c+ which was possibly the most difficult climb of the trip with less protection and fewer holds from which to stand or pull than an E5. Plenitude was an emotional journey in a reasonably wild situation and because of this I remember the day and the climb vividly and with fondness – it certainly was not an ego boost or a number chasing exercise.
After last summer's bolt clipping I wanted to get back to tradition climbing, its where I'm at, it feeds my soul and in Britain, not only do we have the best traditional climbing in the world, we also have the most beautiful and wild places to experience it.
Donald's fishing boat, The Boy James, cut the green. The large bow wave frothed white. I tasted salt and my glasses misted. It was past nine in the evening and twelve of us were heading, first to Mingulay and three days later to Pabbay, small uninhabited islands in the Outer Hebrides. Kittiwakes, Cormorants, Razorbills and Fulmars flew alongside the boat and skimmed the sea. A fire filled the darkening sky. The Perkins engine growled and powered the boat through swell and waves and my nose filled with the smell of salt and diesel. Face skin tightened. The vast emptiness of water spread to our left and to our right, even smaller islands than Pabbay and Mingulay were silhouetted. Emptiness. Space. A void. Gripping the metal frame of The Boy James, the world felt untamed that Sunday evening.
A slab of dark Gneiss covered in slippery green sea-moss easing into the sea was our dropping point for Mingulay. Flocks of fat bodied Puffins, blurred wings, jet propelled, filled the sky, while others bobbed on the dark sea-surface. The Puffins chatted to each other. A lone Artic Skewer, the bad boy of the bird world slowly flapped by.
I was climbing with Guy Robertson. I had climbed repeatedly in winter with Guy and I would call him a good friend but we had never met outside this realm. I wondered if he had sprouted leaves for summer and became warm?
Abseiling nearly one hundred metres into Dun Mingulay – grey scallops and ears, flutes and fins, swirls of cold lava – the finest weather beaten, sun baked Gneiss in the world. On occasion the dark grey was splattered with a patina of pink pegmatite, on more than occasion it was splattered with guano from the Razorbills which called the cliff home. Guy and I stood, heads tilted and we paid homage to this Salvador Dali canvas created for climbers and almost immediately began our pilgrimage, moving in upward paint strokes.
Seven pitches and several hours later I backhanded a large, but not quite large enough hold, it offered energy-sapping wet respite. Beneath a massive capping roof, I crawled. Toes were pressed to smooth rounded smears and the ropes arced between gear placements. Guy was a good way around the corner, out of sight. I regretted running pitch two and three of Perfectly Normal Paranoia together but below this roof and below my aching feet, the sea crashed a sunlit bubbling crescendo and the birds cried the theme and the voice in my mind added the lyrics… But this is it isn't it, it was my decision to launch – it was my decision to place gear when I wanted, or not place gear and it was my decision to carry a rack of what I hoped I needed or didn't need. And this is the difference isn't it, it's not looking up a blank piece of rock sporting fifteen bolt hangers that mark the line while wearing fifteen quickdraws, knowing once you get to one of those hangers it can be clipped and made safe – this is food for the soul, exercise for the mind – it is decisions made in an instant or at least before the arms wither and the mind fries and for me this is why it is memorable.
The blue moon would soon be full and its silver lit the heather and its force dragged the sea up the beach and back down again – sand scars were evidence of the sea's passage. A group of seals gathered on the beach each night, their haunting cries, as if sad for loss, were our mournful music that became a fusion with the warble of the Snipe and the creak of the Corncrake from which to fall asleep.
K&S Special on Creag Dhearg rejected me, not once, but twice – my tenacity is strong and the increasingly challenging personality and my ability to 'stick it out' lead me into believing I would stand the test of time but no, it had, had enough of me and I could not hold-on and the climb shook me off as easy as snow from a windowpane but rejection is life and for a memory and experience as good as this I have nothing but love. One day, when I am stronger I hope to return.     
I had visited Pabbay before but not Mingulay. I recall someone telling me that Pabbay was the better island for climbing and Mingulay was disappointing, but after three days I would disagree, Mingulay is wild and beautiful with better climbing and a more varied wildlife than Pabbay.
Donald arrived at 8pm on Wednesday evening; The Boy James taxi slewed the team across the sea to Pabbay where for two days we were shut down. Rain poured constantly through the night and spirituous mists enshroud the island. The old building without a roof stood sentry and the stream broke from a marshy chrysalis, turning into a butterfly of brown peaty water digging down into the beach, cutting a channel and carrying old fishing floats back to the emptiness of the sea. We put in a stash of gear at the top of Pink Walls and for the rest of the time I lay in my tent, reading, sleeping, reading, sleeping…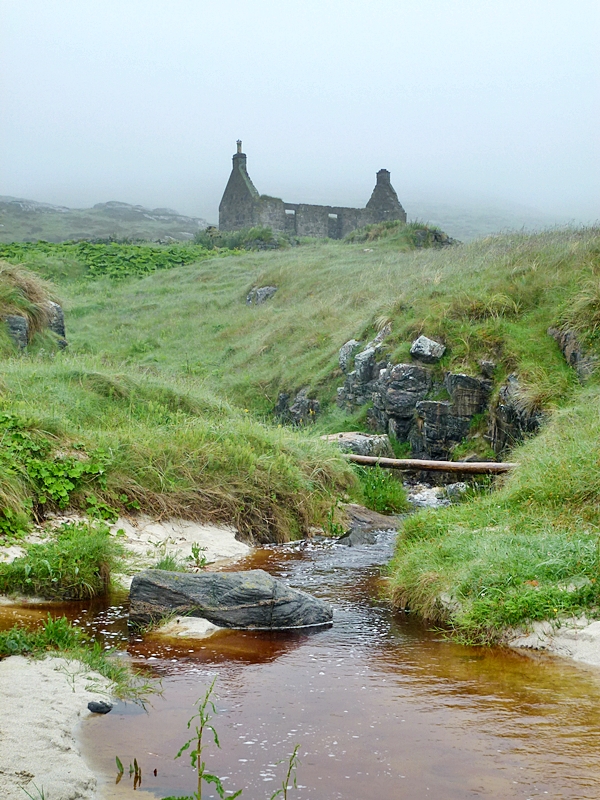 The weather cleared and so we sailed onto the Pink – Ancient Mariners and In Profundum Lacu and Amber Nectar and for the final day we transported into the Banded with its maze of roofs, bulges, spaghetti-spirals – Endolphin Rush and Ship of Fools and spring Squill
Sitting and drinking wine, the sun set but it didn't get dark and in the bay The Boy James gently swayed from side to side while waiting patiently to take us back to Barra at 7am and on to Oban and a return to the mainland way of life.
"Why don't you stay for another week, climb with Jonny and me?" Sophie Whyte, part of the Sheffield team said who had turned up a day before.
"I would love to, but I don't have enough food for another week."
 "What do you need, we will have enough spare food to give you." Greg and the others in our about to leave team said.
And with that the donations flooded and before long I had more food than at the start of the week.
"Guess I'm staying then."
A great big thanks to everyone from both teams for the company and the food and the climbing, it was great 🙂