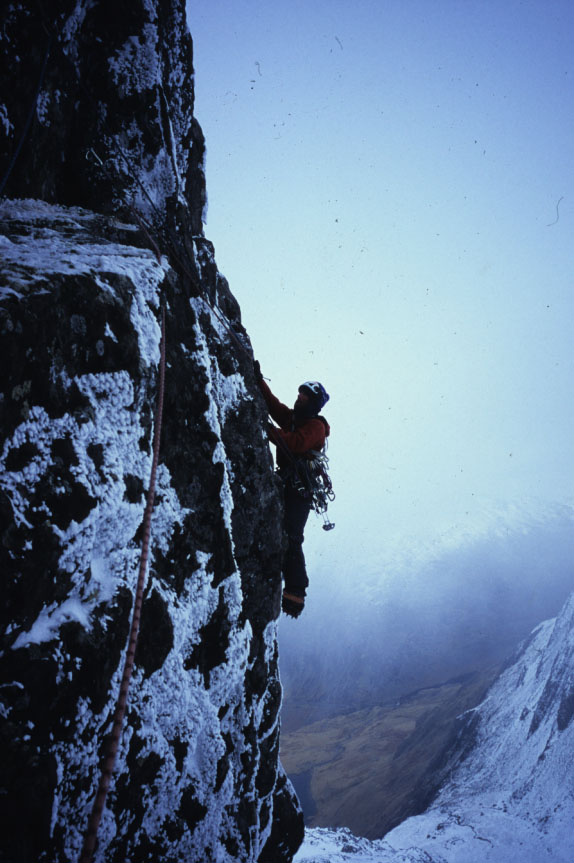 TRAVESTY. VIII/8  First Winter Ascent. 27th February 2006.
Nick Bullock and Libby Peter.
Clogwyn Du, the black crag at the top of the Glyders, sits high above Cwm Idwal. Fully rimed, iced and frozen, it gives a spectacular situation for winter climbing. On 27th February Nick Bullock and Libby Peter Climbed the first winter ascent of the summer rock climb Travesty E1 5b. The upper pitches are an obvious winter line following turf, off-width cracks and a chock-stone blocked chimney. Entry into the massive left to right chimney/ flake is barred by an overhanging wall.
I attempted to enter the line direct but failed and traversed left on overhanging turf ledges to belay on the spike of The Crack, this could be easy climbed direct.
From the spike belay of The Crack the climb follows the summer line as described in the Ogwen Guidebook.
The second pitch is an overhanging down ward traverse in a spectacular position with good wires until around the overhanging nose. Pulling into the niche and right is the crux of the climb. Flakes and nubbins were used for balance, the footholds are small. There is no gear until reaching the base of the chimney where a belay can be constructed, but a higher cave was taken in an attempt to protect the second. Peter followed the pitch using aid and a back rope. The consequences of a fall were not desirable. The third pitch, also led by me is a heavily-iced, overhanging off-width, and the fourth pitch led by Libby is similar. Both are in a spectacular situation with good gear. The overall grade of the climb is Scottish VIII/8. This is probably the hardest winter route to date climbed in North Wales.