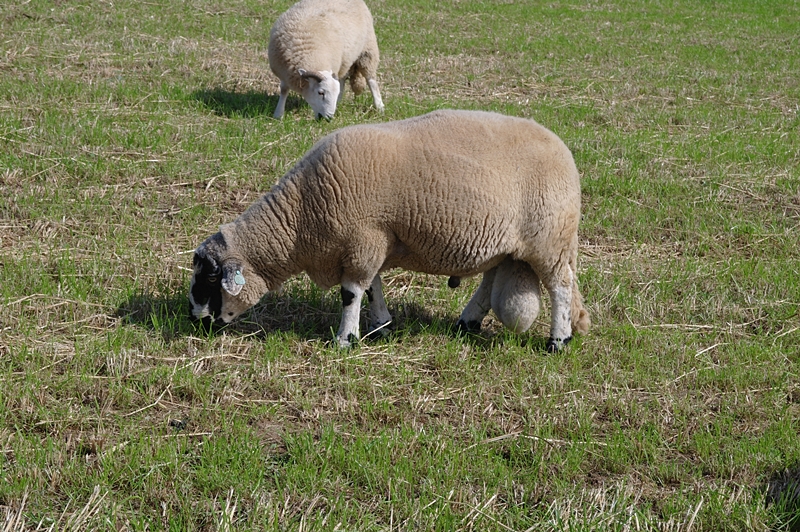 Craig Dorys, Craig Dorys, Craig Dorys… Like a chant for the doomed, six words that bring terror into the eyes of adults. Dorys – a powerful word from within the Welsh climbing scene. Dorys – a word to induce collywobbles even amongst the strong.
Passing through towns and hamlet, driving alongside rolling hills, the journey to the Lleyn Peninsular is pleasant. Birds twitter in hedgerow, cats amble across the road and old men with walking sticks totter along pavement. Reaching Abersoch, tourists with happy holiday faces carrying ice cream, guys with biceps and tattoos, girls with bronzed legs and short skirts, teenagers with baggy shorts, it's a nice holiday atmosphere, but its only five minutes away from the crag and the cold sweats have begun.
Parking in the farmyard on-top of the headland, the panic fully sets in, delaying tactics are necessary. Gear is thrown onto the floor to mingle with farm machinery, mowing machines, muck spreaders and the like, but eventually the rack is sorted and it's time to walk. The walk to the headland across the meadow is slow, this is the walk of the condemned. The Hippy is my usual climbing partner for Dorys and slowing his normal slow is slow, but eventually, after passing the sheep who have the size of genitalia you need for climbing here, we reach the top of the crag. There is often a gentle breeze flowing over the top of the crag, and in the breeze are the wails of the insane.
Maybe Boots the chemists can develop some kind of tablet that will off-set the Dorys-nausea, something like a travel sickness pill. 'Going to Dorys? Try our new extra strength anti-dorys-nausea-tabs, they work wonders, take two, one-hour before climbing for the sickness and two one hour after climbing to alleviate the madness. Wash down with copious amounts of alcohol.
Last week was early for Dorys, North Wales monsoon has not hit yet, which is generally the only reason you end up there. I was questioning our rational.
"It feels early for this Hippy
"Yes."
Talk was at a minimum, we both had horror on our mind.
Dorys comes in different scales of badness depending on which facet of the crag you require to climb. Stigmata is bad, in fact stigmata is more bad than the baddest bad out there, but the lines are strong and as long as your will is as strong as the lines you may stand a chance. Moving along the crag, The Upper Facet is actually very solid, the surface of the rock is a skin of quartz with pockets and breaks and gear and pegs. The Upper Facet is very steep and the rock is nearly conventional. There is a chance the crag will get steeper with time as the whole rock face is a ginormous flake resembling a climbing wall that can be set at different angles, which is all well and good until the day the whole thing falls down.
Walking the sea washed boulders, Byzantium Wall, a reasonably solid and impending 40 metre wall of breaks and crimps is next, and around the corner is the orange sheet of The Golden Wall, a slightly snappy, slightly run-out, slightly beautiful in a femme fatal kind of way, vertical slab of quartz and sand. This was where the Hippy and I were aiming.
On the left side of Golden Wall there are a couple of E1's, which take soaring corner lines which would be all time classics if anywhere other than Dorys. The Hippy grunted and pulled off a V5 hand-jamming-grovel to get off the ground and proceeded to grovel and thrutch, using his knees and stomach to spread the load for another 30 metres. I belayed and dodged the shower of rock while ducking and hiding and laughing.
Warm up done, this was a day for the Hippy who for some reason had his sideways shuffling head attached. He wanted me to climb the first pitch of Knowing Her – which i did -an E2 that has a belay one third of the way up and on the right side of The Golden Wall, before he set-off in a sideways mince, plugging-in a double set of cams along the first of two HVS's, Scintillating Stitches, the second one, which I climbed, being Fascinating Witches before topping out on the E2.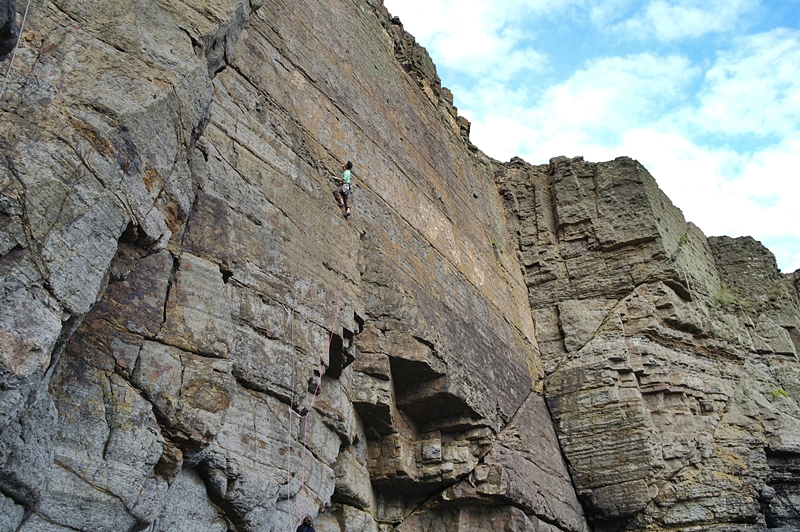 While mincing and hanging around I couldn't help but look up… And there they were, another two rod straight traverse lines that to my knowledge had not been climbed.
We finished the first Dorys day of the season with The Mermaid who shed her glove which I led into Direct Hit. I pushed down on holds and thought light thoughts until the top was reached and we ran away feeling happy but mostly feeling happy to be alive.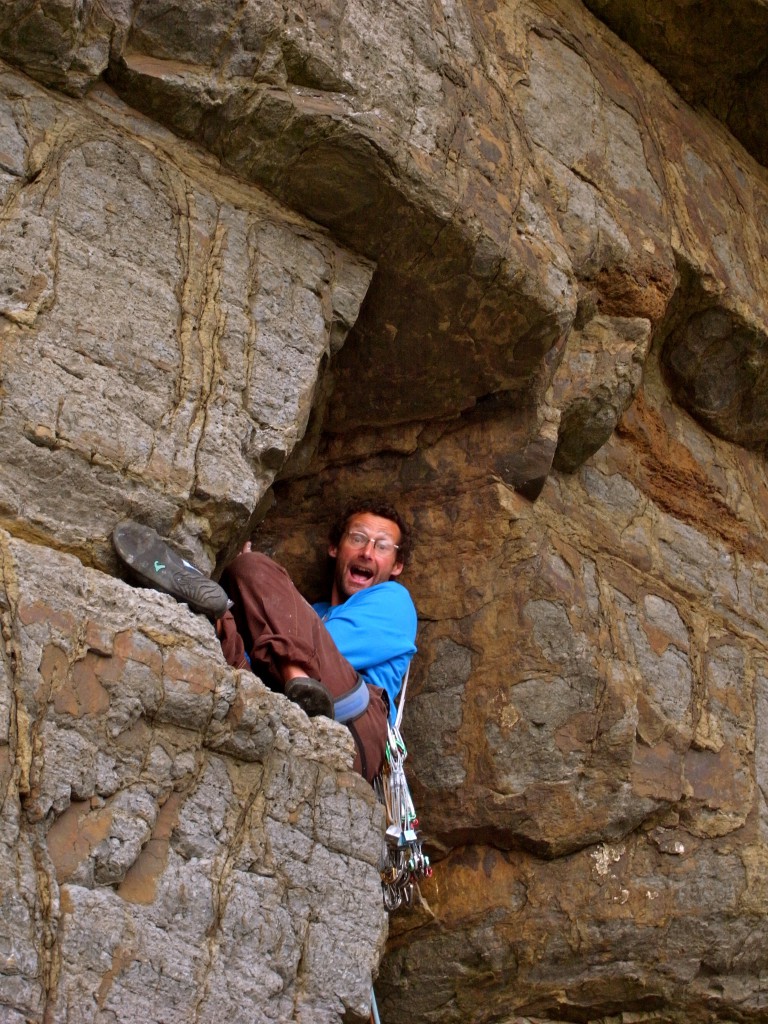 Returning a few days later, in amongst some other stuff, we climbed the traverse breaks giving a couple of new routes and a new direct line between Dorys Day and Absent Friends on the Upper Facet
[Orange Blossom Special. E1 5b *. 30m. The horizontal break above Scintillating Witches on Golden Wall.
From a belay in the corner of Faltering Hand follow the third break up on The Golden Wall moving from left to right before exiting via Knowing Her. A pleasant pitch that is very well protected by cams.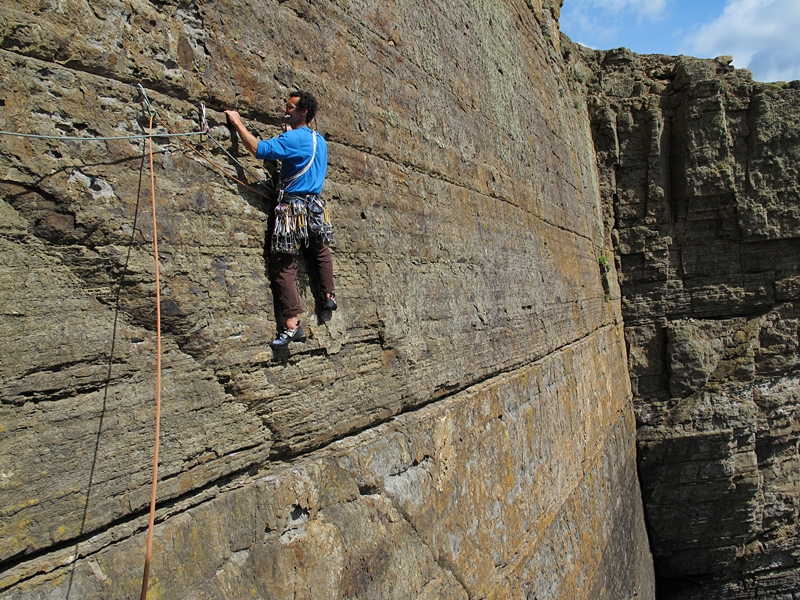 Walk The Line. E4 5c. * 30m The horizontal break approximately 2 metres above Orange Blossom Special.
Climb  Knowing Her until a reasonable small ledge is reached at approximately three quarters height, belay just below the fourth break up. Follow the break in its entirety with footholds in Orange Blossom Special. Good gear at the start fizzles out to give a stimulating exercise in crab like mind control before a cluster of gear which is mainly poor except for one very good small cam, convinces you that maybe you can continue the shuffle. Continue while being careful with the snappy sidepulls, especially as your rope now resembles an uninterrupted washing line, before another very good, but very very small cam gives respite. Once more run it out mincing left until the break leads to the corner of The Faltering Hand belay. Climb out via Faltering Hand.]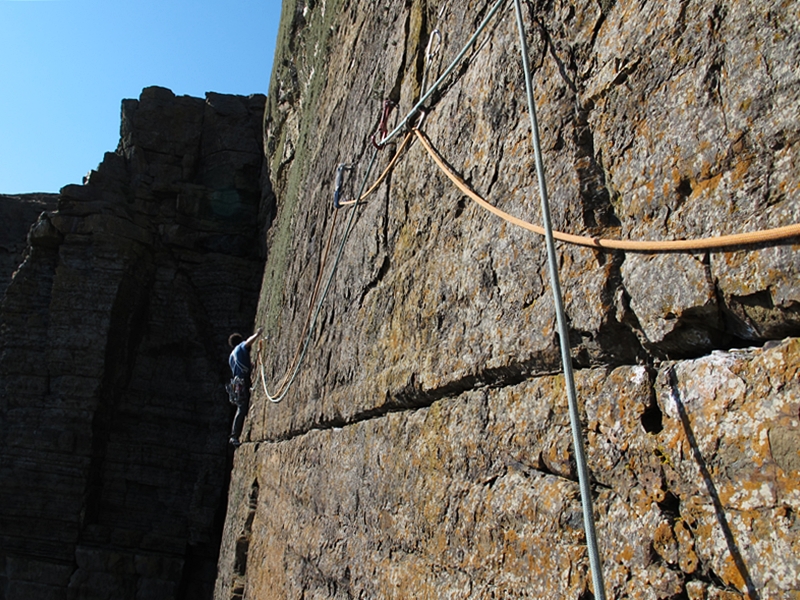 Futterwacken. E5 6a. ** 25m. A direct line Between Dorys Day and Absent Friends on the Upper Facet.
Start as for Dorys Day and Absent Friends. Climb to the overhang and where Dorys Day moves left and Absent Friends moves right and climb direct through the overhang to a peg. Climb direct up the wall (crux) until the holds get bigger, but the gear gets sparcer, until a short stimulating left traverse leads to the right hand side of the large ledge of Dorys Day. Sort out some gear and step off the right side of the ledge onto a big foothold on the right arete. Good solid crimps lead steeply to finish right, directly above the arete.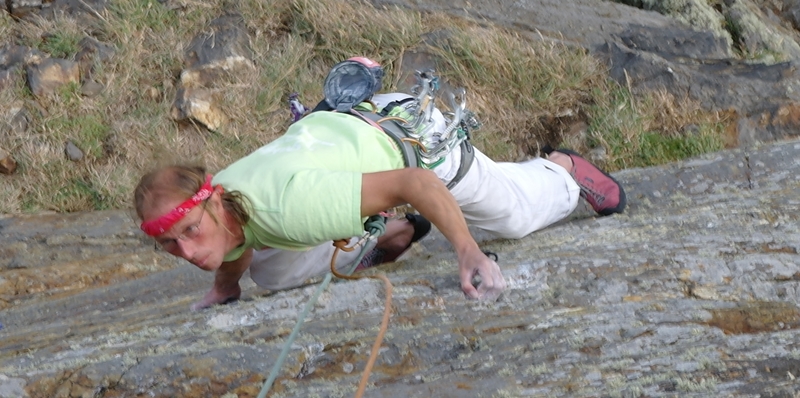 On another day, in a more solid world, but not a million miles away, Baby Dave Rudkin and I decided Gogarth was the primo destination in the heat-wave that was hitting North Wales. Wen Zawn was the first choice, but it looked and felt like a cauldron of intense, so we opted for a more shaded venue close by. Dave wanted to have a go at the Boston Struggler, a three pitch George Smith upside down bit of madness next to Spiders Web, I didn't, but climbing is about give and take and as long as I don't suffer too much in the endeavours of others I don't mind.
"How about warming up on that." I said pointing at a cave-chimney-overhanging slime jamming fest E2 which had all the hallmarks of epic spanking. "Ok", said Dave.          
Setting off into this E2 (It was definitely into and not up.) the air was dank and the light was gloomy. I suddenly wondered what had changed me from being a nice two dimensional climber of clean vertical walls into a sick puppy of thrutch. Not that this means I'm any good at it, it just means I get some kind of sick pleasure from a thrash. Its possibly something similar to folk who suddenly decide that normal sex is not racy enough and then include whips and chains and PVC and the like.
Utching-pressing-slipping-sliming-jamming… I knee barred, arm barred, back and footed, slippered and slippered and slimed … getting hot and hotter, but managing to place several large cams and feel reasonably happy and not too pumped. 'God, what a legend I am, I'm a so rounded a climber.'Pulling out of the cave it all started to go a tad wrong. Jamming, jamming, jamming, knee bar, no hands rest, jamming, it took me up, but up into a feeling of pump. I focused totally on the wide crack, and jammed until I could jam no more. "Ahhhhhhhh", my knee bar slipped and so did I, straight out of the crack, but I had placed so much gear, quite embarrassingly, I fell up! Hanging I asked Dave to lower me as I thought I was about to vomit.
Dave, the little bast*#d, then set-too climbing the crack on my gear and in seconds and using holds outside of the crack, holds that in my endeavour to be a jamming guru (!) I missed, styled his way to the belay. "Well done Dave, good effort, oh, nice job… Wan*#r!"
So having placed all of the gear in the first pitch, I now had to remove it all and lead the top pitch… 'Deep joy.'  
The top pitch of this E2 was supposedly 5a and it had the word easy in the description. But as holds flaked and boomed and the crappy gear ran out, I thought, 'WTF. The baby one looked on and laughed knowing that this was obviously his day, while I teetered and swung around above him on some death arête which boomed and creaked and had all of my gear ensconced in it. Finally, after a fall when a hold ripped, I committed to the overhanging arête, threw-in a heel-hook and laid-one-on for the top of the crag. 'Yeah, typical E2 moves those… Easy.'
Sitting in the grass, back at the bags, the sea shimmered and sparked. Seagulls floated. My left arm was cramping and my body was pummelled. "What do you fancy next?" I asked the Baby one hoping he would say ice-cream and a cold beer, and just for a second I thought yes, its beer, its beer, but instead of beer he went wrong and said Boston Struggler. Who is the baby now? I wanted my dummy!
The Boston Struggler is three pitches. Two 5c burl, sandwiched with 6b upsidedown mentalness. I opted for the two 5c pitches!
Laybacking and cramping and slippering in the grey slime, I eventually got us to the belay on the left of the huge dark cave that has the Joe Brown route of much madness, Spiders Web. (What was Joe thinking, downward cave climbing way above the sea in some year before Christ and the invention of cams!) Baby Dave set off and in just two moves his body was horizontal. Up, down, up, down, up, down… "Sorry Nick." I didn't mind at all, I needed as much time as possible to get some feeling in my left arm. Up, down, another move along, a cam was placed, and down and rest. And then as I checked the belay for the umpteenth time, Dave launched. Feet level with his hands, body in a planche position, strain-shaking. Bosh, like a kung foo master, the Baby one jabs a hand jam, and mother of mercy… cuts loose with both feet. Just as I thought the situation could not get any crazier, he lifts a leg way above his head and heel-toes a crack. Hanging upside down, way above the crashing sea in the middle of no-mans, or no baby's land and all without a comfort blanket Dave slaps and gurns, fighting-slipping, fighting-pulling, gasping-crying, he falls… 'Jesus!'
"Do you want a go Nick?"
"No."
After a rest, round two prevails… More grunt, more burl, swinging, thrutching, slapping, he cuts-loose, toe-heels, slaps, slaps, slaps, cuts-loose and then he's up…
 'Oh bugger, now I have to go out there.'