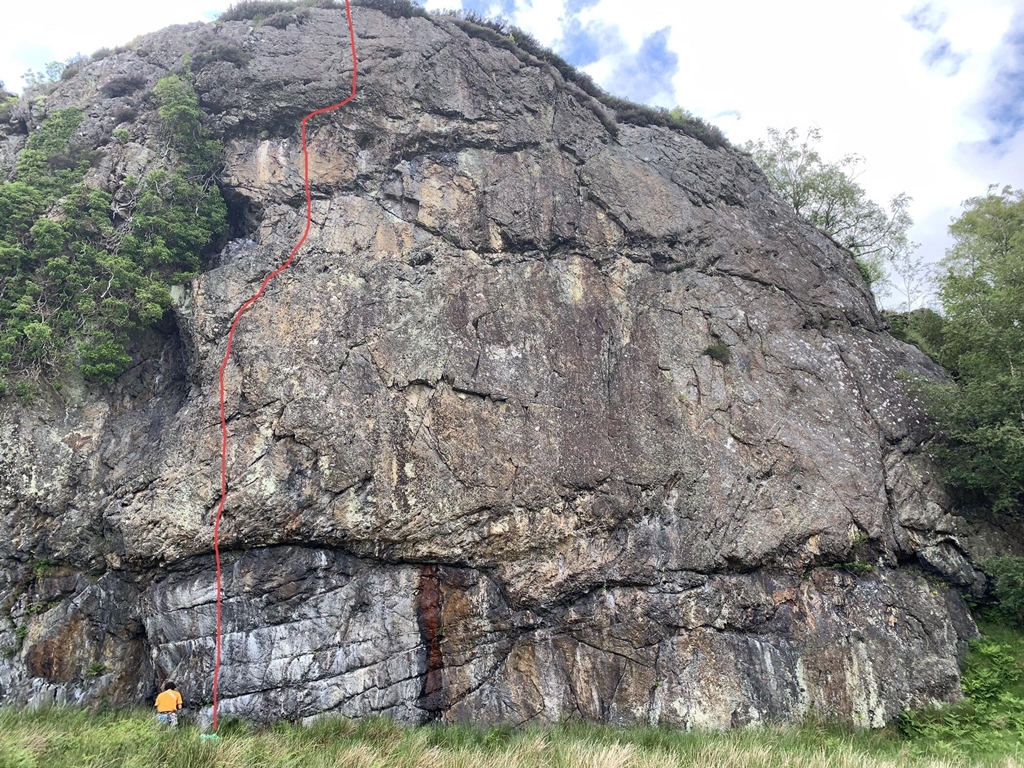 Clogwyn Yr Adar.
A small, but good crag with several high quality routes. Head along the A470 from Betws y Coed, through Dolwyddelan towards Blaenau Ffestiniog. Turn right, signed railway and Pont Rufenig (Roman Bridge). Follow the track until its end just before a bridge, where there is parking on the right. Walk back, and up the road for Coed Mawr Farm. Walk through the farmyard, turn right and follow the rough track. The crag is a little way above the farm on the right. The crag is on private land, but the farmer permits climbing. Please be considerate and low-key. No groups and no parking at the farm. More info found here.
The Knight of Noble Consciousness. E5 6a *** 30m
The first line on the R/H buttress. Start on the left end of the buttress, just to the right of the vegetated gully and arete. Climb direct to the overlap (peg). Pull the overlap into a wide crack and tussle with the crack until established on the wall above (crux). Climb slightly left, to a peg, then back right until beneath the owl hole on the left side of the very overhanging wall. Climb to the owl hole, and make great moves traversing right, (hands just beneath the overhang, feet on not-a-lot!) to reach the peg and crozzly pocket of Genericon Limits. Finish the final steep moves of Genericon Limits passing the pegs.
Nick Bullock, Mick Lovatt 17/6/21