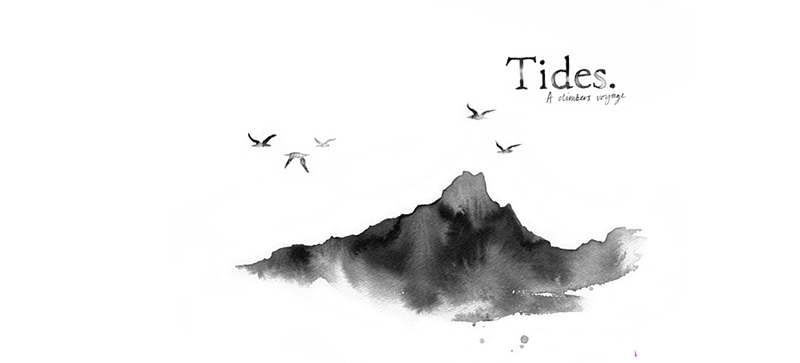 Anyone who read Nick Bullock's outstanding debut book Echoes, published in 2012, will have surely had their interest piqued by the release of Tides earlier this year. Once again published by Sheffield adventure publishers Vertebrate, Tides takes over the story just where Echoes left off.
For the benefit of those unfamiliar with it, Echoes is an absolutely unique account of Bullock's early life and eventual career as a prison officer—which even on its own would make for an eye-opening read. But Echoes also charts the author's genesis as a top-level alpinist through his discovery of climbing. His growing obsession with the mountains and climbing develop and eventually form his escape from the often violent and claustrophobic world he experiences inside the prison walls. As a piece of mountain literature it is unmissable and told with brutal honesty.
In contrast, during the Tides years of 2003 to 2016, prison life is behind him, and the parallel narratives are now that of his climbing intertwined with his home life and faltering relationships. Picking up the book you might worry that, like a rapper embarking on their second album with their gritty life hustling on the streets a distant memory, all Bullock's best raw material is all used up.
Compared to the harsh reality of his life as a prison officer, the tales of his relationships and of his ageing parents could at first glance seem fairly mundane. However, life as an itinerant climber is not all roses, not all simply driving between new climbs. Bullock does not gild the lily; he not only tells of the wins, the joy of climbing and pushing yourself when it all goes right. With his trademark honesty he also recounts the losses; the failures, the good friends lost to the mountains, losing a parent, fracturing relationships and not least the feeling of loss of time.
It is Bullock's lyrical, sensitive and finessed storytelling that carries the narratives as he tries to make sense of approaching middle-age, and it's this that make Tides an engaging read. The climbing action is told as vividly as ever, and Bullock delights in the subtle details, in the minutiae of certain moments. Thankfully he does this without falling for the trap of describing every move on every pitch on every route in excruciating detail. Stories develop with a satisfying sense of pace. One minute you are revelling in the experience on a hard first ascent on a distant mountain range, then effortlessly placed on the crumbling walls of some North Wales sea cliff, then freezing on an unplanned winter bivouac on an alpine peak. The sense of rhythm of the semi-nomadic lifestyle, the tides of the book's title, become apparent. Moments of introspection are plenty, yet at no time does it feel self-indulgent, only an honest and frank exploration of his existence as a full-time climber.
With the matter-of-fact style comes the risk that the casual reader could actually miss the significance and magnitude of some of the ascents in the book. Plenty of other authors might have milked the successes a bit more; you could make that a criticism, or a compliment, depending on your viewpoint. However, it's definitely worth a bit of background reading on some of the routes—for example, the Slovak Direct on Denali. This route is huge, and a BIG deal, but you could be forgiven for not realising the full scale of it from Tides alone. Bullock has notched up so many big hard ascents in the mountains that perhaps it's just impossible to fit them all into one book and maintain pace without sacrificing context a little. Either way, it's well worth reading Steve House's superb Beyond The Mountain for context on routes like the Slovak Direct for instance.
In contrast to the constant exposure and the suffering of the mountain environment it is the tales of climbing and banter with friends on the sea cliffs of Anglesea that are told with such an obvious affection that makes it no wonder that Bullock ended up making North Wales his de facto home. Moments of humour offer relief not only from the danger of hard routes and the high mountains, but also from the ups and downs of his complex relationship with his father and coming to terms with parents reaching the end of their lives.
A recurring theme is the idea that climbing sometimes occupies a rather selfish space in our lives, where it exists at the detriment to our non-climbing relationships in the "real" world. The challenges the author faces in balancing this with his love of climbing will not feel alien to many. You don't need to be a full-time climber or repeating top-level alpine routes to see a little bit of yourself and you own life in Bullock's book, which ultimately makes it easy to relate to, and easy to enjoy.