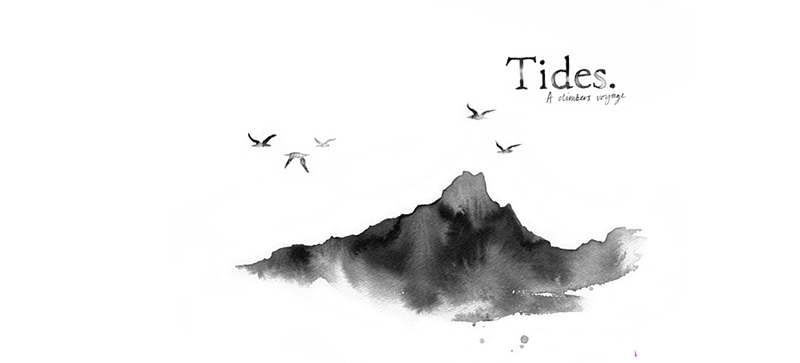 Few subjects spawn such a huge volume of literature as does climbing, with many climbers being avid readers of the subject, and a high proportion of those climbing readers also writing – and writing well. Nick Bullock is one of those accomplished climbing writers, with 'Tides' sub-titled 'a climber's voyage' being a magnificent collection of nearly forty volatile vignettes describing successes and failures which ebb and flow, often with rapid and unpredictable mood changes. This aspect is exemplified by Nick's decision to walk away from security and stability to take up fulltime climbing at age thirty seven, yet he had only begun climbing at age twenty eight after discovering this pursuit when working as a PE instructor in the prison service.
Nick is now a highly respected world class climber, recognised by award of a Piolet d'Or. 'Tides' shares many of his exploits and epics as it incorporates brief accounts from his rich sources of triumphant experiences and sapping frustrations. Since leaving regular employment in 2003, Nick has oscillated mainly between Llanberis in Wales and Chamonix in France, though he also recounts tales from other parts of Britain plus various foreign trips to the Himalaya, Peru, Canada and elsewhere. With short chapters he omits long descriptions of expeditions, and he avoids sequential chronicling of his life. References to family and relationships commence with the prologue and are scattered throughout the book, presenting insights to Nick's beliefs and feelings. In particular he shrinks from his aging father's statement on living too long, and he harbours a fear of not having sufficient time to do what he wants to do. This explains some of his self-centred actions, where precedence was given to climbing attempts and achievements.
From so many vignettes it is not practicable in a book-review to present detailed content, but Nick's hunger for success and the integrity of his accounts shines through as he pushes himself and he extends his personal boundaries. Initially Nick's attitude seemed to be that climbing had to provide a way to feel value with a 'tick-list' mentality, but as 'Tides' progresses emphasis shifts to better understanding of what it means to be happy. Whether on extreme Welsh rock, grade X.10 Scottish ice, or Himalayan-scale first ascents Nick is at the forefront of all aspects of seriously difficult climbing. He refers to risks he accepts, and to the effect of his more dangerous adventures on others, and his sense of guilt at outliving friends. To lighten concentration on negatives of climbing terrors Nick injects positive observations on nature with elegant references to birds, plants and animals.
Awareness of nature does not detract from Nick being obsessive and impatient, yet there is no doubting how climbing has enriched his life. His writings acknowledge how climbing challenges him both physically and mentally, gives him focus, and makes him a better person. In similar manner to a review's limitation on exposition of climbs, a book-review cannot supply elaborate particulars for all Nick's climbing partners, but any listing would read like a roll-call of honour for today's leading climbers. Nick forges genuine and dependable partnerships, with personal appraisals underpinning the boldness of their endeavours. Some comments are critical and some can be cruel, but most is light-hearted – and all is honest.
As the end of 'Tides' approaches its content gives increasing significance to companions rather than to actual climbing, and Nick adds detail to previous romantic issues and family matters. He introduces a social dimension that makes his book thought-provoking – in addition to it being exciting, enjoyable and entertaining 5-star reading.