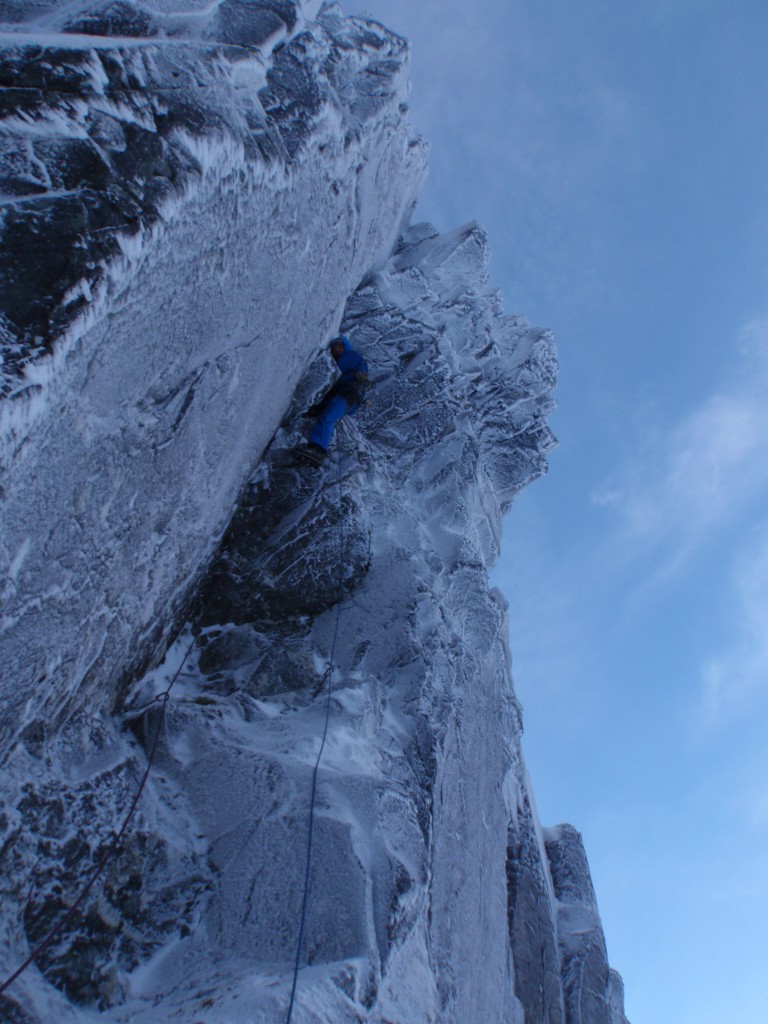 Police sirens, blue flashing lights, large white balustrades, Bentley's and halogen lights lighting gold gilt fencing. I walked through the dark Green Park avoiding puddles from the recent rain. Buckingham Palace stood aloof and sparkly, separated from the riff raff, protected by the gold gilt railings. Separated from the police cars bullying their way through commuter traffic on their way, (in my small boy from the hills mind) to another bank stick-up.
It's been a strange few weeks. Rock climbing for a week in Catalonia before returning to rainy Wales and driving south to London to meet the Queen and Prince Phillip and Reinhold Messner, (not sure which to a climber is the most important!) and drinking a Stella in a busy pub around the corner from Buck House with Rab Carrington generously buying a round on the way in and on the way out, in the same pub, Houseman did the usual (Good old Youth). The images lodged in my mind from that night are too many, Simon Yates's rolling a tab in the grounds of the palace, Fowler and Scott attempting, and failing to enrol me in the Alpine Club, Jim Curran who showed concern that I will have a book published next year as will he. Dave Turnbull, dapper and engaging, not holding back with meeting some amazing people unlike me and Houseman who were not bold enough to introduce ourselves to Ellen McCarthur. "Another glass sir?" My Champaign flute was filled again, well I am a climber and free booze no matter where it is, is … well, free booze! I looked up on occasion and paintings hung on the walls, none of them were re-prints or Athena photo's I'm sure. Maybe I could slip one under my jacket and fund the rest of my life.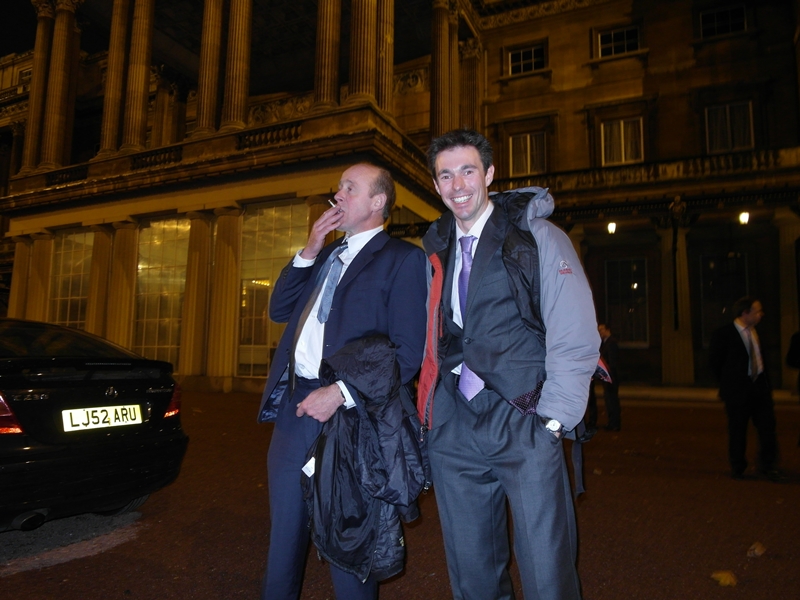 Later at about 10.30pm after sitting on the tube and trying to fathom peoples lives I wandered around St Pancras Station lashed on posh Champaign and Stella while attempting to catch the correct train. Something made me look up. The grandeur of the building stopped me in my tracks. A Betjeman bronze looked up, much the same as me. Where do all of these people come from, where are they going and what do they want. Are they happy? "The train you want mate is over there, it leaves in five minutes." "Cheers." I ran a wobbly run.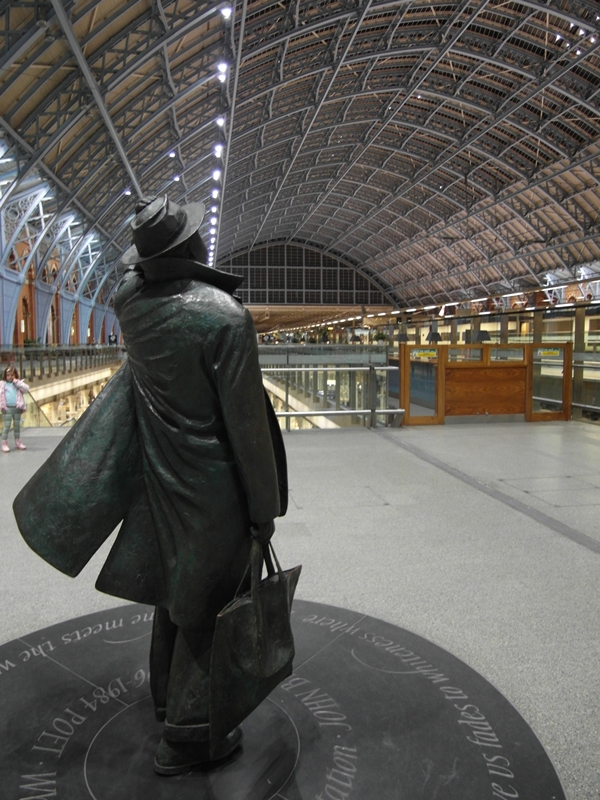 And at last, I have reached Scotland and after spending the last two months writing a book and training it was paramount to become a climber once again. Yes, I was rock climbing in Spain but clipping bolts in the sun, as nice as it may be, doesn't really hit high on my things to do for the winter.
Calling into Manchester Airport I picked up Dougal Tavener, my partner, in amongst a few others, over the next month and as we drove North the anticipation grew.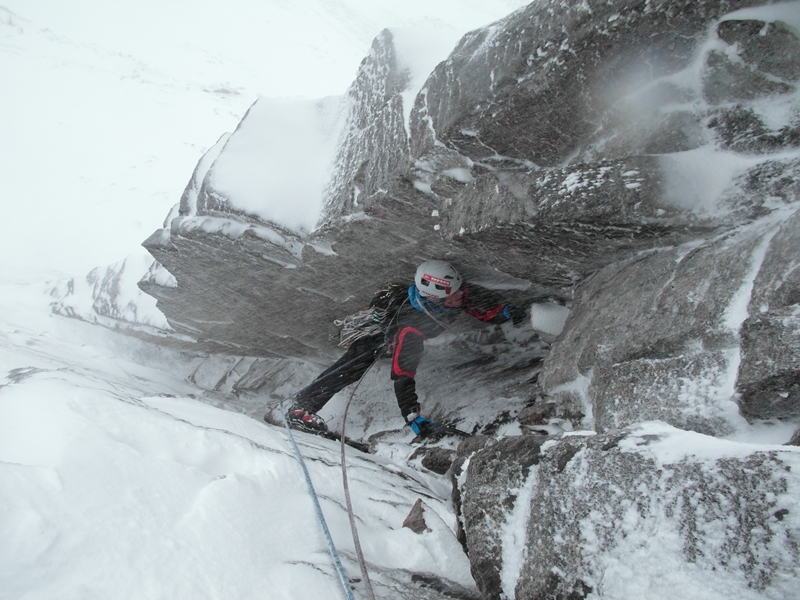 Day one was driving rain and gale. 'Not again.' But day two, after a delayed start until the snow gates were opened, allowing us to the Caingorm car park, saw us battling, bent low until reaching a snow lashed Sneachda and a warm up on The Stirling Bomber.
On day three, again we drove to the Northern Coires and met Pete Benson and climbed Ventriloquist. At the top belaying the other two I decided I certainly needed to warm up more to winter, because if that route was a VII/7, a grade I normally find OK, it felt anything but easy… 'Yes, another warm up tomorrow then and after a rest day maybe try something a tad spicier.'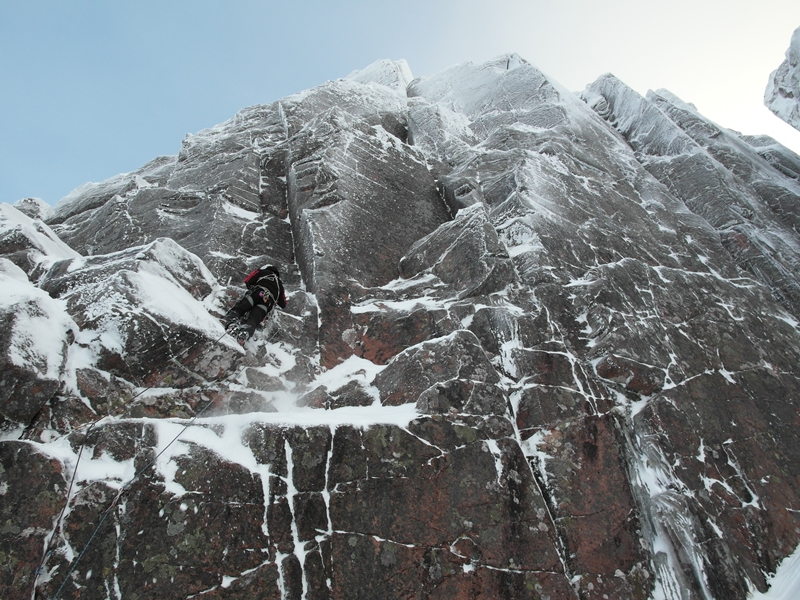 Not sure where it went wrong but as we walked into Ben Nevis I told Dougal of an unclimbed line near a new route I had climbed last year called The Pretender which is on the East flank of Tower Ridge.
After climbing the same entry pitch as for The Pretender, Dougal belayed beneath the overhanging cliff. I climbed a steep, but short lived first pitch finishing naturally on a large ledge with a good belay beneath the main overhanging business above. Tavener seconded and lashed himself to the belay before I set off exploring the steep and technical entry groove. After several failed attempts to start, some cunning had me in a press up position stretched across the groove with Tavener laughing at my rather strange position but at least I was on the way.
A few more moves up and the overhanging corner/groove turned slightly mental. Feeling totally under-geared. We only had a few pegs, none of which were much good and one drive in hook I set about swinging around from a spike that looked ready to rip before committing to the steep. A couple of pieces of gear placed blind from a shaking contorted body position had me throwing me leg above my head and pulling like a train before a knee bar and a hand-jam and a half nelson around a spike. Hanging out of this small pod I looked down onto Dougal, the ground I had just climbed was super steep but above it was steeper still.
At last I cut loose from my quasi-rest and torqued like crazy using a will-it-or-wont-it-rip-torque. Heel hooking and sketchy bridging and flailing found me out of the pod and pumped stupid. "What the fuck happened to warming up for winter!" A good couple of hooks above the overhang kept me on track and wondering about all of those people sat in the tube station in London, going too, coming from … what?
An icicle in the v-groove above saved the day as I hooked it with both picks not caring now whether it blew or not as I was about to vomit, and after several more steep and hard, but nothing as hard as below, moves I swung around on the exit pretty stoked to have climbed the first new route of winter which Dougal and I decided to call The Ride of the Wild Bullhorn.
Ride of the Wild Bullhorn. VIII/10 Bullock/Tavener. 16/12/11. 55m
The climb is the obvious overhanging groove/corner crack on the left side of the steep buttress to the right of Great Chimney in the Echo Wall area of Tower Ridge.
1. Follow ice smears for 30m until reaching a large ledge beneath the main face of the buttress. 30m.
2. On the left side of the ledge beneath the overhanging groove/corner is a broken right to left crack system. Follow this with one quite hard pull until on a ledge just to the left of the groove. The belay is an in-situ red hex and a large block on the far left of the ledge.
3. Climb direct into the steep groove, (interesting), then using a variety of techniques and a certain amount of strength, continue to climb the overhanging corner past a small pod with a quasi-rest if you have imagination, past another overhang (crux) and into a tight v-groove to exit steeply onto Tower Ridge.