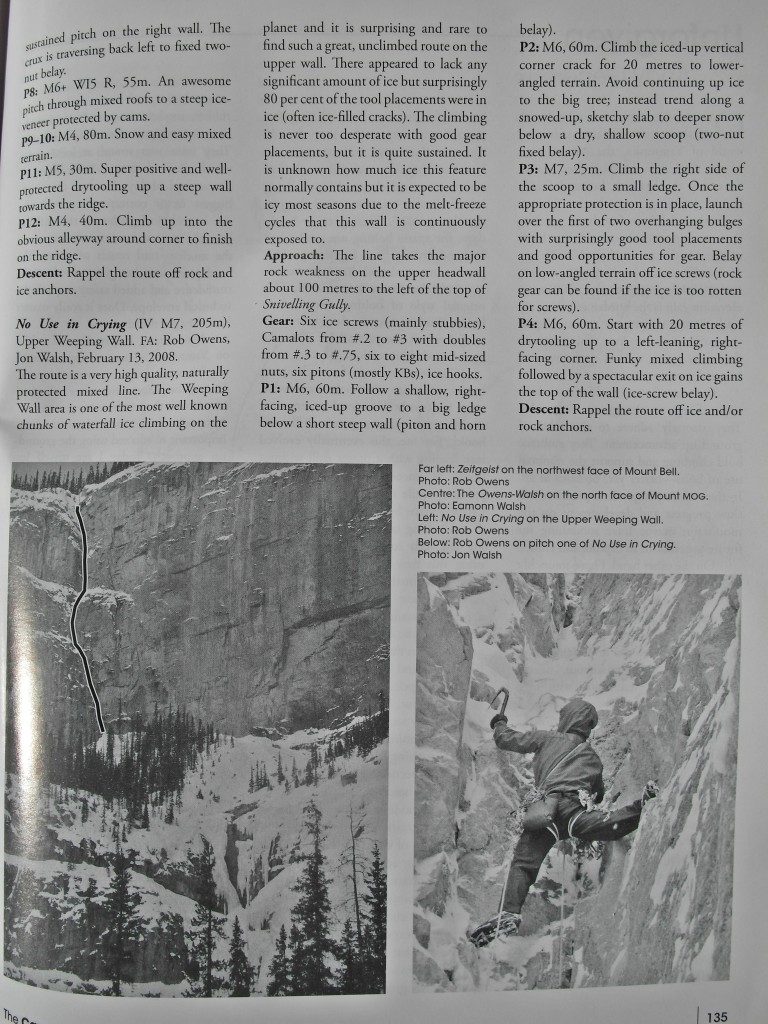 As we drove onto the Icefields Parkway, my heart sank. Snow was falling and our stupidly over-powered, automatic hire car with big fat tyres was causing me concern. 'What if it snows a load while we're climbing, we could get stuck in the middle of the back of beyond.' But the thought of the prize at the end of the snowy road kept us trucking and the day before I had discovered that the tyres were M+S, no not a superstore, mud and snow, meaning in my mind we can do anything – get anywhere, never get stuck. My mind had never really seen proper Canadian snow though!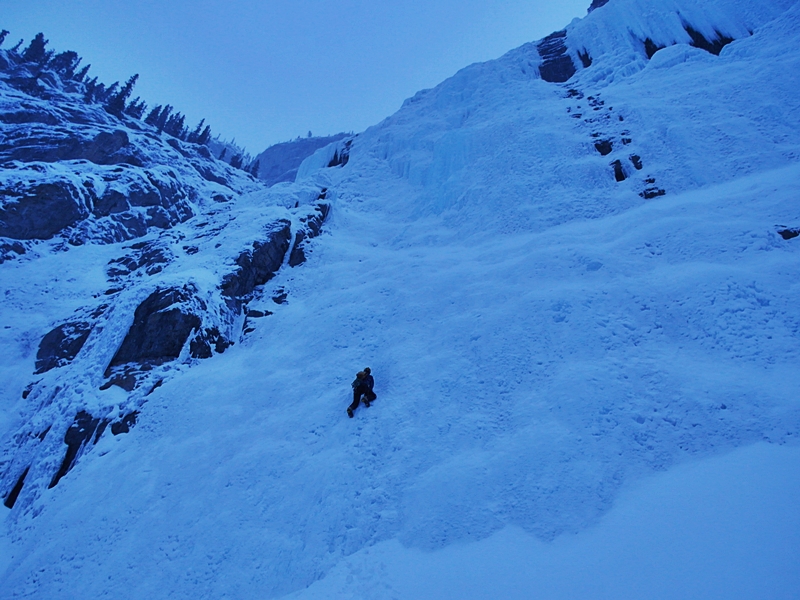 Soloing Snivling Gully in the steel light of, only just day, both Rob and I pummelled the ice until we stood on the massive snow covered shelf splitting the Lower Weeping Wall from the upper. The Start of our climb was only one hundred metres away but in waist deep snow it took a while. For some reason the champion fell runner with big legs and minimal years was behind, don't quite know how that happened, but sweat soaked and steaming I vowed that this would not become like the coffee out here, 'regular'.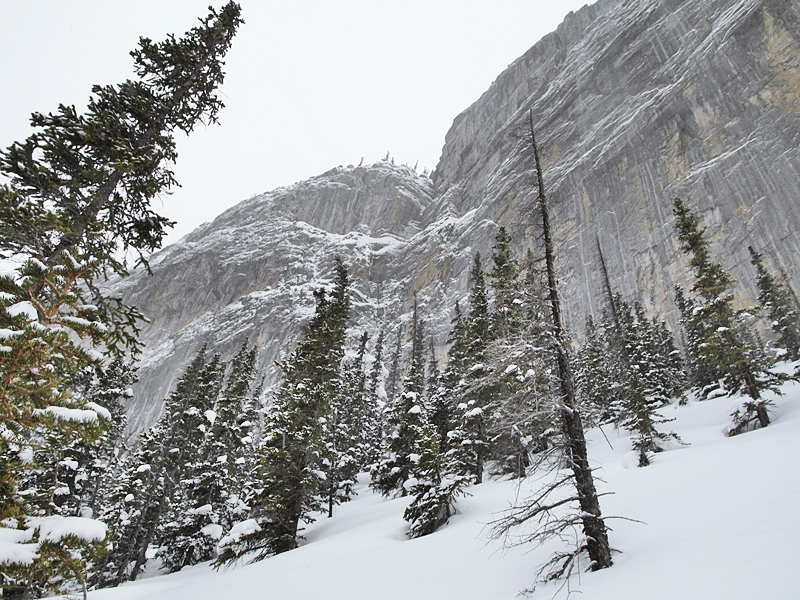 "Wow, it looks amazing." Rob's observation was not hyped, the line is a classic. Corners and grooves and pencil ice cutting a cleft in the overhanging two hundred metre wall.
As soon as I began to climb the horror of Canadian limestone flooded back. This is not Scottish. With very few torques and deep hooks and positive edges to stand it all feels insecure. Sketch the feet drag the pick till it hooks something under the snow and pull. And squirm and thrutch and skitter while throwing as much body onto the rock as possible.  And gear, well yes, there is some but it's as spaced as Cape Canaveral.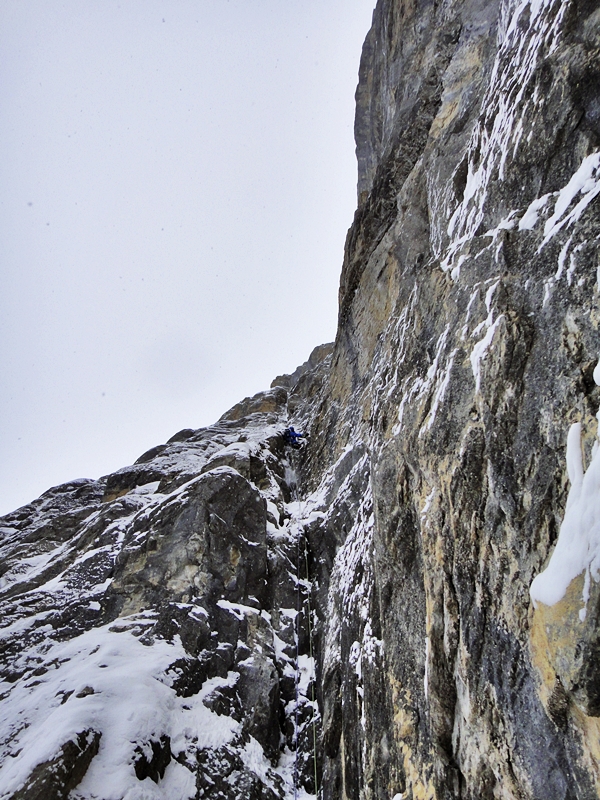 As Rob began on the second pitch the sky, which was already full of fluffy fat white flakes, decided to fatten up some more. The road way below disappeared, the odd snow plough trundled, clearing, growling, clearing and the muffled sound of a car kicking up a plume reached my old ears. My mind started to see us stuck here and possibly be arrested for being stupid tourists underprepared on this big bad serious road, but whooo, up above the climb was going down and at that point it meant more than arrest.
In Rob Owens ,the first ascentionist, description of the route he suggests double cams and we only had a single set, so Chopper Greenwood belayed half way through the second pitch and brought me up and then took on the 'Sketchy Slab' And I was glad, very glad in-fact as the sketchy slab certainly looked sketchy and I concluded that Rob with his champion fell running legs was the man for the teetering job.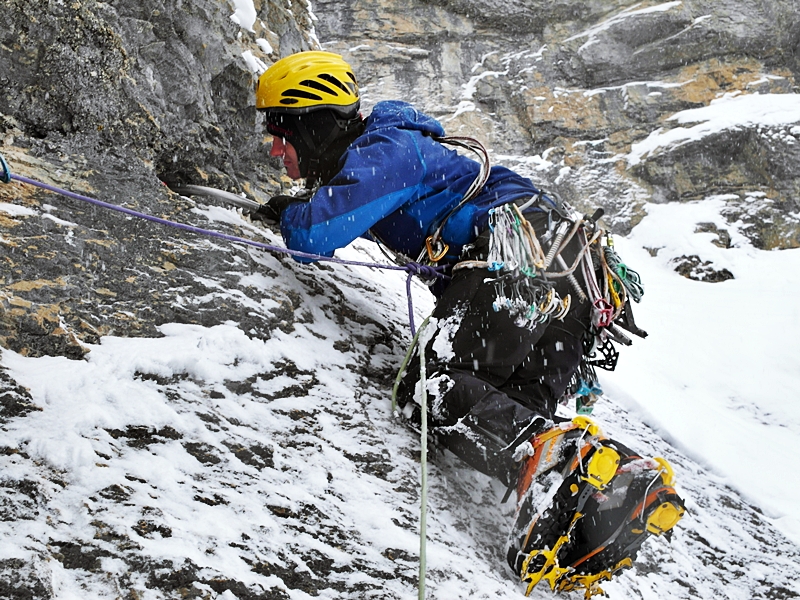 A fine effort in teetering and clearing a foot of fresh snow then followed. "Go on Rob, you can do it." I shouted while all of the time thanking my lucky planets it wasn't the other way around.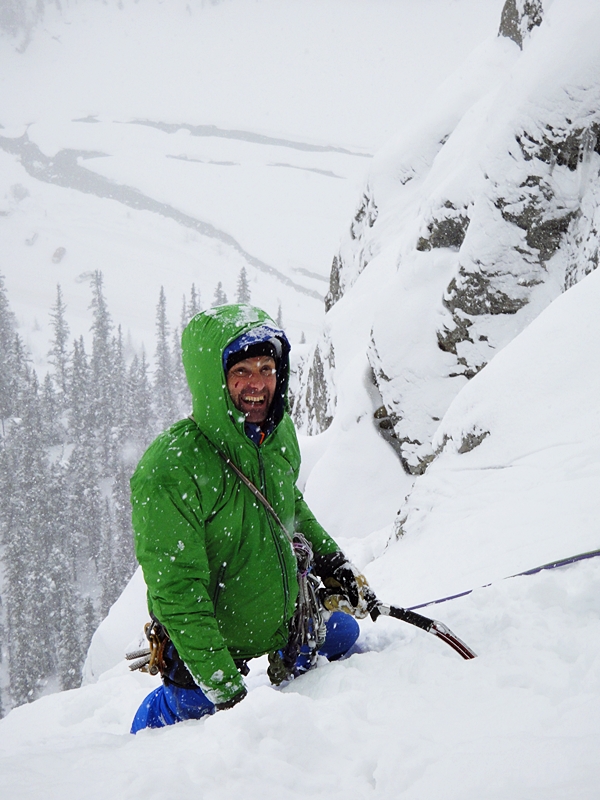 The third pitch was the crux and as I waded the snow to stand next to Chopper Greenwood ( a name I have attached after climbing ice the last few days) I could see why. A bulging wall, somewhat reminiscent of a Peak District limestone crag like Cheedale frowned down and beckoned me with a crumbling limestone finger. "You think you're good enough?"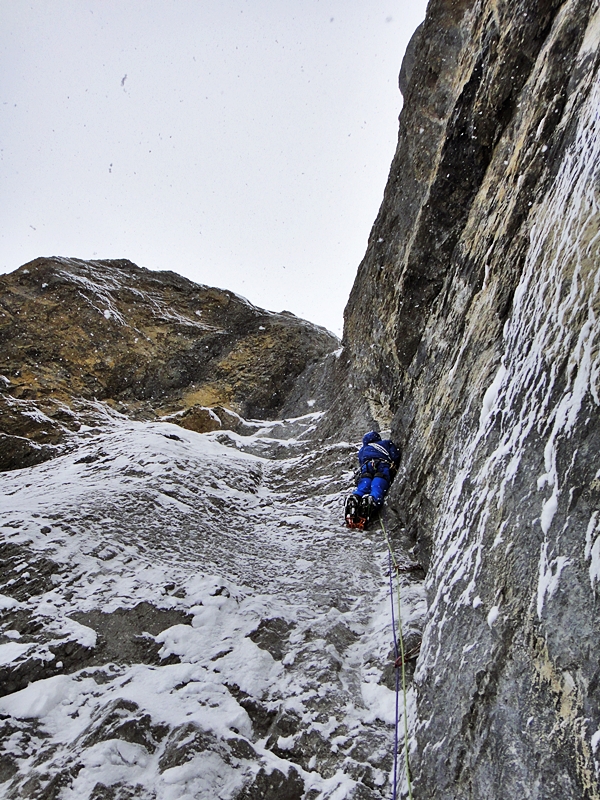 Half way up this bulging wall I wasn't sure I was good enough. I held a press up position on the half way ledge, shoulders buckling, calf's burning, head screaming. Stein pulled to stand, arranged a few bits of gear and then launched. Well, I launched in my mind but looking back I suspect it was more dipped a toe! Owens description ran through my mind,
'Launch over the first of 2 overhanging bulges with surprisingly good tool placements and good opportunities for gear.'
Well I wasn't launching and if these tiny hooks that I had to pull my feet level with my head were surprisingly good I would not want to see bad. 'Bloody hell I'm crap!'
Hanging off one tooth placements I struggled to hold the wasting feeling in forearms. My mind withered nearly as quick as the energy in my arms. Pulling and locking, a front-point placed on an edge level with my chest had me flapping about in a metre of fresh snow just over the overhanging top until the pick caught on a dribble of ice. I pulled and pushed as much body on the rock as possible. I thrashed and cleaned and thrashed but no ice, 'FFS, they belayed up here on screws'. Eventually, I slithered into a position that I wasn't going to fly from and the crux was over and I nearly vomited.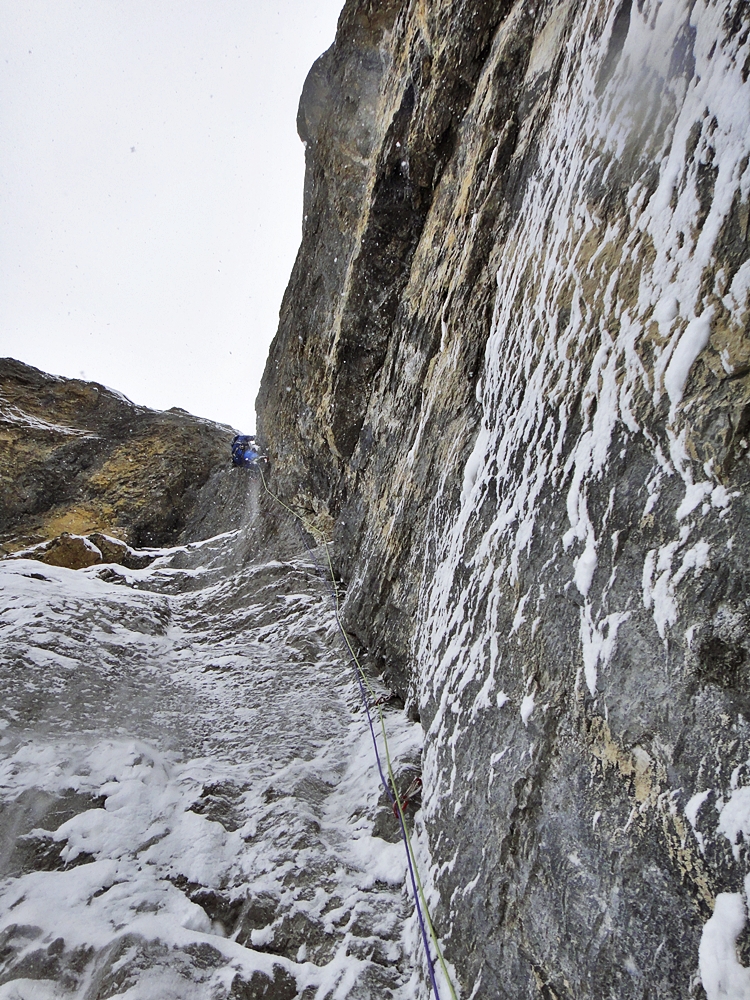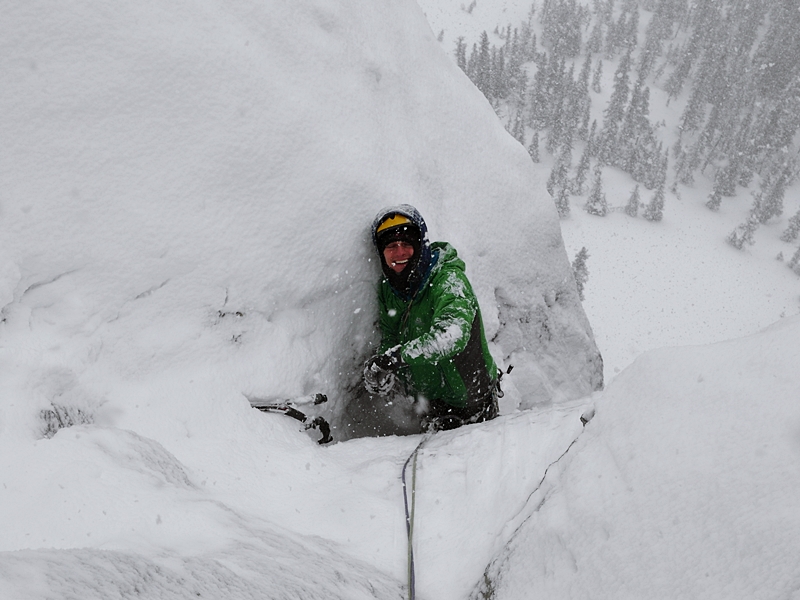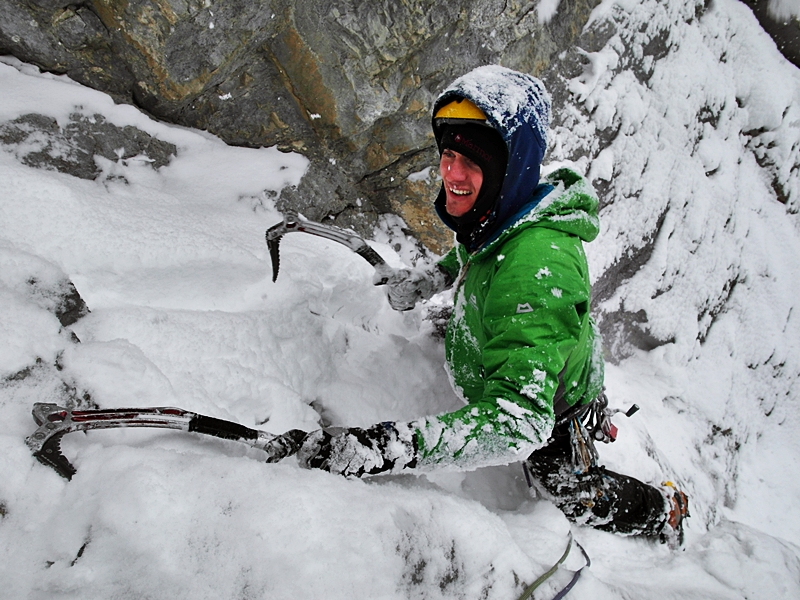 Chopper Greenwood took on the last pitch which was a crazy, run-out, decomposing, overhanging chimney topped by a smear of ice. Having big legs but small chest and shoulders he managed to squeeze between rock and ice to give a natural thread runner. I on the other hand struggled to squeeze my very manly shoulders, but at last I popped out into a white snow buried wilderness and success.
It would be easy to say that was the end of adventure but an hour or so later reaching the car at six thirty in the evening the crux of the day was about to unfold. The car and road was buried beneath metres and meters of fresh powder. Ok, maybe not that much but I'm from Britain and I hadn't seen snow like this since skiing it from the top of the Midi Telepherique in Chamonix and our big soft city car was not going to like this. I decided the only way was once moving hit the gas and keep moving and after an hour and a half of white out, spindrift and powersliding, nearly ploughing into a wall of white never to be seen again – we hit the Trans Canadian knowing that we had just experienced 'one of those days.' Hopefully there will be a few more to come before we head home.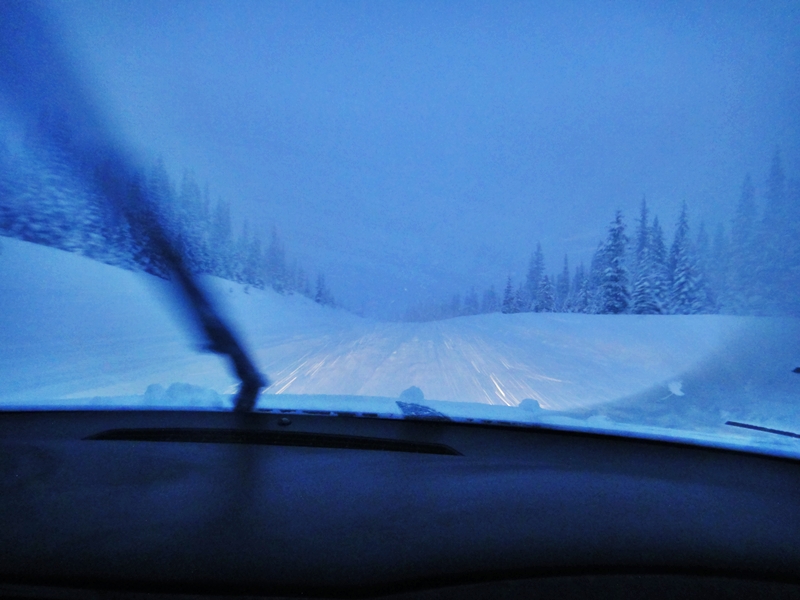 Thaks to Raph, Sean and Jen for the heads up about this route.