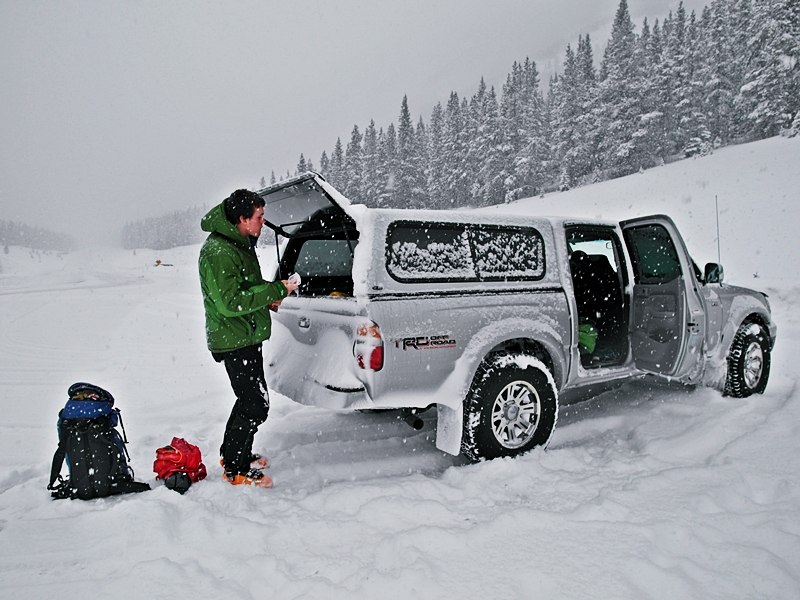 As we drove through K Country on Saturday morning, the snow flew past the windows of Jen's truck like surf. We were heading to Red Man Soars and Whiteman Falls. Jen had offered to drive and the little boys from the country that stops when two inches of snow falls were agog and wide eyed. Spruce weighed heavy with white stretched for miles and miles and miles. I'm sure when the roar of the truck quietened I could hear the howl of wolves. The radiator on the truck clogged with powder and ice causing it to struggle but somehow we made it to where the road was closed, the parking spot, unloaded ski's and began the 5km grunt.
I climbed Whiteman Falls eleven years ago with Bruce French on my first visit to Canada. Whiteman made a big impression and going back brought back the memories. Rope frozen into a hard cable, bashing and creeping, cutting a way through frozen petals, straight shafted Charlet Moser Pulsars with leashes that had to be opened with teeth. Eleven years… where did that go?
This time we chose Redman Soars, a cool mixed route to the right and Chopper Greenwood wanting to test his new found skills of delicate left the ground with confidence. It wasn't long before the repeated pounding had ice flying and the locals laughing. Jon Walsh, he of many a hard new route was on Whitemans and the banter was good. When Jen introduced us I called him a sick puppy, he appeared to like that. Jen pitched in with the piss take also, but undeterred Rob continued with finesse.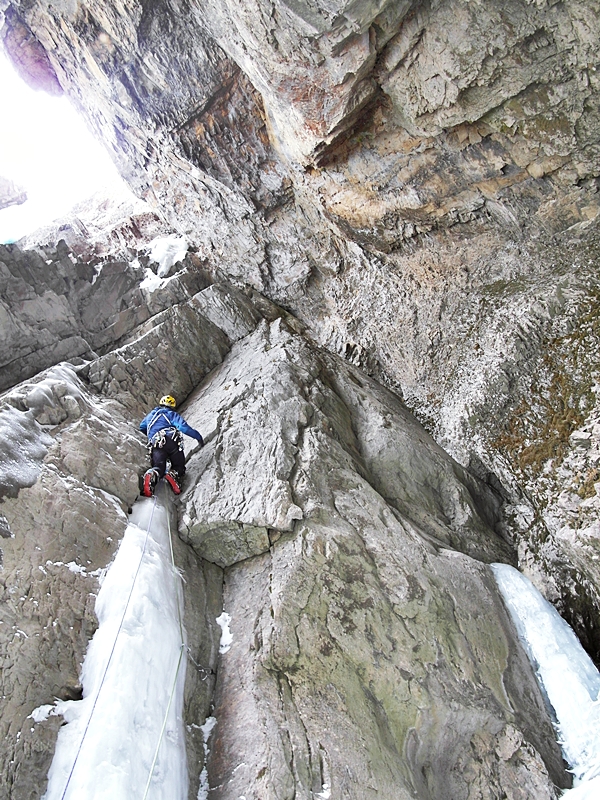 The ski out again went on for too long but at last we reached the truck where Jen pulled out the beer. And very nice it was too!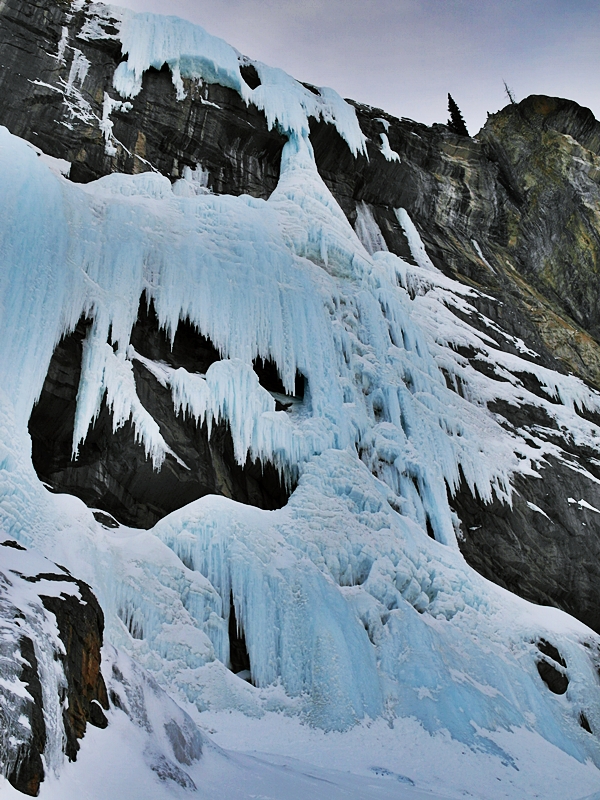 Another day and another big drive. Chopper and I once again took on the mighty Icefields Parkway with; thank God, a lot less snow than before but with me threatening to turn around at the slightest whiff of white falling from the sky.
In minus 15 we pulled the muscle car off the road seventy km short of Jasper. "Chilly hey Chopper?" Forty minutes later we geared up and set off up the first pitch of Curtain Call. I climbed Curtain Call four years ago so unfortunately for Chopper, who was salivating at all of that thick ice in front of his bright eyed face – ice, ripe and ready for him to carve some amazing sculpture – but he wasn't allowed to go the full way.
The climb we were after was called Call of the Curtain, a Will Gadd mixed climb which starts up Curtain Call and goes a tad psychotic in the middle by avoiding the thick ice bulge and climbing a thin streak, belaying, and then mincing along a huge rock-roof before joining the top of Curtain Call. All very pointless but hey, when has climbing ever been sensible?  
Irony, I just love it and it was very ironic that the team member with the name of chopper got to climb the very, very, thin link pitch and hold on a minute, what's all of that tapping!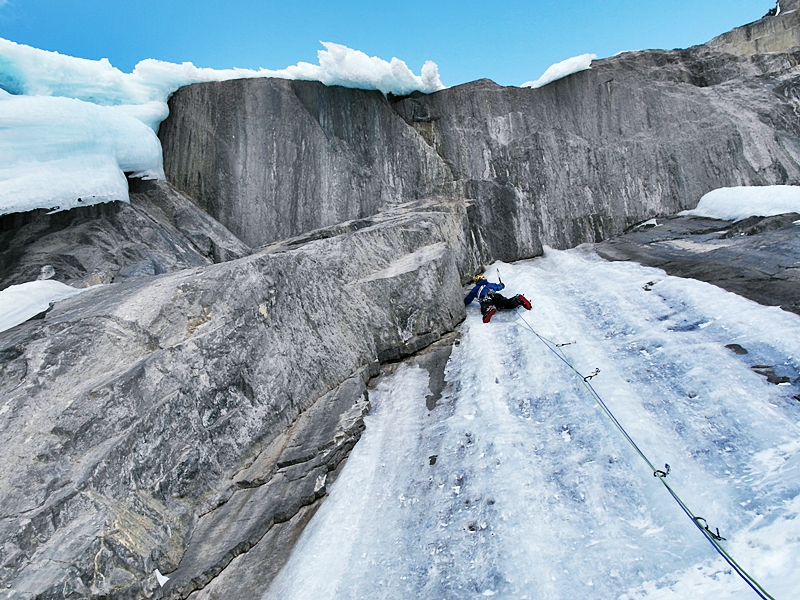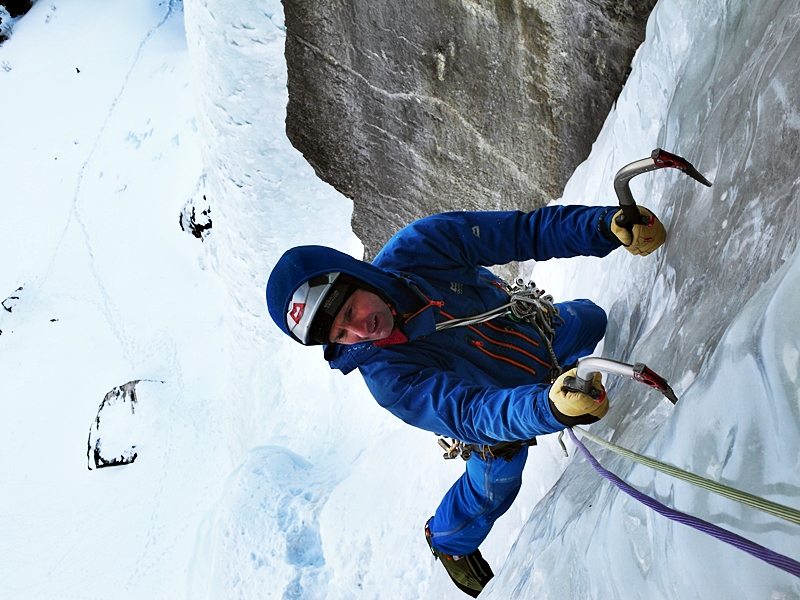 The crazy rock roof onto a couple of icicles wasn't that hard really and even Chopper cruised it without crashing down a ton of icicle with him still attached – got to be a bonus.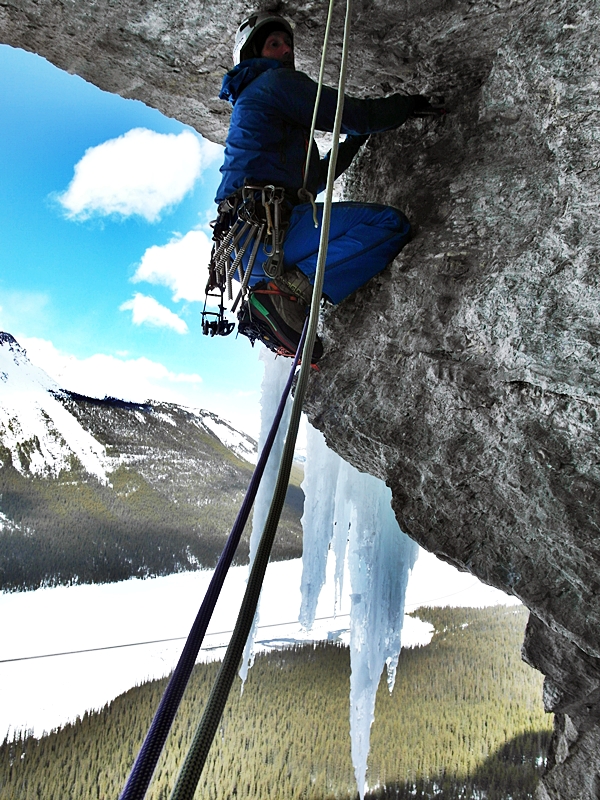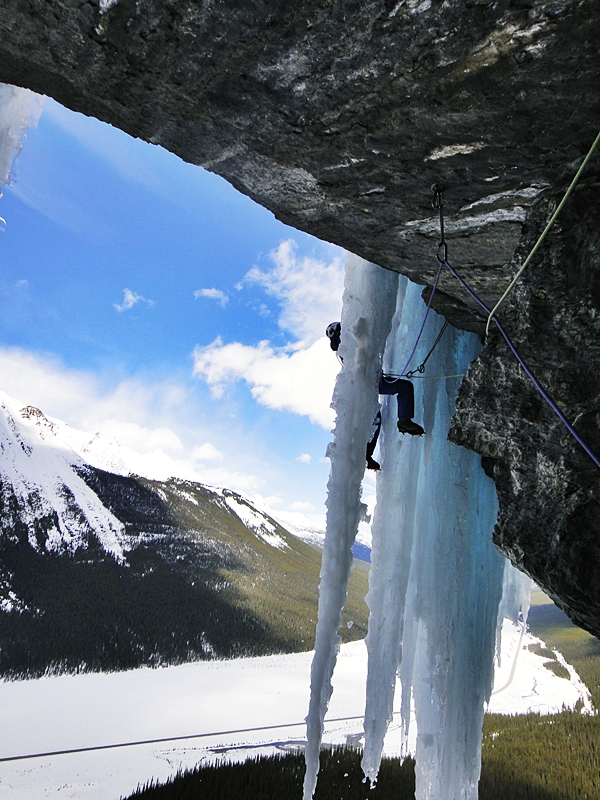 A two and a half hour drive through the most amazing scenery, back to Canmore followed and a plan was hatched for the following day which we decided would be prep for something big-ish… let's see.