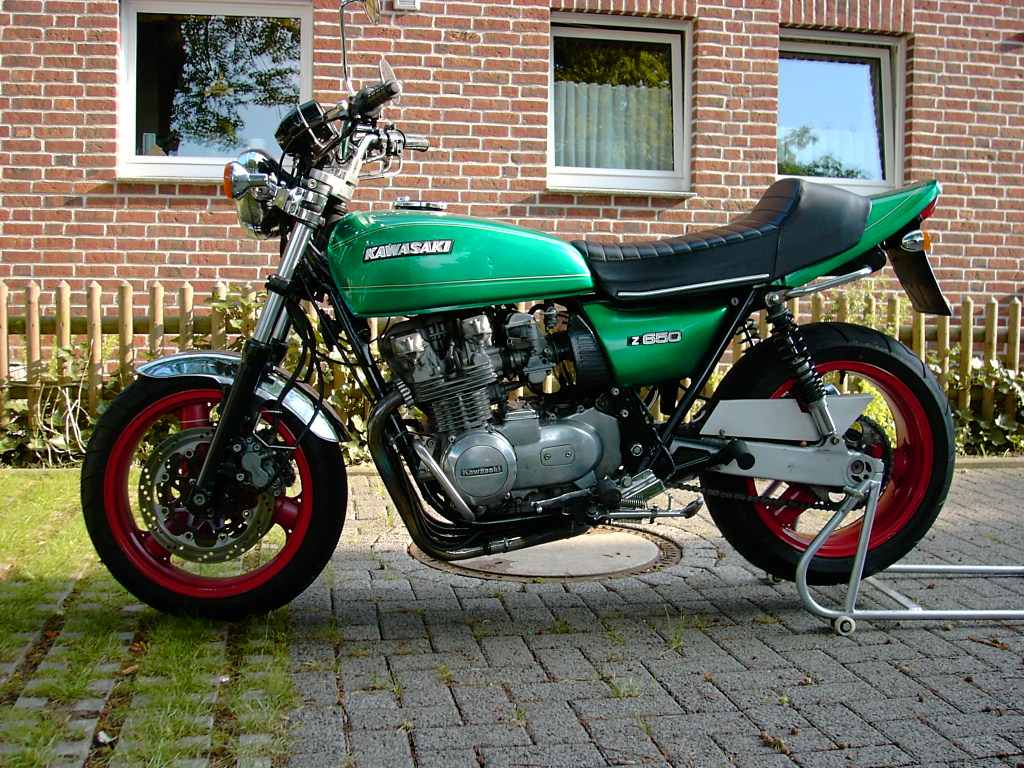 A rod of steel covered in rubber, the footrest of Steve Keates's Kawasaki Z650, stuck-out at a right angle. The footrest had no rubber on the underside; it was chewed like a lump of carrion. The rod of metal was also grated by the gravel of the road – prepared by the road – served up by the immortality of youth; this was dish of the day for most of my mates when growing up. Each of them was a Guy Martin in the making, the motorbike-racer from Lincolnshire but generally my mates didn't have the same skill and they certainly didn't have monster mutton chops.
Steve, or Keatesy as my mates and I called him, offered me a lift back from the Rose and Crown – the run-down pub near the brook at the bottom of the hill in the old mining village of Dilhorne in North Staffordshire. I don't remember how I ended up there but that was the story of my youth, it was where we all hung out and all roads – adventure, party, rat catching, all night rabbit coursing with lamps and lurchers, pigeon shooting, ferreting, my sixteenth, seventeenth and eighteenth birthday – generally led too, and at some point, from, the Rose and Crown.
Thirty years later, on the radio, I hear classic rock and country and western music that immediately transports me to the sparse, red quarry tiled floor of the smoke filled 'games' room. It was called a games room because it had a dart board, table top skittles, a fruit machine and wooden juke box playing 45's. 'All Right Now' by Free and Led Zeppelin's 'Communication Breakdown' blasted. Hawkwind, Black Sabbath, Neil Young, bands that songs are in-printed in my mind.
It was dark, it must have been near midnight – this was years before it was legal for pubs to stay open all hours and the lock ins at the Rose were well known – I'm sure both Keatesy and I would have had several pints of Marston's Pedigree, the pubs most prolific pint pulled. Not many folk drunk larger in Dilhorne. I jumped on the back of the Kawasaki, pulling my full face helmet over dark curls, shutting-out the subtle sounds of the night. The brook water trickle. The shift of the Friesians sleeping in the field. The chime of the church clock striking half hour and on the hour. The helmet didn't have a visor; I hoped the bugs on the night shift were small.
Keatesy, a year older than me, pulled on his helmet, hiding his almost permanent cheeky grin. Long blond hair poured from the back of the helmet stopping just short of the curve in his lower back. He straddled the bulbous fuel tank which was no mean feat given his reasonably short leg length but what Steve lacked in height he made up for in lust for life. He wrapped his bricklayer's fingers – skin nearly as chewed as the metal of the footrest – around the throttle and pressed the electric starter with his thumb.
The whine of electric turning a powerful motorbike engine is nearly as strong a switch that transports me back in time, the same as listening to Led Zeppelin. It's the same as the musty tang of corroding weight-training equipment in an old gymnasium. Writing about gymnasiums now, I'm breathing in that old building, damp decaying fust and I can see shafts of sun spotlighting chalk particles dancing in still and thick odorous air. I see myself, an eighteen year old – fresh innocent faced and lithe body – rubbing dust from the glass, and looking through cobweb windows. The windows are portals to the future. Expectation, ambition and dreams are through those windows. I see the future and want it, but now I'm here, I long for a time when young life was similar to the drops of rain in a spring shower.
The electric from the small motorbike battery turned the 650cc engine and after a revolution the engine coughed. A twist of the throttle gave an immediate high pitched roar that burst into the open space of the car park and the surrounding fields. Working as designed – like the perfectly operating joints of an eighteen year old – pistons – smooth and polished and oiled, pulsated deep in the heart of the engine. The Kawasaki trembled and the tremble passed through the frame and into both of our young limbs. The future was out on the road. Keatesy turned around and presented a thumb pointing up toward the cloud covered sky. Hidden behind the visor, I imagined his bright blue eyes and his big grin.
Quite a few of my mates from that time didn't live to see a future. After crashing while giving his younger brother a ride, Stod was left disabled and wracked with guilt and his brother was killed. Harry's girlfriend was killed. Dave 'Did' Turner went down the road often but somehow always survived. Keatesy, who I considered one of the most skilful and reasonably cautious, had an accident, leaving his girlfriend who was riding pillion with a paralysed arm. Growing up amongst big bikes and young mates did have a high toll. Higher than my later climbing life I think?
Recently I sat on the Canal boat, my parents' home and my Dad said, "I've lived too long."
It's easy to listen to something like my Dad's statement and not fully take it in or really think about it.
"I've lived too long."
But what is too long for this adventure of life? And do many of us treat it as a given, something that is expected, something to be frittered? Is there such a thing as "I've lived too long"?
I see friends, once very active, on-top-of-their-game, who now struggle, their bodies break down. Everything in their life has to be tapered and controlled to exist with what they have left.
Lately, I have been waking at 4am, and in the dark I've stressed about not having a fixed abode or a career and not having enough money to last till I die. As ever, that clock ticks as my body and mind grows old. Have I outlived my sell by date?
When there is nobody else apart from myself it is easy to be frivolous with the days and months and years, but growing close to someone young, makes me want to snatch back time. I see dreams and ambition and wonderment. I want to become young again. I want to spend more time together doing those things that are enhanced by doing them with someone special. I want that feeling of immortality and life ahead. I don't want the feeling of life passed its best. But time is like some cruel joke, as with age it appears to speed up.
And on occasion, recently, with the rain hitting the van, I have found myself thinking, have I outlived my sell-by date…
Have I outlived my sell-by date?
…but then, while walking the long grass of the cliff top, I see the wind catch the curling leaves of an ash tree and the trickle of water weaving a course along the dusty surface of yellow limestone. I watch shafts of sun penetrating the cumulous, lighting the dark sea and embracing an Oyster Catcher silently skimming the waves. I sit and chat with close friends. I share intimate thoughts with someone I love and this reminds me that life, at whatever level, has to be worth living in whatever stage of decrepitude… doesn't it?
Should we live scared or should we try to enjoy and take solace when we can?
…Growing older has made me more tolerant. Every day I try to learn and grow in understanding about other people and their lives. Often I fail.
The people I admire the most in life are considerate and kind and generous. The people, in general, I least care for or understand are politicians, owners of large supermarket chains, power companies and large corporations that make billions of pounds in profit each year. These people appear to not care for their customers while knowing the consequences of their action puts a large percentage of the population in a position of hardship.
I don't have a lot of tolerance for the people that appear removed from the people whose lives are affected by their decisions and I find the inequality of life, at times, is difficult to understand. I also find my indifference and inaction to change this situation pitiful. I live with guilt, but not enough at the moment to do anything other than write about it.
Decisions, decisions …
'Shall I feed myself today or keep myself warm?' 'Shall I accept that food hand-out? Can I afford to cook it?' These are questions people less fortunate than me, people living in Britain, have to ask themselves on a daily basis.
Questions, questions…
…questions run through my mind continually. Why are the major supermarkets in Britain, according to green campaigners, generating an estimated 300,000 tonnes of food waste every year?  Why do their prices increase more than the earnings of the majority of workers? Why do they throw food away instead of lowering their prices? Why do the directors of the four big supermarket stores in Britain receive a massive income and they pay some of their staff below the minimum wage?
"Official figures today revealed the cost of the weekly shop was continuing to go up, tightening the squeeze on cash-strapped households.
The Office for National Statistics said food price inflation rose from 3.9 to 4.4 per cent in July – in a stark contrast to the wider Consumer Prices Index, which fell.
Fruit prices were up 10 per cent, with apples 36 per cent more expensive than a year ago and pears 30 per cent dearer.
Other supermarket staples have also leapt in price as poor harvests and rising global demand pushes up the cost of feed. Pork sausages are 11 per cent up on July 2012, while best beef mince is 8.4 per cent more expensive. Breads and cereals are up 4.6 per cent and new loose potatoes 13 per cent higher than a year ago.
Average earnings are just 1.7 per cent up on last year."
[Quote from Steve Hawkes, Consumer Affairs Editor Telegraph Newspaper October 25th 2013. http://www.telegraph.co.uk/news/uknews/10240941/Grubs-up-as-fruit-and-veg-push-food-inflation-higher.html  ]
The poor in Britain die younger from eating cheaper, less nutritious food because they cannot afford the healthier, more nutritious alternatives. The division between the wealthy and the poor in Britain appears to grow.
Why?
Outside the open-all-hours shop in Keswick town centre, people walk the cobbles. The windows of the pubs and restaurants reflect an orange street lamp glow and through the glow, people laugh and eat and drink. The evening has a late-summer holiday feel, even though it's October. The smell of fresh fried fish and chips fills the evening air. Katy Forrester and I had climbed all day at Reecastle, a bulging Rhyolite barrel in Borrowdale and between the climbs we sat in the sun on an island of rock surrounded by a sea of glittering marsh grass.
We have walked into Keswick town centre to buy groceries and a bottle of wine, it has, after all, been a great day of climbing. And while I wait to be served, I notice an old lady on her own – frail and bowed – wearing a large coat covering several layers.
Leaving the shop, reversing our footsteps Katy says, "Did you see the old woman?" I answer that I had. "Did you see what she was buying?" I say, "No." "She was buying, what I imagine, was her evening meal, a pack of two sandwiches reduced in price."
We continued to walk through Keswick. A warm wind carries the chip-shop smell out of town toward Derwent Water. In my mind's eye I see dark waters lapping the shore and where those waters have penetrated the bank, ancient tree roots, gnarled, moss covered fingers, creep along the shingle clutching water worn pebbles. The roots eek an existence in a tough environment. And the bottle of wine I carry is burning my conscious.
The dark road hemmed by hawthorn sped past in the yellow cone. The night air stabbed. Tears tracked to ears. Keatesey wound back the throttle on the small left, and then right hand bend. The Kawasaki took the rising right-hander at about 90mph fully cranked over. Sparks sprayed the road. The footrest would be a few millimetres thinner after this ride. Coming out of the right-hander we hit a slight rise and took off. My unfastened helmet also took off, completely flying from my head. Without thinking, I let go of the grab rail with my left hand, caught the helmet mid-flight and pulled it back on. Trimpos lane soon led to Brookhouse Road and the house I was born. Keatesey pulled over and stopped outside the concrete drive. With shaking legs I dismounted the bike and said good night. Keatesey popped the throttle, engaged the clutch and was gone.