Seeing the pictures in Alpinist Magazine, the angles, the steepness, the flakes and cracks and then reading the account of Ian Parnell climbing the first ascent of Bruised violet, I have always wanted to share his experience. The West Central Gully on Beinn Eighe is such an atmospheric place – the lines are striking. History drips from the steep walls. Even the name Bruised Violet is fitting and evocative.
On Friday afternoon, Tim Neill and I stood at the top of the crag with wide smiles watching the sun dip and looking at the Torridon mountains – ancient white-hat wearing sentries. The route we had just climbed had been one of the most sustained and fulfilling outings ever. Well done Ian for putting that one up I said, enthusing to Tim, but I'm not very good at following complex descriptions and the line had appeared a tad undergraded.
I texted Ian as we drove back to Roy Bridge and said Bruised Violet was one of the best routes I had ever climbed in Scotland, top five for sure… "Ian must have been going well at the time of climbing Bruised Violet," I said to Tim and continued, "I would have graded it 9 for technical climbing and maybe IX for the overall grade." I continued, that I thought the route we had just climbed was better than Blood Sweat and Frozen Tears, the four star outing to the left. Don't get me wrong, I think BS&FT is a great route, I just thought this route was better and harder and more sustained.
****
Run-out –  a steep groove above a roof, about 15 to 20 feet above a bulldog placed in ice while tentatively pulling one tooth pick placements and balancing on tiny footholds focuses the mind. And the climbing, it just kept coming, which was following a wide and bulging crack line.
The second new pitch had me pulling through a steep roof into a bottomless corner with  knees pressed to a wall and no footholds. Back-footing, burling, locking off … arms cramped. I wanted gear, but I couldn't stop with feet smeared and locking the torqued axes … the fall was not very inviting – the gear was placed in the bottom of the corner. Pick placements became baggy and I didn't want them baggy, I wanted solid – a front point on an edge – burl and pull… body tension, control, lock off… And there was still more…
After a phone call to Ian Parnell and Tim, and much study, it looks like Tim and I have climbed a new route and the best route yet of my winter 2014 by mistake and the in ability to follow a description, or as Tim put it in an email,
"Good work Nick….strong image! (Alpinist follows strong line in off route/new routing shocker :-O "
Crème de Violette. IX/9 FA.  West Central Wall, Beinn Eighe. Nick Bullock, Tim Neill. 7/2/14
A direct on Bruised Violet, culminating in two new long and quite serious pitches. Super sustained, burley and on occasion, rather emotional!
1 30m Chop Suey pitch 1.
2  40m Climb cracks up the right wall of the groove (as for Chop Suey) to the upper girdle ledge then pull through the roof and follow the committing groove, (past in-situ pecker of BV,) where Bruised Violet goes hard right, continue direct until beneath a roof. Carefully pull right around the roof and climb the even more committing groove above without thinking about where the last piece of gear is or even what the last piece of gear was. At the top of the grove continue direct following the wide bulging crack line. 
3 30m Climb direct to beneath an overhanging corner with a thin crack. Pull into the corner and climb it to the top to a rest and a wide crack. Climb a few moves right before continuing direct via small overhangs to the top.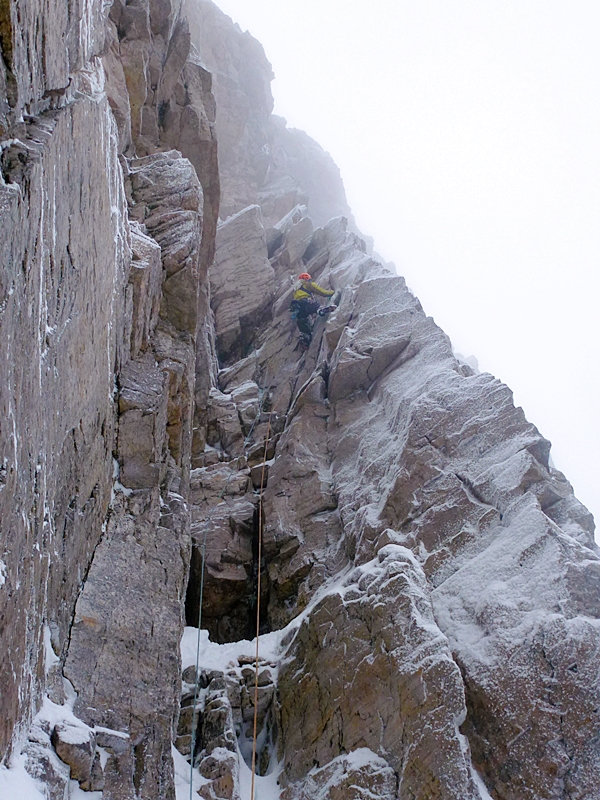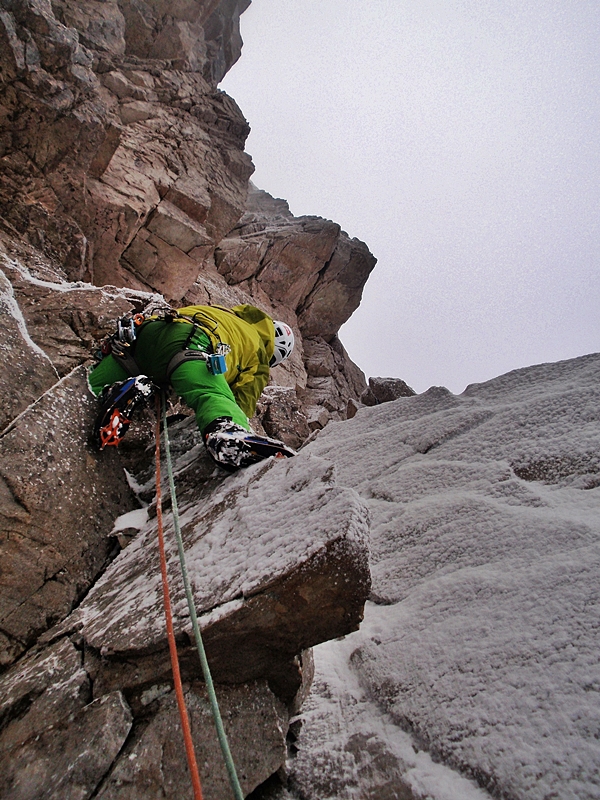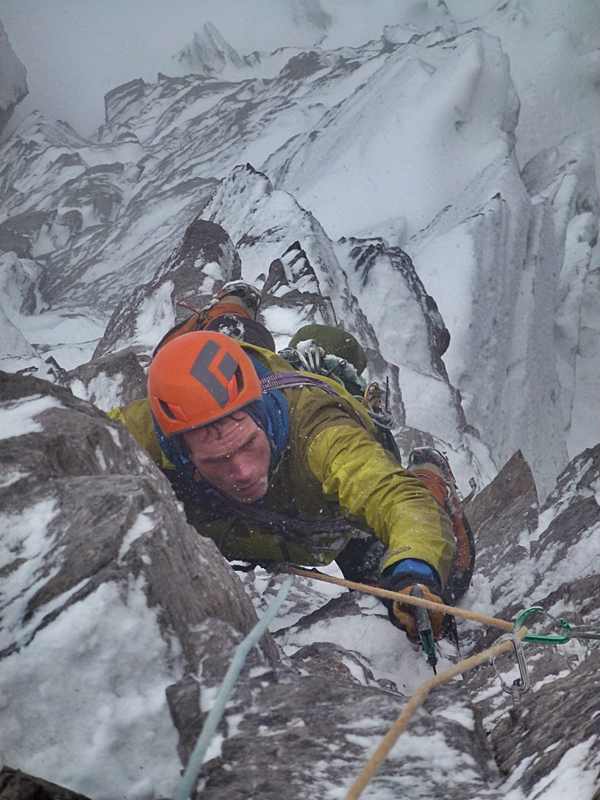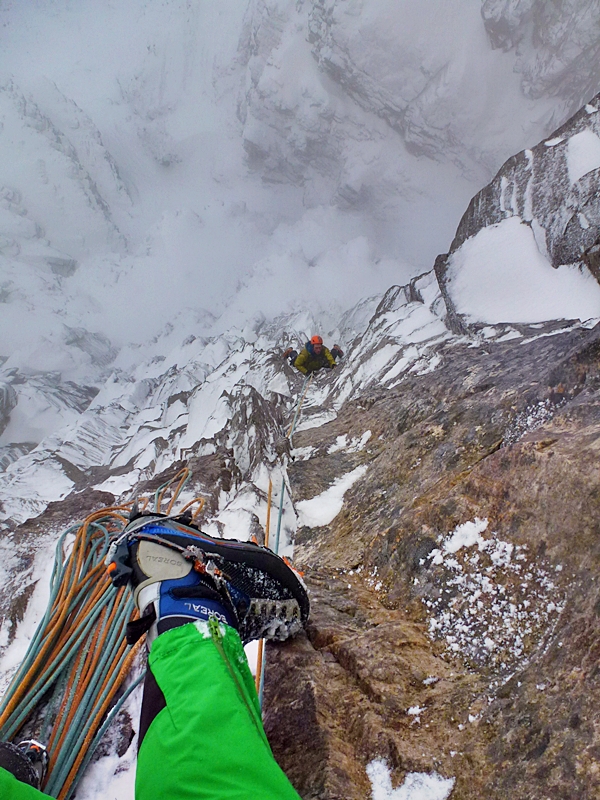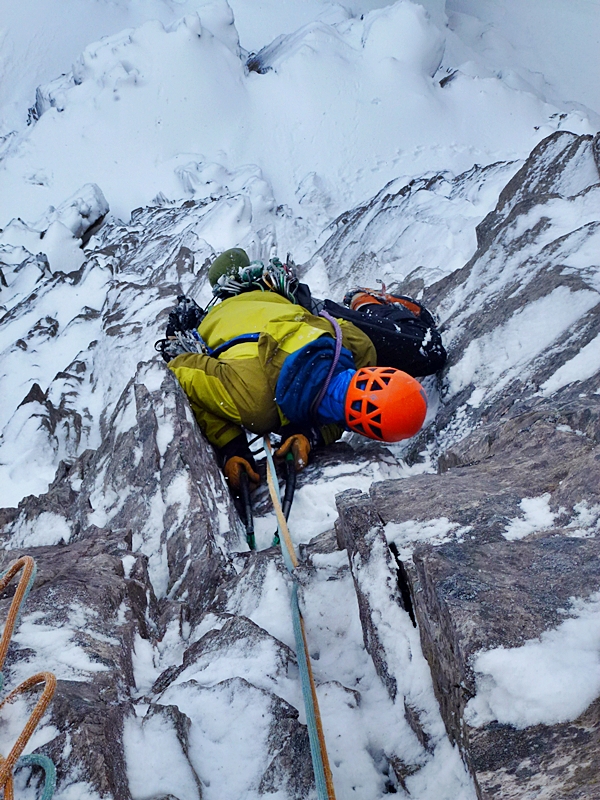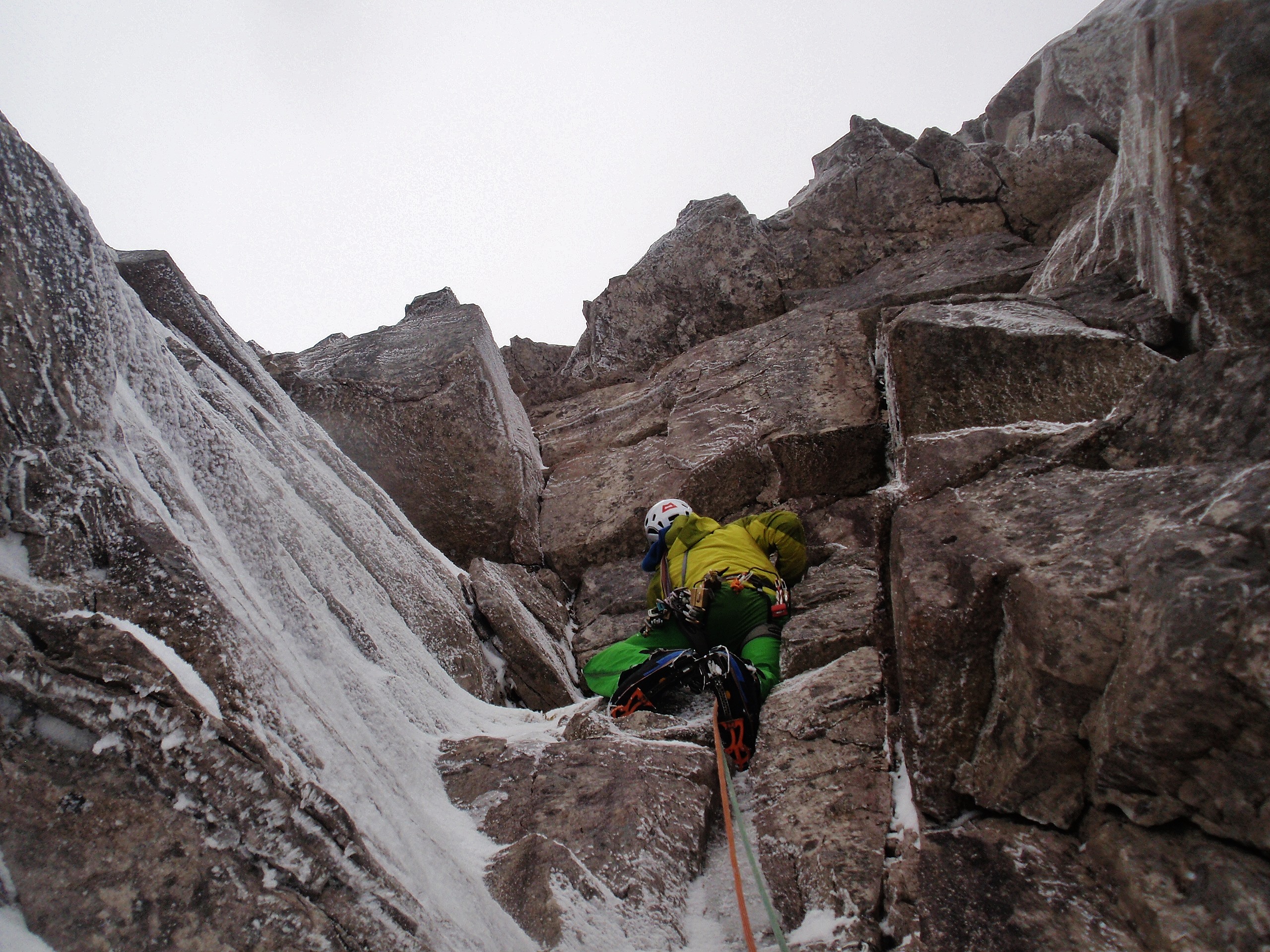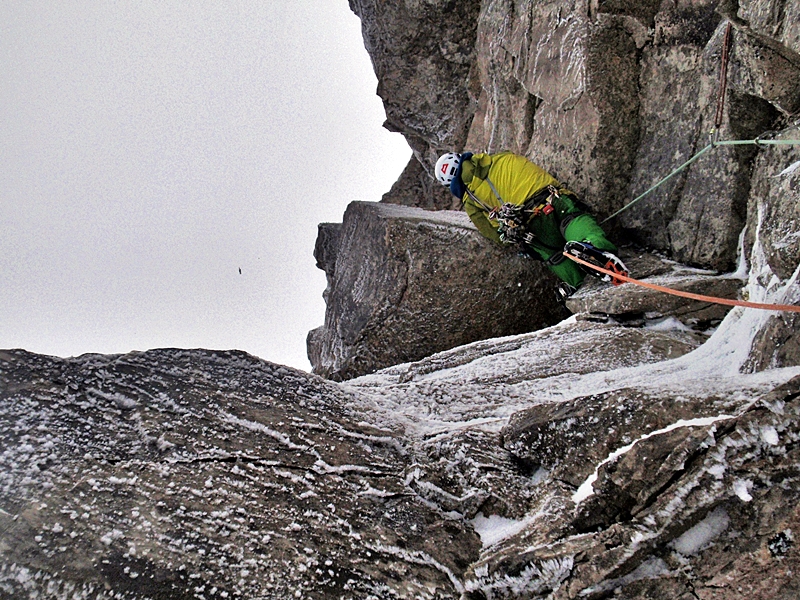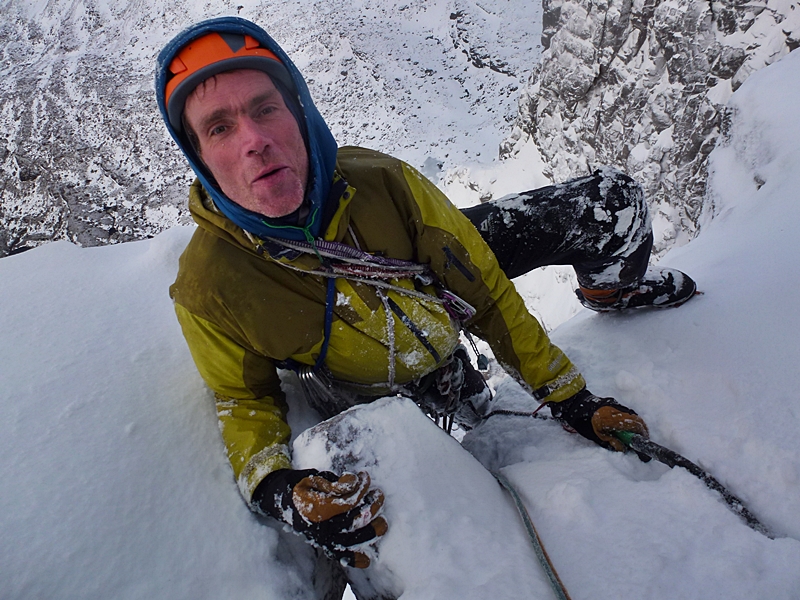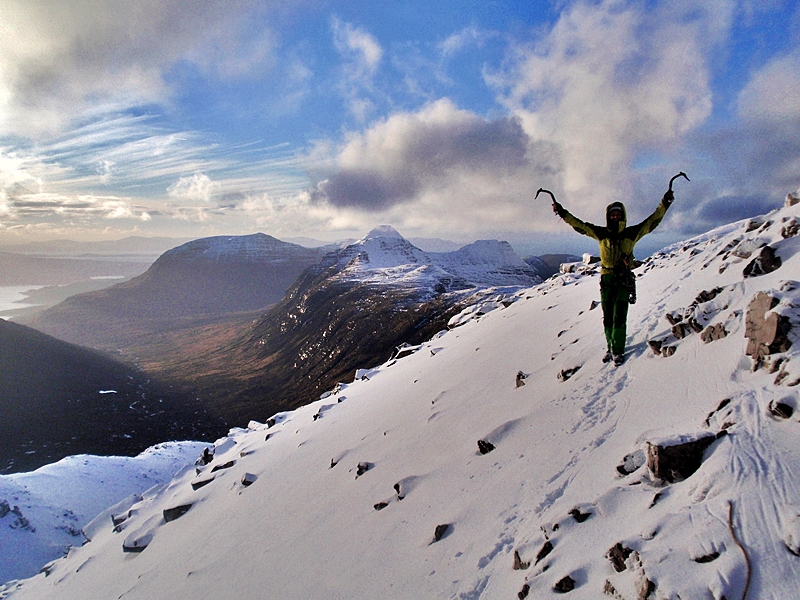 On Saturday I returned to Torridon with Katy Forrester and we climbed Mick Fowler's Umbrella Falls on Liathach. We were thinking of Poacher's Fall but so was everyone else and with loads of lines we couldn't see the point of queuing … a rather pleasant and relaxing day after the previous day.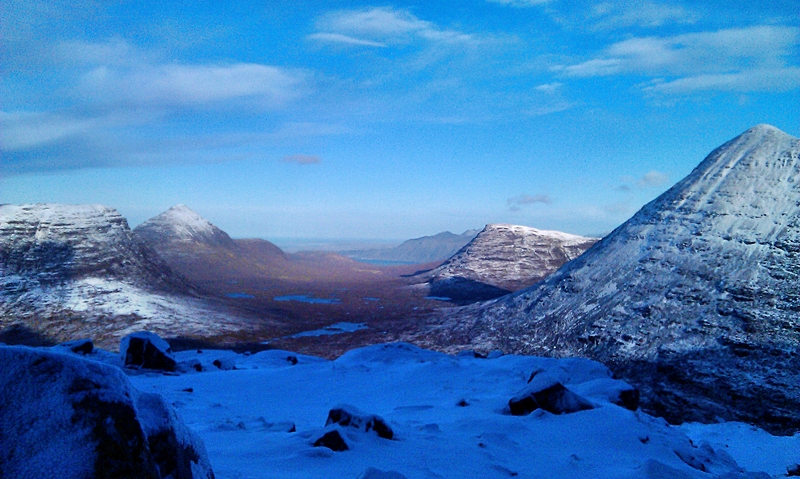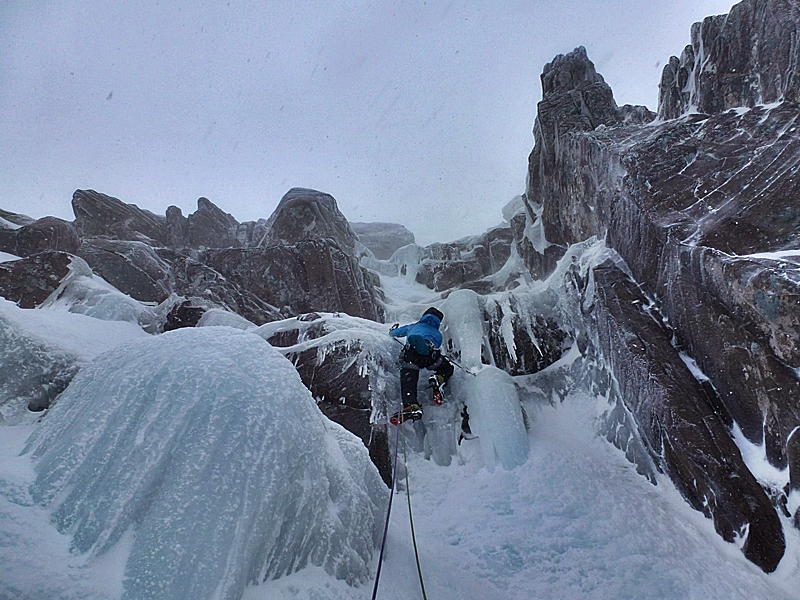 Thanks to Tim Neill, Ian Parnell and Katy Forrester for the pics. And thanks to Ian for the info and the Alpinist pic and the inspiration.