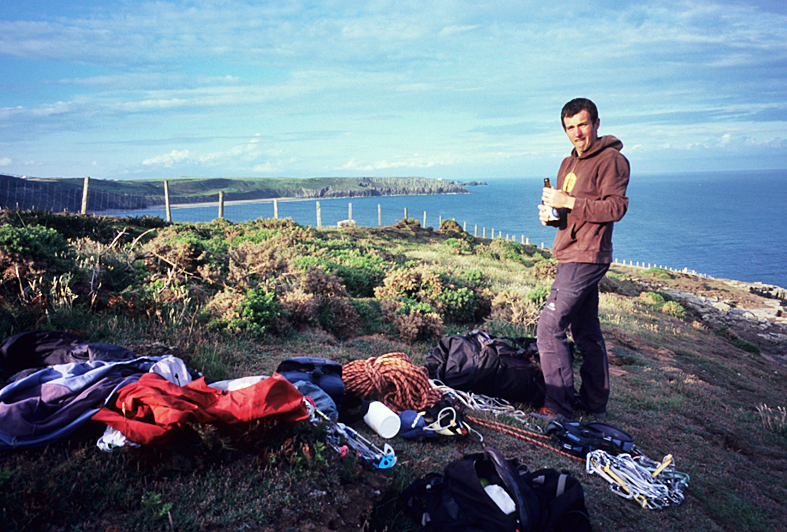 [James McHaffie at Dorys in the days he took a bottle of beer to the crag.] 
Bobok. 2004
Walking with James McHaffie along the top of Craig Dorys having once again left behind the dark quarried slate piled high above Llanberis and the rain in the cloudy mountains, the arid atmosphere of The Lleyn feels like illusion. But look out, over the large water worn boulders that balance on the tessellated rock-shelf, look out to the sea and the natural beauty and immediately you appreciate this is no illusion, this is real, this is now and of this time, of 'your' time… and the waves lapping the dark mosaic rock-shelf mark that time until the next wave moves in and washes your thoughts to sea and the clock moves forward once more.
Like many crags in North Wales, Craig Dorys is tempered by the mark of humans. Caff and I walked to the end of the buttress and down the steep track which sliced the steep hill. Feet crunched on small pieces of rock littering the hillside. The winter wind had easily persuaded the rock to leave the crag. Splintered bracken stalks blocked the track like barriers. Shins broke through the dry thatch. Dust billowed. Tumbleweed bundles of barbed wire poked from the bracken. Fronds of newly sprouting fern unfurled between old wooden fence posts and plastic sheeting and rotting animal carcass. The detritus of farming was scattered on the approach but I didn't find the rubbish offensive, it reminded me of the area I grew up. I liked the juxtaposition between the beauty of nature and the effect of humans. I flicked a bleached sheep rib with the toe of my shoe. The blood had long gone.                 
I had climbed with Caff on and off for a summer or two but I had not zoned in to his dark side. I think I would be safe in saying not many people do as his demeanour and look – small round glasses, dark unruly hair, pale skin, reasonably short in stature and reserved – give the impression of school boy innocence. But to become one of the worlds most successful traditional rock climbers, repeatedly placing yourself in a position of danger while climbing in very good style takes serious dedication, mental fortitude, drive, self-belief, commitment and sometimes a dark side, a side with voices – voices that continually question and taunt and only dim after personal challenge. Where rock climbing is concerned I do not put myself in the same category as James McHaffie, not even the same planet, but I know about the voices and I recognise a person who occasionally has internal dialogue.
Bobok is a short story by Fyodor Dostoevsky, 'the chant of the dead people' is how the story is described in the Climbers Club guidebook to the Lleyn Peninsular. Bobok would not be my recommendation for your first route on The Lleyn Peninsular. Bobok would not be a recommendation at all.
Caff pointed at what we were to climb. I looked up. The overhanging wall was a semi-circular scoop veined with orange and quartz.
 "We are going to climb honeycombed chocolate?" I said followed by nervous laughter.
Caff dumped his bag in the dirt, pulled a packet of tobacco from his jacket pocket and rolled a small cigarette. Dabbing the cigarette with his tongue he looked up, "You'll be fine Nick, it's only E5, which pitch do you want?"   
The route consisted of two pitches, the first was seventy feet given a technical grade of 5c, the second was more difficult being 6a but slightly shorter at fifty feet. The guidebook description mentioned 'chicken heads' and 'sneaking' for the first pitch and 'quartz snappies' and biscuit footholds for the second pitch. I was tempted to say I wanted neither pitch but I knew this would not work, so eventually after much soul searching I opted for the technically easier first pitch, 'sneaking' after all was much more my style and sounded preferable to 'snappies.' Caff was by far a better rock climber than me anyway and this route had been his suggestion.
Stepping from ground took four attempts. The rock was like nothing I had ever climbed and the amount of gear clipped to my harness was holding me down. I eased once again from the ground pulling a vein of orange coloured munge, which I soon discovered was the rock type and the colour to aim. Caff, wearing long black shorts, wallowed in the dirt to my right smoking his second tab, sniggering like a schoolboy. He read from the guidebook,
"It says here, in the first ascents section by Ray Kay that the chocolate fudge colour works well for taking weight."
What Caff chose not to read out loud was Ray Kay, master of all things lose, then went on to say he had had many ground up attempts to climb Bobok and had found the experience very very scary. He also chose not to read out the paragraph below this one which was written by Stevie Haston who had attempted to climb the line before Kay and Jones had made the first ascent. In this paragraph Haston described lowering off five equalised pieces of gear and on reaching the ground flicking them all out.
I climbed, wracked with paranoia. I had placed more gear than ever before in such a short distance. The rock – orange, white, brown, black – was laced with multi-coloured metal – nuts, cams, hooks – jewels of safety which offered no safety at all. And with so much gear I felt the pressure to continue. At around the two hour on the lead point I had climbed thirty feet, maybe less. I inched left and sat on top of a decomposing pillar afraid the whole pillar would tumble. I lowered a loop of rope and Caff clipped a second rack of gear onto the loop.
Sitting still on my pillar, eying a crumbling crack, I imagined filling it full of gear and wrapping the rope around me like some Victorian climber and saying to Caff twenty, or thirty feet below, 'on belay.'
"I'm sure this is the belay. It would make a great belay. Shall I belay?"
Caff had a pee, sat down, looked up at me, and rolled another cigarette. "Just another forty feet or so to go Nick, you're doing great, I reckon you have probably got higher than what Leo Houlding did before he fell off and hit the ground."
I sat on the wobbly pillar clipping gear to my harness looking down at Caff with horror.
"What else are you not telling me about this climb Caff?"
"If we climb it today it will be the third ascent."
"Quite telling that given it's E5 and was first climbed in 1988. Who climbed the second ascent?"
"Will Perrin and Ben Bransby."
Perrin and Bransby were great rock climbers and very good at 'specialised' territory. I looked up at the remaining ground and it looked a long way.
Box of Blood 2014.
Here I was, ten years later and here I was ten years older and here I was sat on the same decomposing pillar wondering why? Boboks quartz seams cutting through the mud and fudge were to my right. The years had changed my opinion a little, but the fear induced by this crumbling cliff was still there. This time instead of Caff, Will Sim, another very talented individual belayed and the same as before, thoughts of being sub-standard compared to the other person holding my ropes ran through me.
This would be my second attempt to successfully climb Box of Blood and plant a flag on Dorys summit and this time I would milk the rests. Will wallowed in the muck the same as Caff had wallowed. Bet he wished he rolled his own I thought…
*
Box of Blood summary and further info here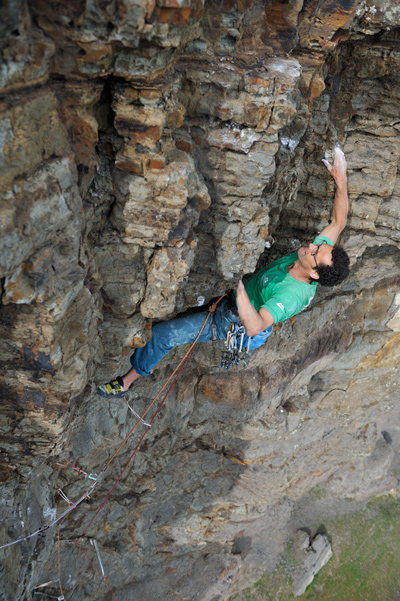 [Myself entering into the overhanging and run out on Box of Blood… Pic credit, Ray  Wood]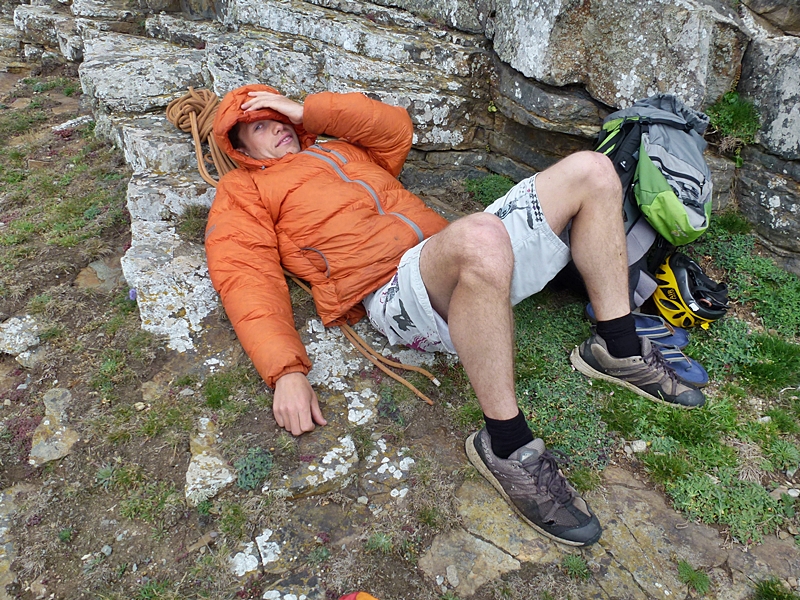 [Will Sim in a similar position to that of most of my friends who belay me. Note to self, must get better, quicker, bolder.]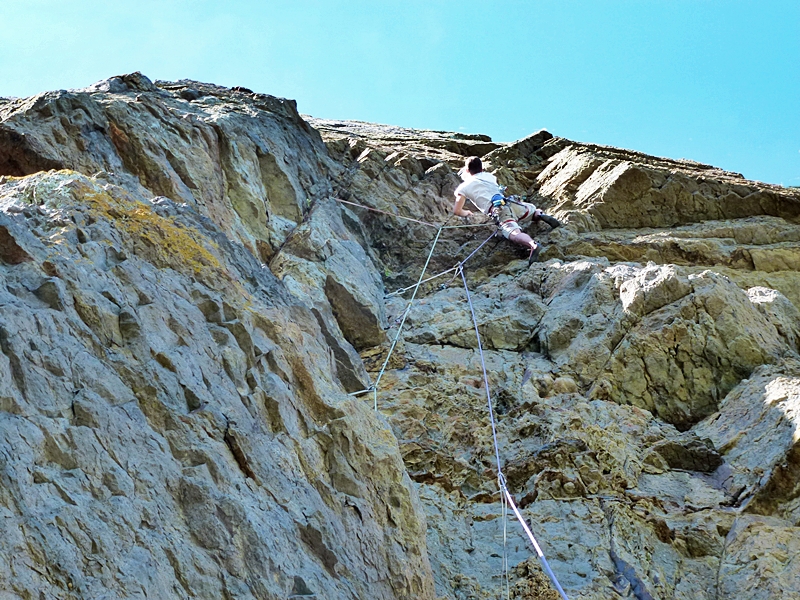 [Will Sim combating the fear and launching onto the orange balsa wood on Box of Blood. to make a great flash ascent.]