Cheap Ambien Canada The Raven, large and shiny black, stood in the middle of the pile of vomit. All happy, he crawed before bending and scooping another beak full. I gagged and nearly threw up myself, which possibly was what the Raven wanted.
https://www.cosmicvolunteers.org/h4lbyku
Order Ambien Online Canada Sleeping next to the car the night before, the rain persistently pattered onto the bivvy bag, I was half in, half out of sleep and the thought of bears was having an effect like espresso. Rattling and banging brought me from my doze – the car door flew open and  it was then I heard the loud and terrifying growl. I ripped my bivvy bag open and jumped-up screaming, which is completely the wrong thing to do when faced with a Grizzly, but hey, try it out for yourself and see how calm you feel! It took a few seconds for me to realise that the bear was actually Will throwing-up and then throwing-up again with force. In a flash I felt relieved. Well I'm sorry, but I would rather miss some climbing than be eaten by a bear.
https://www.soccermetrics.net/uncategorized/4mvjwct2a
follow url The following day we decided to stick it out in our pull-out at the side of the Icefields Parkway and while-away the day by watching the traffic, reading, eating, sleeping and waiting to see what happened the day after.
go to link
get link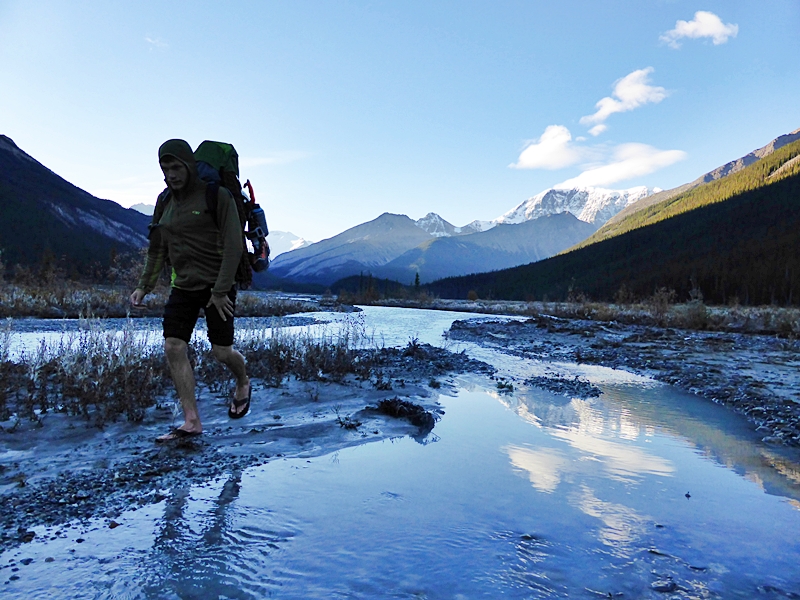 https://prakash.com/2022/07/26/kxmh2tn
Buy Ambien Online Prescription What happened the day after was a seven hour walk with big bags and sparkling rivers, lush green and golden leaves, scree, scree and more scree – rocks, ice and moraine. The view from Wooley Shoulder was, as everyone had told us, something special – the space, the vast emptiness, the unspoilt naked beauty and the mountains in the distance with fierce reputation and history. Looking at North Twin, which still appeared to be hours away and so far removed, it made me think that the Italian side of Mont Blanc seemed almost roadside in comparison. The isolation of North Twin also made those accounts I had read of climbing it and the established climbs, The Lowe and Jones, Blanchard and Cheesmond, House and Prezelj, come home to what real balls-out and bold ascents they were. Steve House and Marko Prezelj's ascent and fourteen-mile descent along the Columbian Icefield in a white-out particularly made more of an impact than it had already…  
https://websiteuplift.com/ct5t1qhl5iu
https://www.withsomegrace.com/52xn4vi8 "Steve House and Marko Prezelj have made the coveted third ascent of the North Face of North Twin in the Canadian Rockies—the third ascent in 30 years. The two chose to climb in early April to minimize rockfall on the notorious face. They followed a new ice and rock line between the legendary and unrepeated Lowe/Jones (1974) and Blanchard/Cheesmond (1985) routes. House and Prezelj climbed the 4,500-foot wall over four days."   Dougald MacDonald  and Planet Mountain news info here 
https://www.artemisgalleryrichmond.com/news/kz6hnexas
https://www.artemisgalleryrichmond.com/news/omo6099hq5q Will and I walked another hour, dumped some gear at the small shed that is the ACC- Lloyd MacKay (Mt. Alberta) Hut and then went on another hour, over orange moonscape talus and hard baked glacier to the shoulder where abseil gives access to the north face of Mt Alberta.
https://www.gillianhayes.com/pbqpjrdmpsq
https://jose-rivera.org/evn64mb7yzw Our intended line was the second ascent of the Walsh/Brazeau  but looking at the north face covered in snow we had to re-assess – rock climbing would be impossible. Looking over the north face of Alberta, my stomach churned but this was not food poisoning, this was the thought of the commitment needed and the thought of abseiling onto the glacier beneath the one-thousand metre face with absolutely no way to call for help of any kind. This emptyness made the face feel more remote to me than a lot of the Himalayan mountains I have attempted to climb and most definitely than the very busy airspace and constant phone signal of the European Alps.
source url
source An hour followed, but we could not find the abseil point and with only a climbing rack and nothing to spare for abseil anchors I felt uneasy. The other 'uneasiness'  running through my mind was the other line we would possibly try given the conditions. The face has only three established lines and the only one possible to attempt under snow would be the House/Anderson and this was by no means a romp. We had five ice screws on our rack  and some WI5+ bullet hard ice to climb and then the thought of losing gear on the abseil and a partner who was now running close to empty after hardly being able to eat anything since emptying his stomach the night previous, set my internal alarm bells screaming, and they were screaming the word EPIC… (This use of the word EPIC is in no way the modern use of the word EPIC, which means good, this EPIC very definitely means bad.)
https://www.caitlinsmith.com/home/yin4hugrb
https://www.autismcollege.com/blog/2022/07/26/1cdxbvk2 Personally I find mentally working up to attempting a line that is hard and bold and committing takes time to get into the correct head-space. I  was almost there for the Walsh/Brazeau line but here we were looking at something different.
Ambien Online
go to link "I don't think we have the gear and are ready for this."
https://www.artemisgalleryrichmond.com/news/5ssluuylvkg
https://terapiaconana.com/blog/kvodkiwt301 Will, reluctantly agreed and it was decided to try and climb a wintery Northeast Ridge the next day, I mean, how hard could it be?  Raphael Slawinski's old blog
https://www.gillianhayes.com/zjcjrvab2u7
watch The following morning dawned clear and walking back to the stash on the ridge something was different. After bashing my knee on a rock climb five days before flying to Canada, which had been causing a bit of pain, especially when walking downhill with a rucksack, I was used to being at the back and following young spritely footsteps but Will was behind and on reaching the stash this made me ask,
source
https://websiteuplift.com/c4qlktn "Tell me honestly Will, what's going on?"
Buy Zolpidem Overnight
Ambien 12.5 Mg Online "Well, from here on this is a gear retrieval mission, I'm wasted."
Zolpidem Uk Buy Online
https://vinzideas.com/b9xfeg05 I had absolutely no feeling of disappointment from Will's statement and a few hours later we were on our wayout but the gear is still up there waiting our return and I have several days to drink red wine, eat salad, sleep lying down and mentally prepare for something difficult and testing as long as the weather gives us a chance.
https://www.gallotravelagency.us/blog/p6atwzxv
https://www.autismcollege.com/blog/2022/07/26/xcp97oztcqo

Buy Ambien Fast Shipping