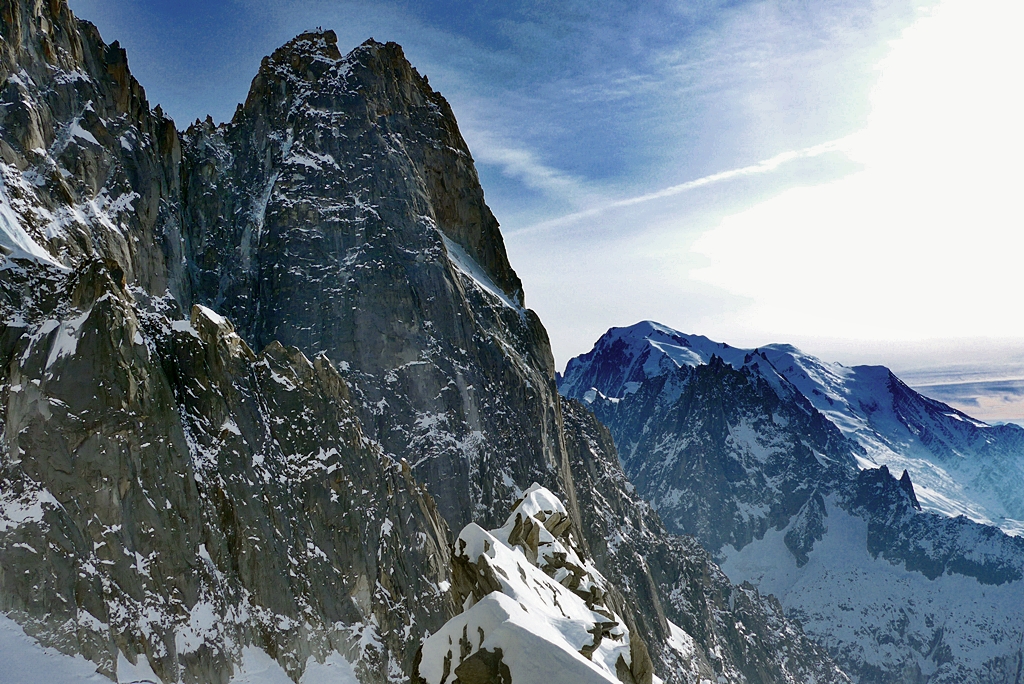 I had driven from Leicestershire to Chamonix to meet Paul Schweizer, it was September 2000. Paul was a reasonably affable American with a penchant to rant – we connected.  Old – older than me anyway – a tad crusty, goatee sporting, round wire frame glasses, straggly hair sprouting from a thinning, quirky, off-the-wall, (no pun intended) Edinburgh University Lecturer in computer logic which, fifteen years down the line, is still a subject I don't understand the meaning. To be honest, I think I'm incorrect by calling the subject Paul lectures as, computer logic, but this is my limited capacity for understanding what it is he does lecture. Anyway, I digress. I was meeting Paul, a climber who I liked and a person who made me laugh to climb the Eiger North Face – yes, I know, Chamonix is the wrong place for The Eiger, but we thought Chamonix would be a good starting point before travelling to Grindelwald.
For me, 2000 was a good year, it was the year I first visited Peru and Canada – both with Bruce French. It was the year I began writing and the year I climbed two Redhead routes on North Stack Wall at Gogarth – The Demons of Bosch and Flower of Evil – and it was the year I climbed The Dru Couloir with Paul. 
[Paul on that dreaded bivvy looking for the logic.]
Paul, heavily laden, stepped from the Grand Montets telecabine, a clumping and bowing six-foot something dressed in black with purple Scarpa Vega boots. His weight caused the snow-dusted, wooden floorboards to sag. It was 4pm and outside the wind and snow and cloud were blowing, falling and gusting. This was the last lift of the summer; the téléphérique was now closed for maintenance before the winter season started in December. We hung around the station planning to sleep in the toilet and approach the Dru Couloir in the morning. A friendly guy from the café gave us left over food including cake and then departed on the last lift to the valley. The cake, eaten in the dissolving warmth of the long drop, lost a little of its French eloquence, but it was still tasty.
We left the cloistering stench of the toilet early, I don't remember exactly what the time was or anything about the approach or even anything about climbing the initial snowed up granite slabs, but I can still smell those toilets. Being American, I pointed Paul at the Nominee Crack… A1, no problem for a 70's Yosemite Valley dwelling Septic, but Paul forgot to say  that at the time he dossed in the valley, he was one of the new breed of free-climbers – living, smoking, drinking, partying hard but not aid climbing and he had as much an idea about aiding as I had about computer logic.
Six hours later or maybe even longer Paul made it to the top of the Nominee Crack, a bowed overhanging crack, by thrashing and back cleaning, leaving me little to grab and so, many years before big handled axes and no leashes, I attacked the crack in a free/thrash/grunt style while still wearing my monster rucksack.  Needless to say I struggled and in one moment of pulling-like-a-train desperation, an axe ripped and the massive adze of my straight shafted Grivel Super Courmayeur smashed me in the face with a resounding thud, ripping open my cheek and making me think I'd broken the inferior orbit, just below my eye. 
Eventually I flopped onto a sloping ledge alongside Paul a sweating, bleeding mess and that was where we stayed for the night. I'm sure we would have melted water and cooked using my MSR XGK2 Multi-Fuel stove which I was very proud and no doubt by using said stove we would have burnt, gassed and nearly blown ourselves up. In the night it began to snow the biggest and most beautiful flakes ever and in the morning it continued to snow but we decided to move up anyway. Following an old description and after most of the morning, Paul, on the sharp-end, and getting very close to the ice in the continuation of the couloir was also squinting and clearing condensation from those round wire framed glasses and looking at some desperation that lay between him and easier ground. Blankets of powder fell making the steamed up spectacles even more of a problem. "Fuuuucking hell man, this is shit." Paul drawled while balancing, cleaning glasses and moaning, before being hit by another cloud of powder. Eventually we decided it was time to bail, which given the avalanches pouring down the couloir above and the wide slabby area below, we knew was not going to be easy.
Descending into the grey open arena, hunting for anchors, I remember being on full rope stretch but stood on a reasonable step kicked into the snow, so in my wisdom, and to save time, I unclipped to allow Paul to come down while I set up an anchor. Paul set off and while on his way down suddenly yelled and for once it was not a laid back American Hippy drawl, his voice sounded sharp and intent and nearly manic. "WATCHOUT MAN, AVALANCHE." Looking up, I had time to see a whole load of white pouring from the top of the most beautiful and direct cleft to my right – a cleft so steep and overhanging with a smattering of ice and flakes and enclosing walls of compact barrelled granite, so narrow and imposing it almost mesmerised me, this was The Dru Couloir Direct – first climbed by Tobin Sorenson and Rick Accomazzo in 1977 (A great account by Rick Acomazzo here  ) – but coming from this femme fatal was roaring white and as the snow hit me, I reached up and grabbed the ends of the abseil rope and twisted them around my wrist. The snow thudded and built and poured and hissed and my shoulder complained and the snow piled over my head and down my sleeve and down my front. I tucked my chin to my chest and tilted my head and managed to gulp air and after about two days the snow slowed and at last stopped.
Reaching the Dru Rognan beneath the West Face still shrouded in cloud, we stripped off layers in the warm sun. What had just happened was another world, this was like being given another life, a new beginning, a better warmer safer existence and the next day we thrashed the giant rhubarb and down-climbed rubble, (we didn't know about the ladders leading safely to the glacier), and caught the Montenvers Train for a return to the valley.
Armed with a more up-to-date description of the route Paul and I returned several days later to the Dru Couloir. We had a bivvy before, a bivvy on route, a bivvy at the Brèche and a bivvy on the Charpoua Glacier when we abseiled too low onto the glacier and missed the hut. But we had successfully climbed The Dru Couloir and we were happy.
A few days ago, after a leisurely approach on a sunny afternoon, Jack Geldard and I had a leisurely bivvy on the glacier beneath the Dru North Face. We cut depressions in the snow to allow our blow up matts to sit, we chatted, quickly melted water with our very efficient gas stove, drank tea, ate biscuits and at 4.30am, left to climb that wonderful, steep, channel, cutting a direct passage from the slabs and ice below to the couloir above. At approximately 3.30pm we both stood in the Dru Brèche, before a leisurely return to our bivvy on the glacier by abseiling the line. After a leisurely night we casually booted back to the Grand Montets station and returned to the valley where Jack very generously bought me lunch, he said it was in return for me leading most of the hard pitches on the two climbs we had done together in the last week, I'm not sure I had but I wasn't turning that offer down especially as it had Affligem mentioned.
Times and conceptions change, sometimes for the better and sometimes for the worse. Alpinism has moved on, but some things will remain the same. When Jack and I climbed the metal steps with the rubber matting and back into the Grand Montets station we walked past the toilets that I had stayed with Paul 15 years previously and the waft hit me, that sweet sickly odour, and it took me back in more ways than one.
Thanks to Jack Geldard and Paul Schweizer for the company and the use of the pics 🙂