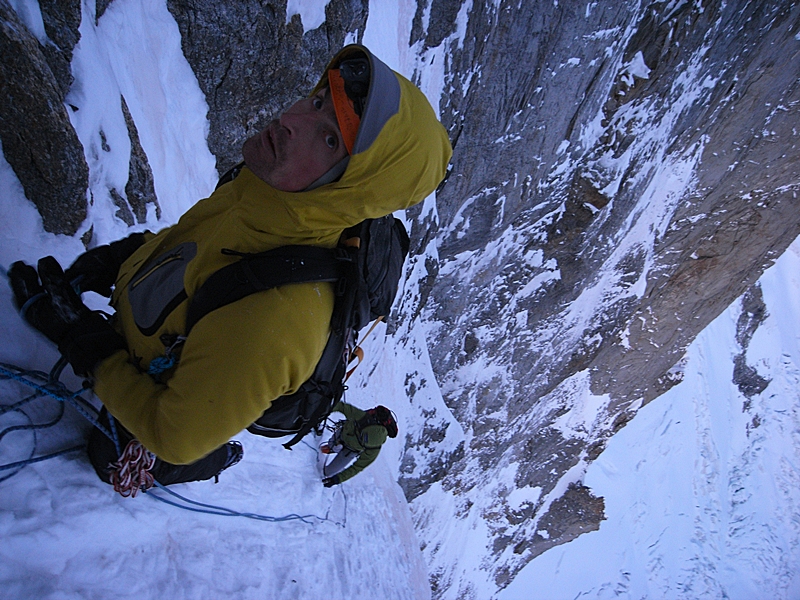 Several years ago I had arranged to climb in Scotland with Jules Cartwright. The weather was not looking good, so on a whim, we drove to Chamonix even though, including the 2 days of travelling, we only had 6 days before I had to be back to work in the prison.
Hitting Cham, we sorted gear and the following day walked in to the Lechaux hut. 
Early morning had us climbing the massive lower icefield and after climbing the whole day an uncomfortable night, stood in rucksacks, followed. The second day dawned and we continued to climb even though it was dumping snow. Eventually, in pummeling spindrift, we reached the upper ice field. A few shoddy pegs were hammered and the night was spent hanging in our harnesses while avalanches poured. I remember this night as if it were yesterday.
The third day dawned and still the snow poured. We started to abseil the face at 7am, and at 4.30pm we reached the glacier. 
After a night in the hut, we waded deep snow until the Montenvers train station, where we were whisked back to life and comfort and of course being with Cartwright, beer.
The following day we drove all the way back to Britain and the day after that I was circuit training in a prison gymnasium with no feeling in my right foot due to frostbite and a massive glow. Little did anyone realise what i'd just done with my 6 days off.
Returning to climb this route was vey satisfying and deeply poignant as Jules was killed in 2004.           
Climbing the Colton/Macintyre. By Matt Helliker. from nick bullock on Vimeo.