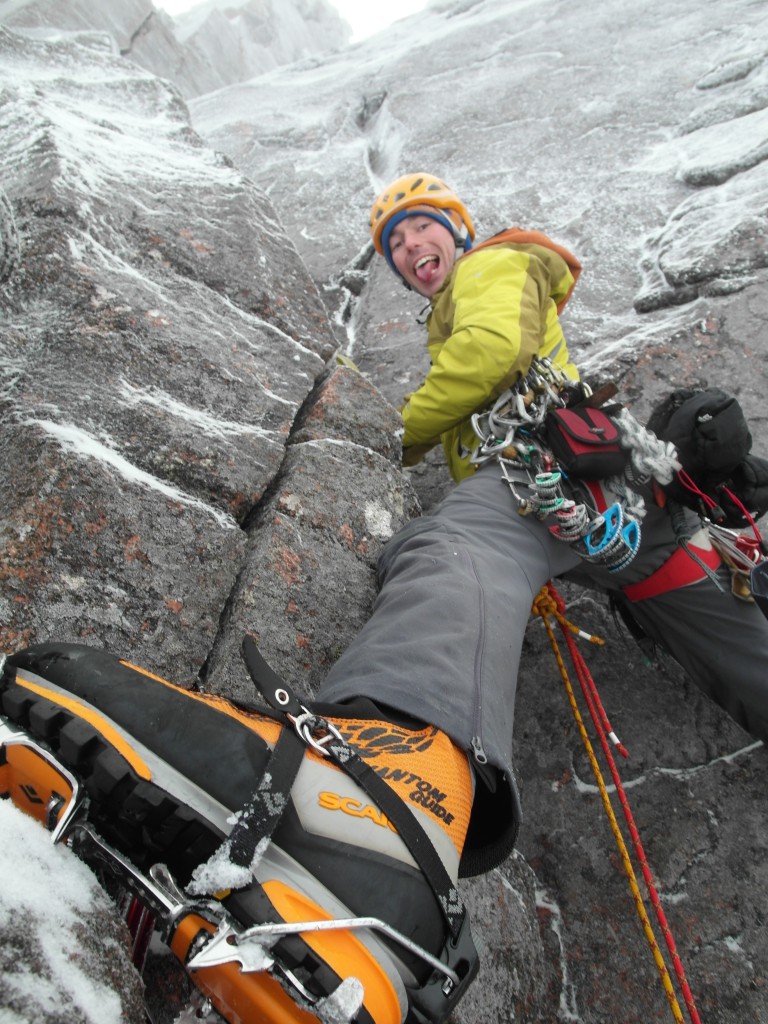 (Pic: Andy Houseman , aka, old youth, enjoying the delights of the Needle on the Shelter Stone, Scotland, in winter. Credit Nick Bullock.)  
The Glenmore Lodge bar heaved a fusty Fug. The throng swayed. Beer flowed.
Driving builds a thirst and having driven from Llanberis to Avemore, for the largest part of the day, my thirst was big. Dougal Haston looked down from behind his glass frame hanging high on the panelled wall and winked. Primarily I had driven to Scotland to present a lecture at the AMI AGM on the Saturday evening, but climbing was also high on my agenda. Youth, aka, Andy Houseman, my climbing partner for Saturday, stood next to me chatting and drinking and being charming.
"On no account can I miss this lecture Youth! I need a short day. We will have to climb in the convenient Northern Corries."
"Ok Nick, no worries."
I had arranged to climb on Sunday also, but this time with the DMM Rep, Rob Greenwood. Rob, the super psyched, super fit, super loud, super young, (in fact younger than youth) Greenwood.
I lifted the long, slim, supermodel shaped glass. The glass had a swirling Italian pattern and the word Peroni etched into the side. The glass oozed sex appeal. It fit my hand perfect. Even better, it was three-quarters full of strong larger. I smacked my lips. I was happy with my lot.
Houseman leant toward me. The bar hubbub increased. For a second, big dark eyes locked mine, he wore a concerned expression. To be heard above the beer fuelled revelling, he lent even closer. The smell of temptation and corruption wafted from his evil Yorkshire baritone and crawled into my ear.
"Benson reckons Shelter Stone is plastered. Robertson and McPherson did a new route there yesterday."
The Peroni supermodel was now wearing a long yellow skirt with only a froth blouse to cover her curvaceous upper.
"Really!"
"Really!"
"Really!"
Houseman continued conspiratorially,
"I'd love to climb Citadel."
The Peroni supermodel was now reaching the point of indecent. A short pair of yellow socks was all she sported. My head swam with opportunity and possibilities. My head swam with consequences. My employer for the lecture was DMM, they had paid for my fuel and were paying a wage. Chris Rowland, DMM's brand manager is soft and fluffy, the laughing policeman of the outdoor business. Chris loves the fact that I climb and climb and climb… If I missed the lecture, Chris was not the problem.
Ed Chard, head of the AMI training was an ex Guardsman. Ed has a shaved head, tattoos, is 7-foot in his wool socks and has a frame that would scare pissed off Polar Bears. The whole weekend was Ed's baby. Ed had asked me in the summer if I was available for the lecture, and confidently, all of those months ago, I had said, "Ed, no worries, you can trust in me." Now, stood in the hubbub of this fusty sweaty swinging bar, the supermodel was totally naked and I knew if I let Ed down, the consequences would have painful repercussions. Ed was a problem!
"Fuck it, OK Youth, let's climb Citadel."
Just at this moment, my climbing partner for Sunday pressed another fully dressed Italian supermodel into my hand. I lifted her… She was gorgeous. She was cool and sleek and damp to the touch. I took off her top in one quick chug.
"Houseman and I are going to climb Citadel tomorrow Rob."
" NOOOO, YOU CAN'T, BECAUSE THAT'S WHAT I WANT TO CLIMB WITH YOU ON SUNDAY, ON SUNDAY… THIS SUNDAY!" Delivered in a tenner/countertenor.
His young fresh face dropped. Blue eyes brimmed. Bottom lip quivered. I had the feeling I had just entered the cast of a tragic Italian opera and I was playing the lead role. I really hate letting folk down, especially when they are about to break down in front of me. But what was I to do? And then, in one swift moment of inspiration, my mouth was singing,
"Ok no problem, Andy and I can climb The Needle tomorrow, then Rob and I will climb The Citadel on Sunday, on Sunday, on Sunday we can climb The Citadel on Sunday…"
I looked left at Old Youth and then right at Loud Young Youth, and both were nodding their heads vigorously.
'Shit.'
Walking the length of the bar, or what had now transformed into a stage, I began to feel concerned.
"Hi Ed."
Ed unfolded from his chair and stood up and enveloped my hand inside a great paw and proceeded to crush it. I looked a long way up in an attempt to see Ed's face. When I eventually focused on his features I could see they were rimed.
"Erm, what time is the latest I can start the lecture tomorrow?"
"Eight-thirty… Why do you ask Nick?"
His voice boomed a low, manly, bass boom. Then he stepped a massive step nearer. I stood in his shade, icicles were forming. My mouth puckered. I nervously quaffed the skirt from the second supermodel and wished I had another.
"Well, I was thinking of climbing the Needle on The Shelter Stone tomorrow. Yes, before the lecture, I was going to climb The Needle, The Needle…"
"Better not drink any more of those then. It wouldn't be good if you missed the lecture, the lecture, if you missed the lecture it could prove painful, oh yes, very painful…"
*
Youth swung his transporter into the car park at 6am. It was snowing. Cloud and spindrift swirled the tarmac. I had the feeling that the crescendo was about to unfold. "Ok, let's go." Sounding confident, but secretly I was hoping the weather would stop us in the Northern Corries. My hand still ached from Big Ed's grip and his booming voice Pavarottied through my mind… 'It wouldn't be good if you missed the lecture, no, it wouldn't be good, oh no, not good, not good.'
Sometime later, at a flattening, we stood in the rain. A steep slope lead into the Loch Avon Basin. The cloud obscured everything, then it didn't, then it did… and the rain immediately turned all it touched to verglas. My rucksack had a clean clear sheen covering it like cellophane. My walking poles glittered.
"How about sacking it off and dropping in to Corrie an Lochan?" I suggested trying not to sound too enthusiastic.
"Yeah, it is bad isn't it?"
Team Sheffield, a group of four climbers, two of which were friends, stood huddled in front. We had mercifully bumped into them as our map fluttered away into the mirk, and then in true bumbly tradition we had proceeded to follow hoping that they knew the way.
"What were you thinking of doing" Nick Wallace asked.
"The Needle, but it's looking doubtful now, so we may just go into Corrie an Lochan."
One of team Sheffield, whom I had only just met, swung to face me. He looked at my boots and ever so slowly, oh so slowly; he passed his withering stair over the length of my body finishing at my hooded head.
"We are going to go and have a look anyway."
I could read his mind… 'That Bullock talks a good climb, oh, he talks a good climb, but he is just an imposter, a pretender…!'
With that, Youth and I wallowed down into the wind and the rain and the cloud, down into the Loch Avon Basin, down into the wind tearing up the slope, down into despair and tragedy, down into the story line of this Scottish-Italian opera. And with every step I could hear a booming bass, 'It wouldn't be good if you missed the lecture, oh no, not good, not good, especially not good for yoooooooo'.
Old Youth and I now stood beneath the Shelter Stone. The crag rose out of the snow as stern and upright and as solid as Big Ed on duty outside Buckingham Palace.
"Where does the route start?"
It was then that I realised I knew nothing about this climb apart from the name. I didn't know the grade, the length, the history, the line, the first ascentionists, nothing. All I knew was I had some recollection from distant memory that it could be hard and someone had bivvy'd on the first ascent. "Not good for yooooooo."
We scissor, stone papered for who went first. Old Youth won…
*
Standing in the dark and wind at the top of the goat track before dropping into Sneachda, spindrift slapped my face. The orange glow of Avemore warmly spread across the horizon, it reminded me of looking down to Courmayeur from the Grand Jorasses. I felt like singing. I called Loud Young Youth leaving a message on his answer phone…
"Tell Ed not to worry, its six o clock now, I'll be at the lodge at seven. You don't fancy a short day in the Corries tomorrow do you?"
As I stumbled and ran and skated from Coirrie an Sneachda, I wondering what spin I could put on it to convince Loud Young Youth that it made sense to climb in the near-by Northern Corries on Sunday.
*
The bar was, if anything, even more of a steam-sweat-fug than on the previous evening. The framed picture of Dougal Haston ran with condensation. My lecture was about to start and I had hit Loud Young Youth with every excuse and every reason why it would be better to convenience climb tomorrow and have an adventure the day after. Dougal, looking down and running with condensation raised both eyebrows and shook his woolly hatted head.
"I'll check the weather."
I knew this reprieve was only for a matter of seconds, unbeknown to Rob I had already checked the forecast and Sunday was ok apart from the possibility of high wind. Monday was looking poor. I lifted tonight's supermodel. She sported an even more alluring yellow number than the night before. I lifted her and winked at Dougal.
Loud Young Youth returned.
"Tomorrows is definitely the day Nick." His young chirpy voice chirped.
My legs almost buckled with fatigue, but as quick as tonight's Peroni supermodel was undressing, I played my trump card.
"All the gear is soaking and hanging in the chalet and the Lodge folk say I have to empty my room by five pm, and I have to do my lecture now, and it's going to be too late to sort it all before an early start, and I haven't sharpened my picks, and I need to change my underpants, and I need to wash my hair, and, and, and…."
Loud Young Youth obviously a better card player than I and obviously a fan of the opera chose to play his trump card in a perfect tenner pitch…
"I have the DMM credit card. I'll see if I can book us into a room tomorrow night.
And get your stuff moved into it, while we are climbing, climbing, climbing. Yes, while we are climbing."
'Bollocks.'
Stood on a chair, swinging my arms around re-living some Gogarth falling down horror show, I turned toward the audience. A Peroni supermodel was being graciously led down the staircase in a conveyer belt of hands. Loud Young Youth stood at the top of the lecture theatre stairs, he had a wide smile running from young ear to young ear. Young blue eyes sparkled. Both thumbs were up …
… I continued with my lecture, and the question than ran through my mind, the thing I wondered was, 'Did Luciano Pavarotti ever climb?'