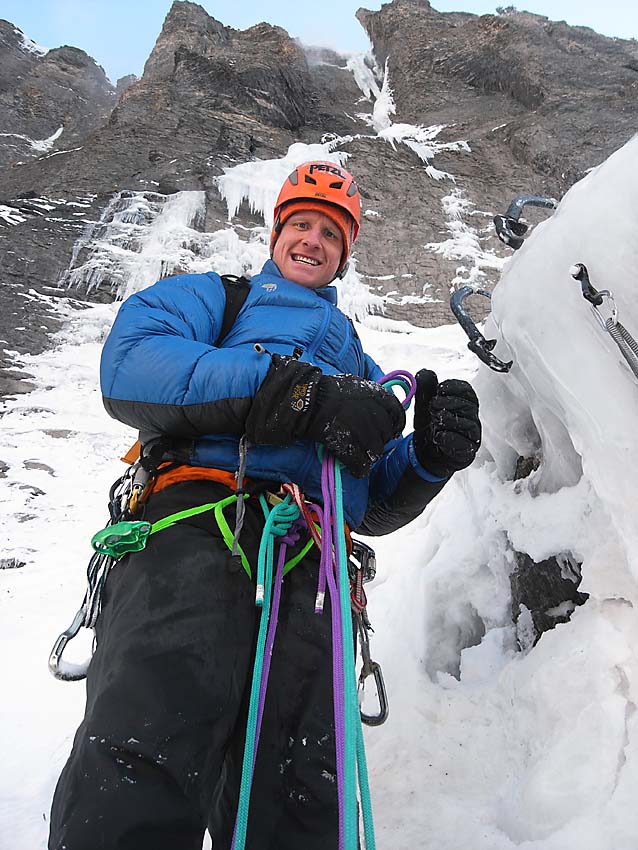 I don't really do "Awesome. I certainly don't do wicked, lets-av-it, crush-it-mate or mad-for-it…"
But getting to know Tim Emmett over the last few weeks and after climbing my first proper route with him, Cascade de la Lyre two days ago in the Cirque du Fer Cheval, I can't help but laugh as I've discovered all of the above can be used in one sentence.
"Awesome mate, Wicked mate, come on mate we're going to destroy it mate, but mate… mate… lets have it… bring it on… Mate, crush it…DESTROY…"
Over the last few weeks the winter has blossomed, but not nearly as much as my understanding and use of modern young person vocabulary.
But mate…
Mont Saxonnex keeps giving… Bracey, Emmett and I crushed it!
Well to be honest, Tim crushed it while Bracey and I gave it a little squeeze.
Point Lachenal high on the Valley Blanche in bute weather mate, led to a great adventure with Bairdy. We add it up a brilliant chimney in two pitches that was awesome. We crossed a route called Hit Machine to climb two more killer pitches until hitting the rib above the face and climbing together for another 120 metres to reach the summit crest. The sun was setting and the red hues painted the mountains. We add it large then down the VB in the dark… Awesome mate. The line isn't in any guide, so I was thinking of whoring myself and screaming of new routes and big numbers to whomever would report my wild unsubstantiated claims, then I remembered I hadn't put stickers on my new climbing helmet so it was hardly worth the bother… (Note to myself: place loads of stickers on helmet before going to climb again so as not to waste time and effort.)
Hit Mont Saxonnex hard with the Brodie five days ago… Brodie is totally righteous…
We sent a new 100-metre line of mixed and ice that that really rocked. With every swing of my axe I thought about the headlines and the media exposure…
Wild mate… bring-it-on…
Even Brodie, who really hasn't embraced the way of the twenty first century climber… (He hasn't even got a blog. What's that all about?), was buzzing. I climbed the first pitch which was quality mate, about WI 5. Wish it had been more difficult, as lets face it, everyone climbs 5, but with the right camera angle it could be made to look really hard and funky, (Note to myself: send Jonathon Griffiths an E mail to get some re-enactment shots). Brodie, climbing the last pitch pulled out the lead of the winter so far, an ice pillar into a horror groove that utilises a tree for a, thank God hold. The crux, above the tree, goes at a grade of T 9 (Using the alpine sliding twig scale)… A crimp from a twig while expecting it to snap gave just enough height to reach a clump of frozen turf above an overhang. The tree behind is totally out of bounds and if you bridge from it you haven't done the route as it was intended so take at least two grades off and no claiming the second ascent… The route which we haven't named yet goes at WI5 M6. 100-metres.
The conclusion to this little smattering of routes was going in to the Cirque du Fer a Cheval near Sixth with THE EMMETT! That boy is off the Scale for righteousness I'll tell ya. A 2-hour skin and thrash led us to the base of Cascade de la Lyre VI WI 7 550 metres. I hadn't really looked at the guide description or taken in what it was all about, it was just another icefall in a wicked location. (Note to myself: Make sure to have all info on the climb before hand, especially if it is a climb to improve status, shout about, blog about, film, and make a news item on the internet climbing sites.)
We pitched the initial pillar then moved together for 300-metres until beneath the final thee pitches. It was at this point the partly formed ice of Lyre direct and Les Cenobites Tranquilles to the left started to carve and crash down the bottom of our route… Phew mate I'll tell ya, scary! But we were up for it and really psyched and took on the last three pitches avving it large. Total journey. Epic. THE EMMETT climbed the middle pitch at its steepest so we could get some good footage and look like wads, and I took us to the top in the gloom. Topping out at 5pm the wind whipped which was good as I'm sure THE EMMETT would have pulled out his wing suit and jumped…
Fortunately the ice avalanches pounding down the route stopped long enough to allow us to get down and after a two and a half hour skin out we reached the car at 11pm. (Note to myself: Climb quicker so I can update my blog immediately from my phone and ring around everyone to let them know we have sent really hard, or get Alastair Lee along to film it.)
Just read the Guidebook description of the first ascent of La Lyre. Thierry Renault, Wilfried Colonna and Denis Condevaux climbed it for the first time in 1992 with one bivvy. "A legendary icefall and a formative experience." Nuff said…