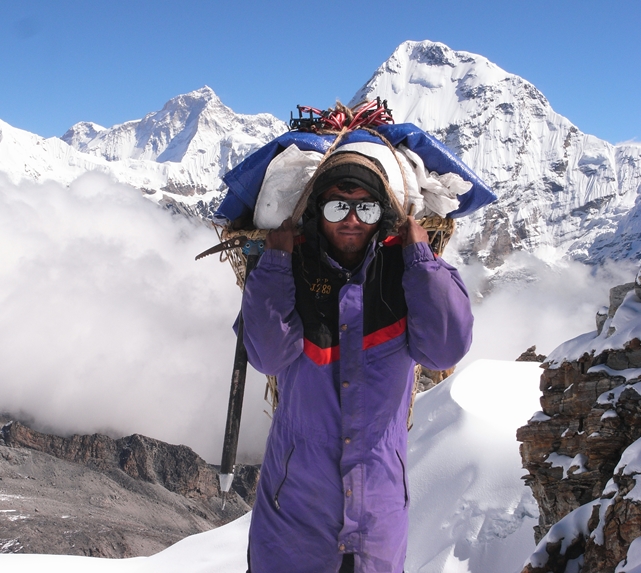 The west is a consumer society, our world runs on people wanting and buying, buying and wanting… I don't have a problem with this, it's better than communism. But what I do find difficult to accept is the, 'I want and I want it now'; western attitude when is taken into climbing, and especially climbing in the greater ranges.
Below is a link to a piece of writing by Anselm Murphy that I was pointed to when he posted a thread on UK Climbing about his recent trip to Kanchenjunga and the rescue situation which followed after he summited.        
http://www.ukclimbing.com/forums/t.php?n=461259
(Since I began to write this post UK Climbing has made this story into a news item which can be found here)
http://www.ukclimbing.com/articles/page.php?id=3785
I read his account about the rescue of a Brazilian/American team mate Cleo Weidlich getting more angry the more I read, and the more I read, the more infuriated I got about the authors lack of experience,
"After graduating from University in 2005 I set myself the goal of climbing Mount Everest.  At this point I had not done any climbing."
which in my mind brought about this rather ignorant and haughty view-point he has written about in his blog post.
We all need to strive for personal goals and have dreams and ambition, but what I don't understand is people who don't want to learn about climbing (and themselves in the process) through, the usual and accepted way. Rock climb in Britain, then move on to winter climbing in Wales and Scotland. A few years of Alpine climbing. Somewhere relatively straight forward like Alaska could be experienced and then, after about 6 years, the Himalayas. In taking this approach not only is a person learning to look after themselves in the hills, gaining experience in this way also gives a greater understanding, a greater depth of knowledge and a better understanding of what rock climbing and mountaineering involves.What it does not do is put someone who does not have the skill and experience high on a Himalayan mountain totally depending on someone else. 
If someone wants to become a climber for the right reasons, e.g. they love being in the hills, the action, history, adventure, involvement, experience, frustration, friendships, I have no problem if they eventually want to climb Everest (Although I don't understand it as Everest is now no longer a serious challenge, or an adventure, or wilderness experience for someone who is relatively fit and healthy and has the money.)
I would like to think Mr Murphy set himself these 8000 metre challenges, or as he likes to call them adventures, (Got some news for you Mr Murphy, climbing Lillaz and Patri left hand in Cogne are not really adventures! http://www.anselm-murphy.com/climbing-photos/) because he has a love of the high mountains, but I suspect he is using the mountains, as many people do nowadays, as a career move to become an adventure celebrity or hosting a reality TV programme or something else as trite. (I'll be happy if i'm proven wrong, time will tell i suppose. )
Reading his blog it appears; please correct me if this is wrong, he has basically only climbed Island Peak, Mera Peak (both of these high altitude walks that can be done on one five week trip from Britain and without any previous climbing experience at all. I have just returned from the Mera area where clients of a large commercial company had to be shown how to attach crampons.) and Aconcagua before Cho Oyo, Everest and finally Kanchenjunga and as far as I can tell, they have all been commercial expeditions with guides. This is not exactly climbing for exploring and adventure. The first three of these mountains are walks and seriously over exploited trade routes and the second two are not technical climbs, especially when, as Mr Murphy did, you climb fixed ropes, use oxygen, have your gear and supplementary oxygen carried up for you and have a Sherpa to break trail. Kanchenjunga is slightly more technical but not when you are climbing fixed rope, using oxygen and again having everything carried and set up for you by a Sherpa.
So, the crux of this post.
After reading Mr Murphy's report the thing I wanted to say was yes, some of the actions taken by the Sherpa's sounded like the wrong decisions, but Sherpa's are not machines, they are not super human, they are human beings made of flesh and blood and bone who get scared, suffer, cry, get altitude sickness, frostbite and think about their wives and children. Sherpa's live in a third world country where education for hill people is rare so the best way to earn money is by risking their lives to fix rope, carry oxygen, carry food, carry tents and molly coddle people who want something immediately without gaining the experience to actually do it in good style, and in good style I mean without the use of Sherpas, or oxygen or fixed rope and by carrying your food and stove and gas and tent. Do you really think by paying some money to a person they should die or risk their lives more than they already have? When things go wrong like it did in this case, if Cleo Weidlich or you had gained the experience that you both should have gained in the first place, you could possibly get yourself out of trouble and then would not have to rely on other human beings to do it for you resulting in you get upset when you find out they are fallible and as scared to die as much as you.  
Another  annoying fact of this type of mountaineering is how people attempting to climb 8000 metre mountains with very little actual climbing experience (I use the term climb loosely as jumaring fixed ropes is not climbing) appear to think that handing over a load of cash will help when the crap hits the fan . No mountain guide or a Sherpa can guide an 8000 metre mountain when the weather comes in and with more experience you would know this and would not be shocked when it turns into every man and woman for themselves.   
I am pleased that Cleo Weidlich has recovered, and well done in helping her, but she was a member of your climbing party and a friend and I would expect nothing less. So maybe in the future if she returns to the mountains she will have gained more experience, so she does not have to depend on other people and hopefully Mr Murphy will do the same and his attitude about others risking their lives for him, as the Sherpas did by fixing rope, setting up camps, going to the summit, carrying oxygen and gear, will be a little more forgiving.