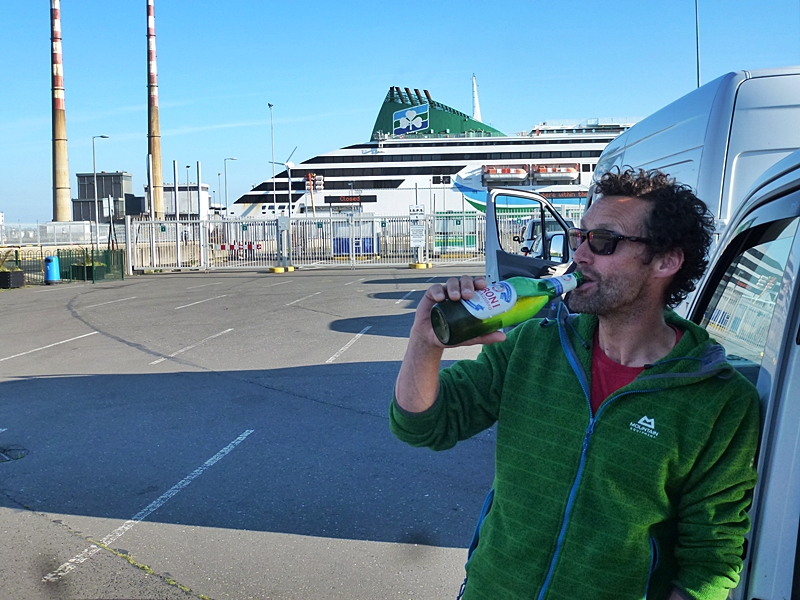 Sitting in the passenger seat of the Hippy's new prized possession – a VW T-5 with a conversion to make it into something like a living room – Ballycastle high street, County Antrim, resembled the town I grew up – small shops, busy pavements, a square with a stone monument and pubs – loads of pubs!
Being Ireland the pubs had that that very distinct frontal –  generally small windows with painted frames and a single colour for the stone façade – yellow, green, black, and a large name written above the door in scrolling gothic font running the width of the pub, O'Donoghue's, House of McDonnell, Mulligan's…
Reaching the end of the high street – the beach, and views across the sea to Rathlin Island and the Mull of Kintyre and Jura, but nearer, turning the fortified bend in the headland was Fair Head, that massive stone monument glinting in the fading sunlight.
I'd been invited across to give a talk on the Saturday evening of the annual Fair Head meet by Paul Swail and Mountaineering Ireland who were covering the travel. (The talk was typically exotic, in a cow shed, starting at 11pm and the crowd, about 100-200 folk and several sheep were up for it!)  Having never visited Fair Head, it was too good an opportunity to miss, so after snapping up the offer here I was.
I really can't be bothered to write all of the gubbins about climbs, moves, gear, logistics, grades, etc –  that stuff bores me more than reality TV and reality TV really bores me, but if you've heard any of the hype regarding the climbing style and the quality of the climbs at Fair Head, believe it!
Thuggy jamming, burl, beefy, power, under-graded, sandbags, tranquillity, friendly, seldom travelled, I can't really include enough adjectives to describe the place. A few shots may capture the essence though. And Sean the farmer who's land Fair Head is on, what a star… the night he walked over to the Hippy's travelling residence with two wafer ice creams melting and running through his massive fingers was one of the most friendly gestures ever and then he capped it by saying I could use the shower in his house!