I was thirty five years old in December 2000 and I had travelled to Canada for the first time. I was climbing with my friend Bruce French, ex Nottingham and England wicket keeper. Bruce and I were equally matched on the ice and the trip was a great success. We toured around while listening to Faithless, Sunday 8PM, and taking-in the massiveness and openness, the cold, the trees and we climbed loads of in condition icefalls – generally two pitch icefalls, apart from Polar Circus and Weeping Wall – and more often than not we finished climbing by mid-afternoon and headed for the coffee shop.
In the evening there was loads of time for sorting gear and preparing food and there was always beer and chips for Bruce and red wine for me. Icefall climbing in 2000 was holiday with the occasional discomfort. Bruce and I climbed our first proper WI6 on this this trip, Whiteman Falls, with its massive mushrooms. We went home content with swollen knuckles and stomachs full of pancakes.   
I returned to Canada in 2003 with Dave hunter and it was on this trip things began to go a tad leftfield, not the band, more the warped outlook when I suggested to Dave we should attempt an out of condition Sea of Vapours. Big whippers, ripped pins, one point of aid and an eighteen hour day. Bloody hell, did I want that route and at the end of that eighteen hour day, we had it. This was possibly the start of the weirdness, when the two of us sat in the Alpine Clubhut at one a.m. knackered, battered, thousand mile stare but overflowing with the experience.
The year 2008 with Ian Parnell was, I suppose, the nail in the coffin for the pleasant two pitch outings and coffee shop finishes. On that trip we threw ourselves at multi-pitch test pieces one after the other. The trip was full of three a.m. starts and ten p.m. finishes, almost every route we climbed – Nightmare on Wolf Street, French Reality, Terminator 2, Riptide, Suffer Machine, Les Vacances de Monsieur Hulot – was a wide-eyed opener and a bicep burner. The time we climbed a two pitch icefall, even one with the reputation of Curtain Call, almost felt restful. It was this trip that converted me to leashless climbing because bloody hell, leashes made climbing these lines almost impossible.
I returned to Canada in 2012 with Rob, Chopper, Greenwood, or Bobby Big-legs, whichever you prefer. This trip was a trip full of reinforcing everything Ian Parnell and I had learnt, but with loads of  laughs and red wine – No Use in Crying, Replicant, Exterminator, Southern Comfort, Fiasco – Still a few easy short days, Call of the Curtain and Nemesis, but no coffee shops and certainly no mid-afternoon finishes. On this trip, even the easier, short days would have been routes of the trip a few years ago. What was happening, what was I thinking, where was the holiday atmosphere? We climbed the plane steps with aching legs and heads full of thrill while leaving a cold and windy Calgary.
It was this trip that opened my eyes to possibilities of Canadian climbs on natural protection with Jon Walsh and Rob Owens', No Use in Crying, on the Upper Weeping Wall – M7 on gear felt more like Scottish 9 with minimal pro and not the best rock. Teetering, front points pushed to small limestone edges and fingers wooden while high above my last nut and scraping fresh snow where ice should have been – I would like to say this was the most terrifying part of that day, but it wasn't, the drive back with snow lapping the bonnet and washing the roof of the rented town car and hitting ice at 80kph took that prize. Another lesson learnt, hire a 4×4. This trip also had me looking at the new Jon Walsh and Jon Simms line Man Yoga and the line to the left put up by Raphael Slawinski, Victoria's Secret ,but a dump of snow near the end put pay to that idea.
Roll on the following year with Greg Boswell – the route count went down as the pitches and difficulty increased – Man Yoga, Victoria's Secret, Rocketman and the Maul, the Maul being a step into Alpine and a first real taste of how fun Rockies choss is. Unfortunately, the choss, on the final pitch, chopped the rope. Climbing with Greg was almost as good as it gets – he wants to try the same lines but doesn't mind having a rest day after every day of climbing and whenever I don't want to lead a hard pitch, bring in The Boswell, jobs a good un, almost makes up for the lack of afternoon coffee… Almost. We also hired a 4×4 on this visit which eased the mind but another lesson learnt, heated car seats are the death of forcing yourself out on crappy mornings.
2014 went adrift somehow as Will Sim and I tried Canadian Alpinism, culminating in renting a Nissan Micra and two routes, Humble Horse on Diadem and the House/Anderson on Mt Alberta's north face. No coffee shop afternoons on this trip, no 4×4, not even a bed on some nights. This trip was where I thought things truly went tits up. But I was wrong…          
Here we are again, Greg and I, not quite back to coffee shop and red wine, but at least I get to go to bed which is a bed, well, unless the bed is a car.
After Nightmare on Wolf Street, we thought we would try going big and attempt the second ascent of a climb called Dirty Love. Dirty Love is a five hundred metre, twelve pitch Alpine climb, high on Mt Wilson which is off the Icefields Parkway, the road that runs from Lake Louise to Jasper. No coffee shops, no people, wilderness, emptiness, alone… almost!
Jon Walsh and Raphael Slawinski climbed the first ascent in April 2008 grading the climbing M7.The climb took twenty three hours from the car to the summit of Wilson and another eight hours to descend. The trouble, or is it the beauty, is the very technical approach which includes several mixed pitches and approximately four hours of slog before the bottom of the huge gash, something like Cenotaph Corner on steroids.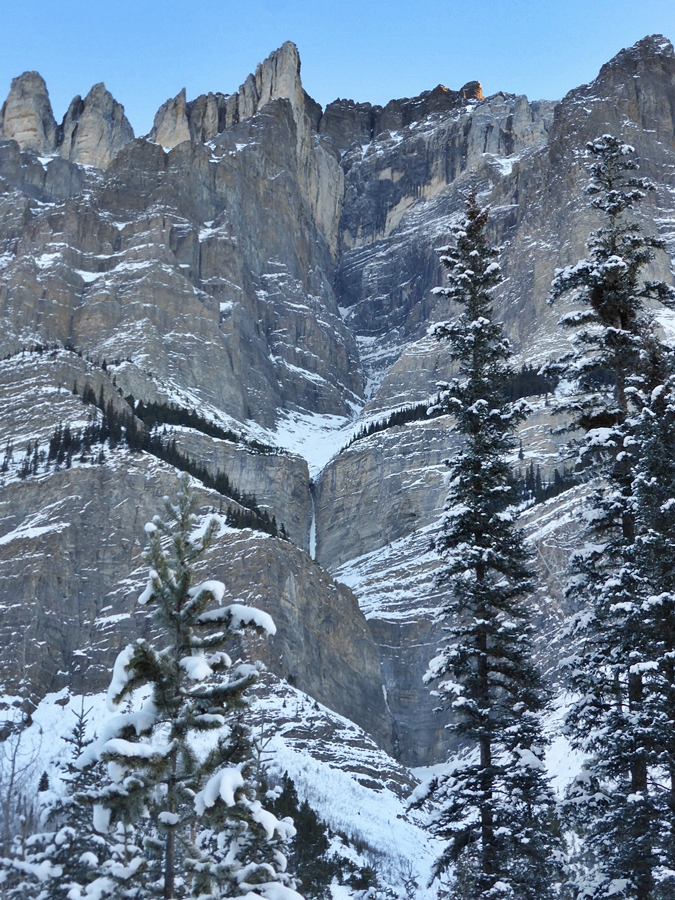 Greg and I aimed to put in a track and suss out the approach and return in two days to attempt the climb. Everything was going well, although the three loose difficult mixed pitches after an hours walk didn't really match Jon's description and took us longer than we hoped. At the top of these pitches we slogged deep snow for an hour and climbed an M5 mixed pitch in the dark. Engulfed by forest on the highest level of Mt Wilson, Jon's description now said, 'two hours forty five of snow slope to reach the climb'. We had come this far, so it was pointless not putting in a track. We left ropes and axes and anything heavy before bushwhacking through thick forest. Eventually we hit the snow gully that lead to the climb and at seven thirty we had done enough, we turned, retracing our steps until at the edge of the forest.
The moon had not risen and the dark engulfed. I kicked a boot track, the snow clung knee deep. Small spruce lined the edge of the forest… peace?
Greg was behind. "Bear, aaaaaaargh." I spun to watch Greg sprint past me and in hot pursuit was a Grizzly. The bear bounded, pulling and pushing the snow with powerful legs. The snow lapped its belly and didn't appear to slow it. Greg ran out of sight and the carnivorous freight train passed me, snorting and growling and bounding, dusting me with spindrift – it looked at me for a second, and for a second I thought this is it, this is really fucking it, but in that second the bear had spotted Greg had fallen. I ran uphill as fast as the deep snow allowed. Greg fell on his back and watched the monster closing. It jumped. Screaming and shouting, Greg kicked at Ursus arctos horribilis and it bit straight though his brand new boot as if it were a carpet slipper. It lunged once more and crunched into his shin, placing a paw on his other leg before lifting him off the ground. I'm not sure at this point what other people would do, but Boswell is Boswell and the bear just didn't appreciate this, he grabbed the bear's mouth and prized apart the jaws, pushing, and screaming… "Nick, Nick, help, its got me…" I stopped running, and hearing my friend, the terror, the pleading – my survival instinct subdued. I stopped and turned, but I'll tell the truth, the thought of running back to face the bear armed with only a ski pole slowed me, in fact, armed with a bazooka would have still slowed me, but Greg was shouting my name, how could I just stand. I took steps forward and out of the dark a shape ran at me. I screamed, the skin at the back of my throat tore. But the shape was Greg, screaming and running and shouting. I looked into his ashen face and saw something I had never seen.
We both screamed and ran into the woods following our tracks. The trees and branches surrounded, closed in, caught as we ripped and tore and crawled. "Watch me, watch me, stay with me." All of the time we waited for the dark to  ambush. After what felt like hours, we found our crampons and axes meaning the abseil and the ropes were five minutes away. Keep a look out, Greg packed gear into his bag. I stood, shining my headlamp armed with axes. We took turns shining and looking and brandishing. "If it comes, no running, we stand together and hit the bastard." "Yeah, were in this together, hit the bastard, hit it as hard as fucking possible, in the head, in the eye, hit the fucker." But in my mind I saw the alien and I watched it shrug an axe as easy as a person squashes an insect. 'They mostly come at night… mostly' When the bags were packed, we took off again, sweating and swearing and shouting and banging axes together while following our trail. But it wasn't our trail, it was the bears trail, and after an hour we had become totally lost. We knew we had gone wrong. "Lets head for the cliff top." And we threw ourselves down – down and down, falling over rock steps, powder exploded, and I knew I was about to fall over a cliff and a small part of me hoped I did. We stood on the top of the cliff. Greg shone his torch, I kept watch. We had to retrace, we had to head back towards the bear and the attack, back into the dark woods. We now knew we were too far to the right, we were never going to find the ropes, we were stuck up here, stuck up here with the bear.
An hour later, crawling, bushwhacking, following our steps, the bears steps, any steps, we spotted where we had gone wrong and within minutes we found the ropes and the place to abseil the rock band. Greg abseiled first. I sat on the cliff shining my torch, looking into the dark and the trees, holding both axes. Greg was down and shouting to make noise, any noise, anything. I abseiled and the two of us waded the snow on the middle shelf, between the two sections of a climb called Shooting Star. In the distance wolves howled. Following Greg's bloody footprints, I wondered at what distance bears can smell blood. Reaching the bolted anchor above the first section of Shooting Star, Greg rigged the ropes, while once again I shone my torch holding my axe.
Three abseils later we landed and waded our tracks for thirty minutes until reaching the road, it was twelve forty five a.m. and at two thirty Greg and I entered Banff Emergency Hospital. The friendly nurse asked me if I wanted a drink, but there was no wine on offer so I had ginger beer. Greg couldn't drink anything as the five huge holes in his shin, which now resembled a thigh, might need surgery, but I told him the ginger beer tasted good.
I don't quite know how my Canadian trips went from coffee shop afternoons to middle of the night ginger beer, but I can honestly say, I prefer coffee.