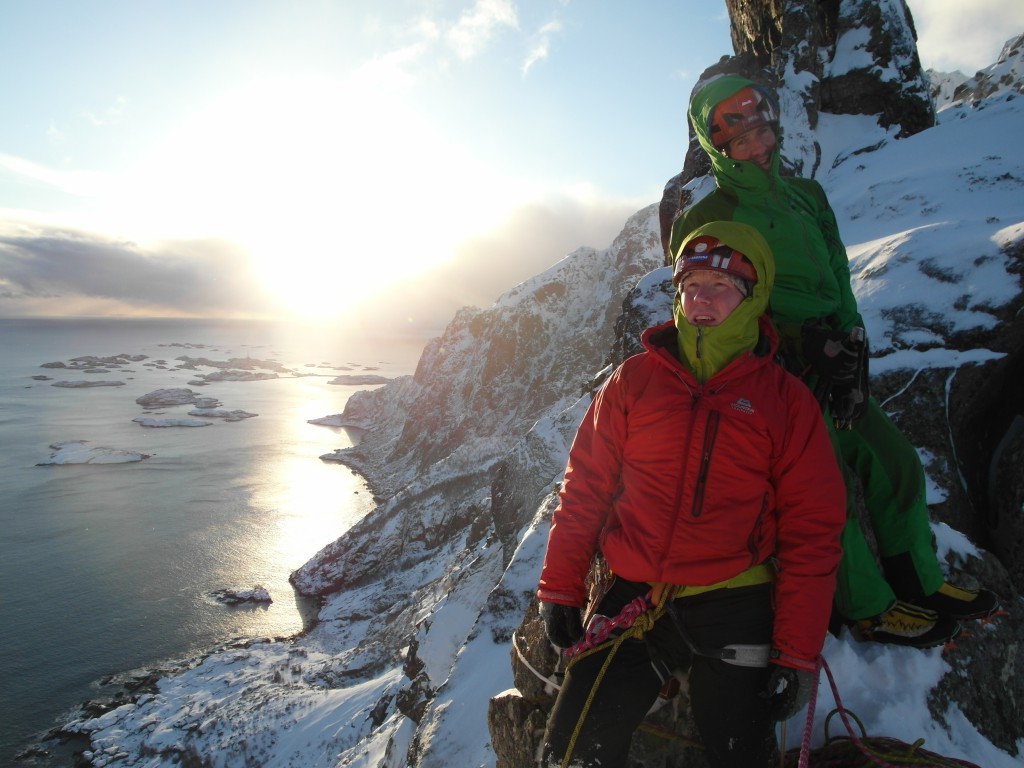 The weather for the whole of the week we were in Lofoten was, to put it simple, rubbish. Experienced as the three of us are with battling it out in the face of crappy weather, this weather was special. Warm, wet, cold, gale, freezing, white-out, wet, warm, freezing, melting, gale, wet, gale, melting… Boring, boring, dull! How often do climbers write about the weather and conditions? At times we just need to get on with it and MTFU, (I'll leave you to work that one out, but it does not take too much imagination).    
So as the week went on and we acclimatised to full on snowstorm, things improved and our appreciation with what was possible culminated on Saturday, with a second new route on Vargakalen.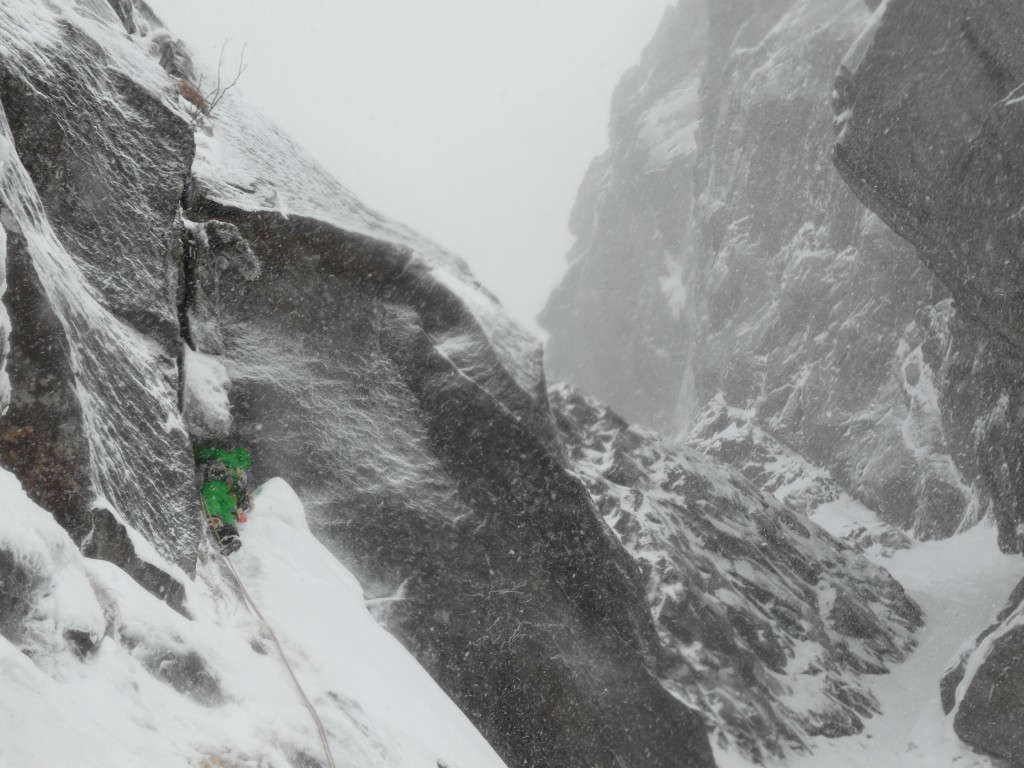 Sweeping sheets of snow powering down the cliff, a thunder storm, sun, wind, snow, snow, snow. Did I mention the snow!  The route had everything. Steep-pulling, off-width, thin-ice, fat-ice, snow-flutings, turf, trees, and a summit in the sun overlooking glistening snow covered islands and Patagonia snow-clad mountains. (I did mention the snow didn't I?)
Saturday was the final day of the meet, but Andy, Lukasz and I couldn't get a flight until Monday morning. Sitting in the bar on Sunday morning eating a leisurely breakfast, Pete had left, Lindsay (Griffin) was packed and getting ready to leave, and outside, for the first time since we had arrived on the island there was calm. Seagulls could fly and a strange feeling of peace prevailed… Typical.
"What are you boys doing today?" Marius, one of the organisers of the meet asked.
"Well, we have no car, we need to move rooms, and our climbing gear is drying-out, scattered all over the floor of the apartment, so not a lot."
Marius disappeared, then re-appeared twenty minutes later.
"Here you go." He handed a set of keys over. "Have fun. But the car has to be back for five thirty and you need to pack all of your gear into bags so the room can be cleaned."
Heading toward Abrahams Tind, I wondered what was about to unfold. Here we were at 11am, (on the previous attempt we had begun to walk in at 5.30am) facing a two hour walk and the climb that shut us down due to terrible weather on day one of the meet. But this climb had been niggling, and to top it off, as the week progressed, several teams had questioned us for information, then using our knowledge of the approach, the climb, the conditions and our abseil anchors, had proceeded to climb the route. Not good!
Unlike the previous wet and wild walk-in, snow now covered the forest floor and the beach which made walking easier. Knowledge of the quickest, best and safest approach also helped.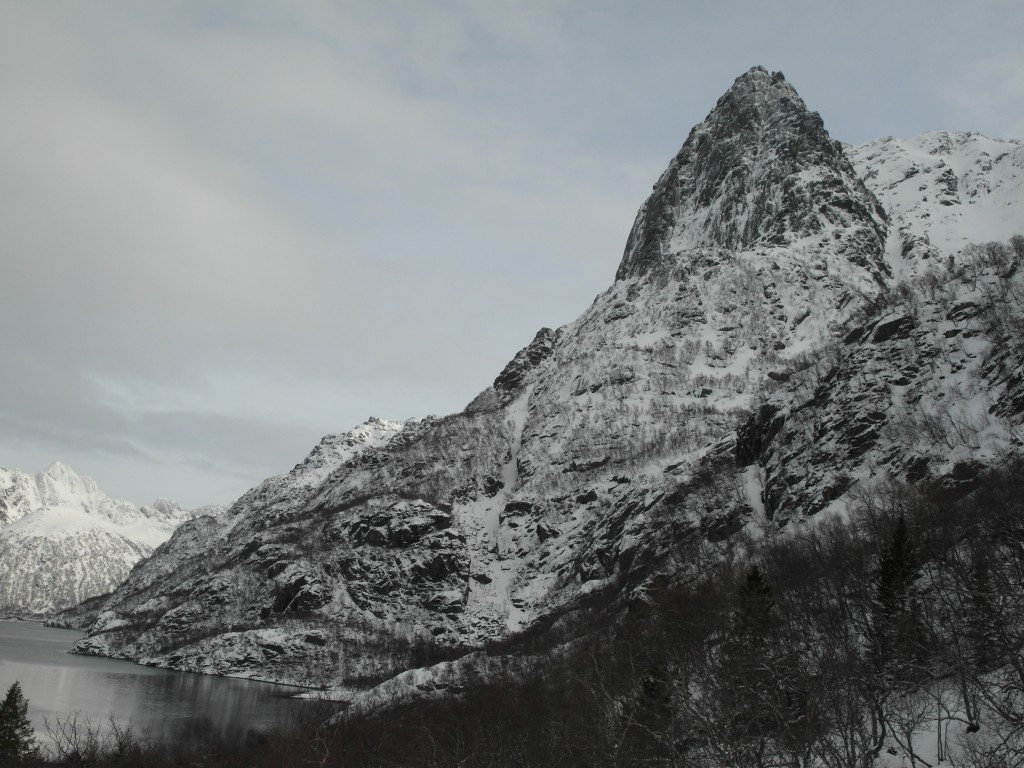 Andy and I stood beneath Abrahams just after an hour. The wind screamed over the col and spindrift scoured, but after being pummelled for seven days this felt ok. Since Mondays attempt, the rain, and snow and the wind had battered the face and it was now plastered in ice.
Gearing up, the clouds blew-in, and snow started to fall, but this was now one of those deep rooted feelings that we had done enough, we deserved this climb. It was 12.30pm, we had no lift arranged to return to Lofoten Town and needed to pack before heading to the airport at 3am Monday morning, but here we were… Sometimes you just have to go with the gut.
Crunch, the first pick sunk into firm ice, the first pull and kick of points, the first move of many, and I knew this was going to happen.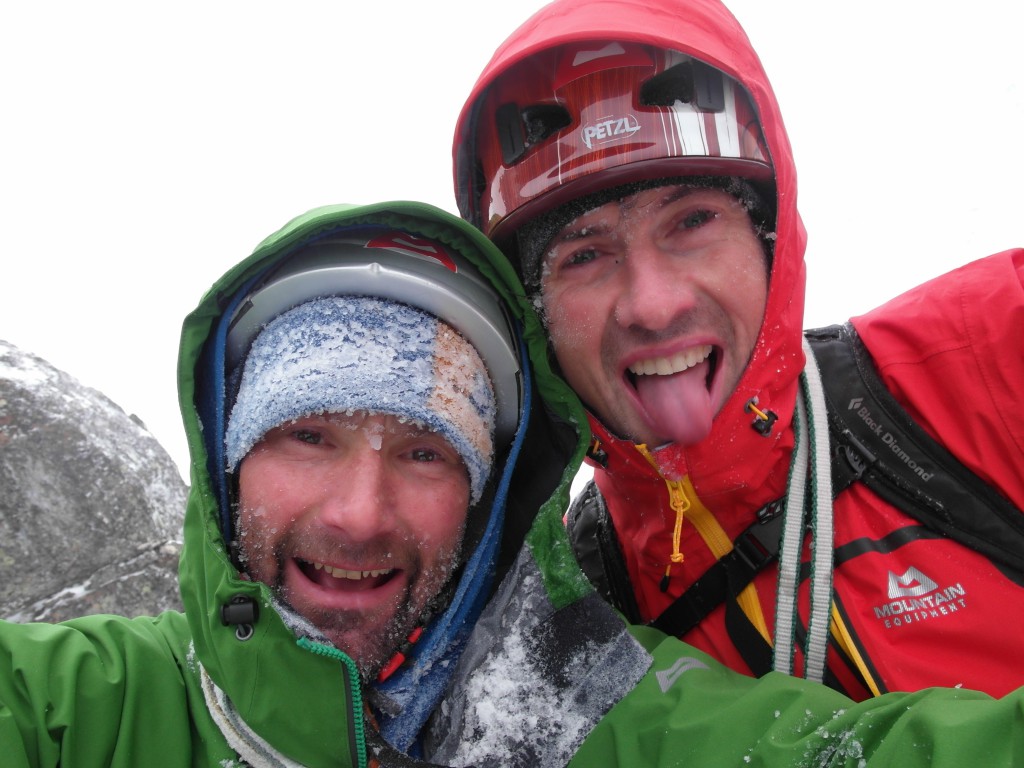 A great big thank you to all of the folk who made this memorable week happen especially The Norsk Tindeklub, http://www.ntk.no/ who's generosity was amazing,
and to DMM, http://www.dmmclimbing.com/
Norsk Fjellsport, http://www.norskfjellsport.no/joomla/
Mountain Equipment,  http://www.mountain-equipment.co.uk/home.asp
A link to the route description of Nothing Compares to You.
http://aaj.americanalpineclub.org/climbs-and-expeditions/europe/norway/lofoten/2009-abrahams-tin-nothing-compares-by-u-odermatt/