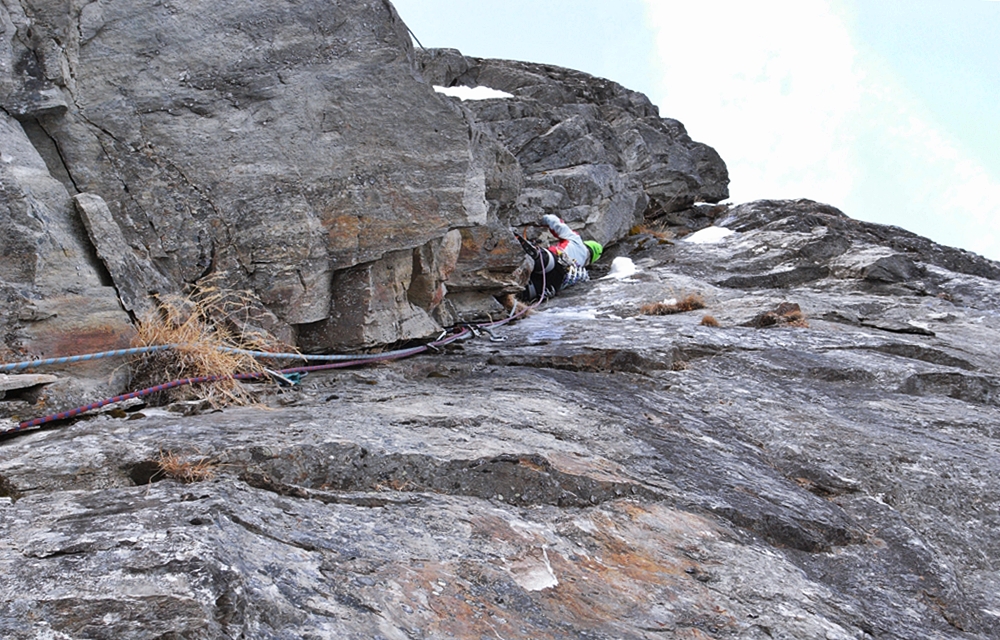 Recently, after climbing a new route on Ben Nevis, I was contacted by Trey Cook who runs and writes for Chamonixinsider.com
Trey asked, "How would you rate the climb using a French grade, in fact, what's the biggest difference between climbing in Scotland and in France?"
At first I wondered whether I could be bothered, comparing winter climbing in Britain to climbing in France or Switzerland is like comparing Fish and Chips swilled down with a pint after a day of trad cragging to fresh French bread and Camembert washed down with red wine while sat on a camp site after a day clipping bolts. Both bloody amazing in there place.
But of course having an opinion means in the end I decided to reply.   
I suppose the main difference between winter routes in Britain and routes of a similar ilk in France, Italy and Switzerland, e.g. single day crag routes, is the ethics in which the climbs are usually put-up in Britain. No bolts, ground up, on-sight or as near as damn it on-sight, no dogging, gear placed on lead and the rock of course will have a covering of white stuff and the vegetation will be frozen. Occasionally, when the limits are being pushed on a new route attempt in Britain, a fall is taken and after a rest, the climb is completed, but this is very different from sitting on gear all the way up a new climb before pulling ropes and making a clean ascent with the gear in place.  
I personally think it is this approach and these ethics that need to be held with passion and pride, this is what makes our crags in Britain special and different and interesting, take away the adventure and the unknown by abseil inspection, bolting, working on a top rope or dogging and the crags in Britain become small and insignificant and un-important, then it will be better to jump on a plane and travel to France or Switzerland where the crags and the lines are big and exciting and the style in which they are climbed is not as an important factor in the overall pleasure of the route.
I have heard it said that climbers in Britain will fall behind in the standards being climbed around the world if we don't change our approach and ethics. My answer would be for those wanting to push their personal boundaries, but who are not prepared to attempt new hard routes in the style we in Britain have protected since the start of this pointless obsession, would be jump on an Easyjet flight and have a holiday where the expanse of rock will withstand many types of style. Really though what I want to say is, what does it matter if we do fall behind as long as we maintain what is special and have adventure? 
An M grade I suppose for the new Ben Nevis route would be around M8, but this means very little, the difference is setting off on a climb not knowing what the grade or where, if any, the protection, this is the difficult part of trying to climb a new route without any knowledge or pre-inspection and this is the mental challenge that again makes ground up winter climbing in Britain special. Long may it remain.   
When I was climbing the new routes in the Rive Gauche with Pete Benson, Neil Brodie, et al a couple of years ago we took a nearly British approach to the routes, no bolts, climbed on natural gear but on a few routes we checked first by abseil, mainly to see if we could construct belays, but of course the lines of a few of the climbs were looked at when we did this. If this had been in Britain I would have never contemplated doing this, but I was in France so it was ok and no-one questioned our ethics. At the time it felt correct to abseil to check we could at least get a belay but some of the mystique was lost by doing this and although the routes in the Rive Gauche are brilliant and seeing loads of repeats, I now regret the loss of discovery on the sharp end.
These are some of the differences between climbing in Europe and climbing in Britain. In saying this I think it's important to point out that I like to do both and I have a lot of respect for climbers around the world and the writing above is by no means a slur on ethics/style in other countries, it's just different because in Britain we have so little rock and because of this it has to be treated differently and carefully and the best has to be made from a limited resource.